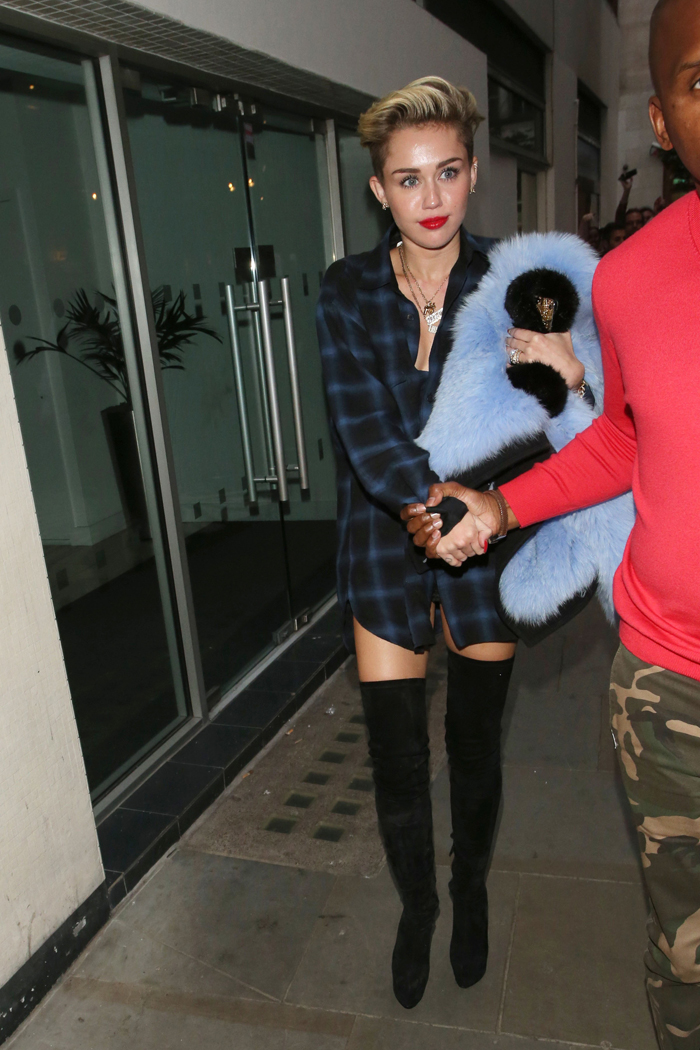 Here are some photos of Miley Cyrus yesterday in London. She's wearing ridiculously tall, thigh-high Louboutin boots and a tartan "dress" that's probably just a long shirt. We all know Miley enjoys going pantless whenever possible. I think she's in Europe to promote her gross "Wrecking Ball" video. Sorry, Europe.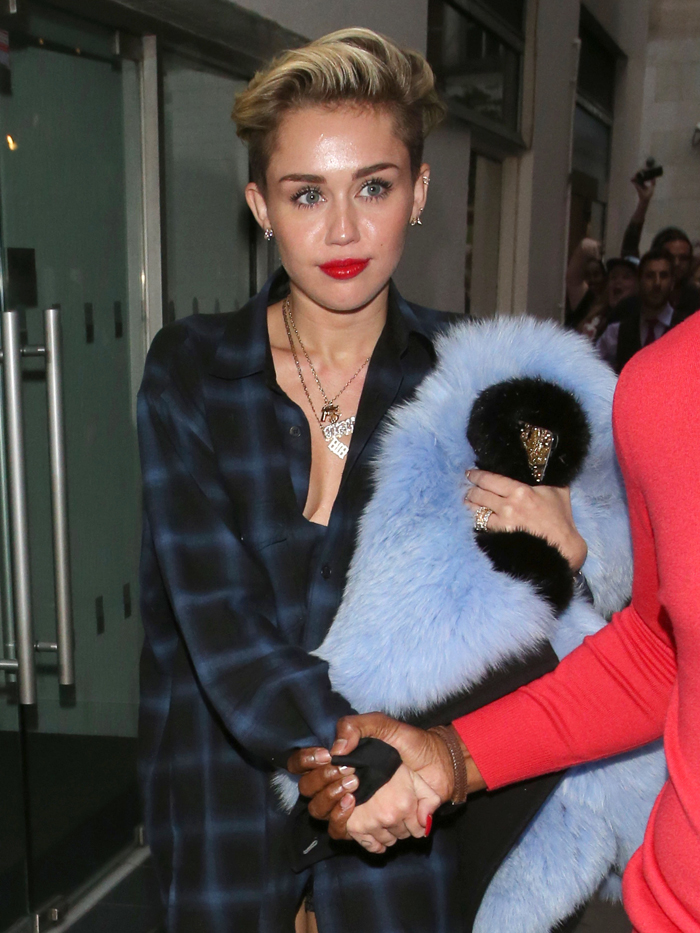 There are a bunch of Miley stories out there, so I'm going to borrow Kaiser's bullet point method:
* Miley's formula: Beg for attention and go from there. Her new naked video has now officially shattered the VEVO record (previously held by One Direction). Miley's tan lines were gawked at over 19 million times in 24 hours. Is that really so surprising? The sad thing is few people were there for the song. They just wanted to see Miley make a fool of herself by grinding on a chain. Miley got the views, but people will tire of the "Look at me!" stuff very soon. What else can she do to top getting naked? Nothing. She doesn't write her own songs, and she'll make little to no money for her RCA record deal. For singers, the money is in touring. I'm not convinced attention will translate into ticket sales whenever she goes on tour to support Bangerz.
* The media is in a frenzy over this dumb video. The Guardian has already published an editorial about how Miley is setting back the battle of the sexes. They criticize how she's clearly begging for attention with the nudity. Actress Shanae Grimes ("90210″) told E! Online Miley needs to wear some clothes, but I don't think that's the real problem. Nudity itself is not the issue here. The problem is Miley is only getting naked for attention. Miley can claim she did it to look "vulnerable," but that's a lie. Nudity also isn't empowering when the revolting Terry Richardson is directing the video.
* Courtney Love (who also talked about Goop) approves of Miley's antics: "You know, that hillbilly Miley Cyrus is sort of punk in a weird sex way." Miley must be so pleased.
* Miley revealed the Bangerz tracklist. The songs listed include a duet with Britney Spears. Poor Brit.
* Hollywood Life is going batsh-t crazy with their stories about how Liam Hemsworth feels about the video. A mysterious source (Larry Rudolph? Tish?) keeps feeding them info. It is hilarious. Supposedly, Liam is cool with the video: "He is just separating everything and treating it as what it is, and that is entertainment. Let's be honest, she's not killing anyone." He is also very proud of her: "He is very proud that she is doing the thing that she loves and he supports her, he just doesn't broadcast it with a parade for the whole world to see." Right.
Here's some pics of Miley in Paris a few days ago. This outfit is so fug, and the weird side-boob cutouts make it look even cheaper.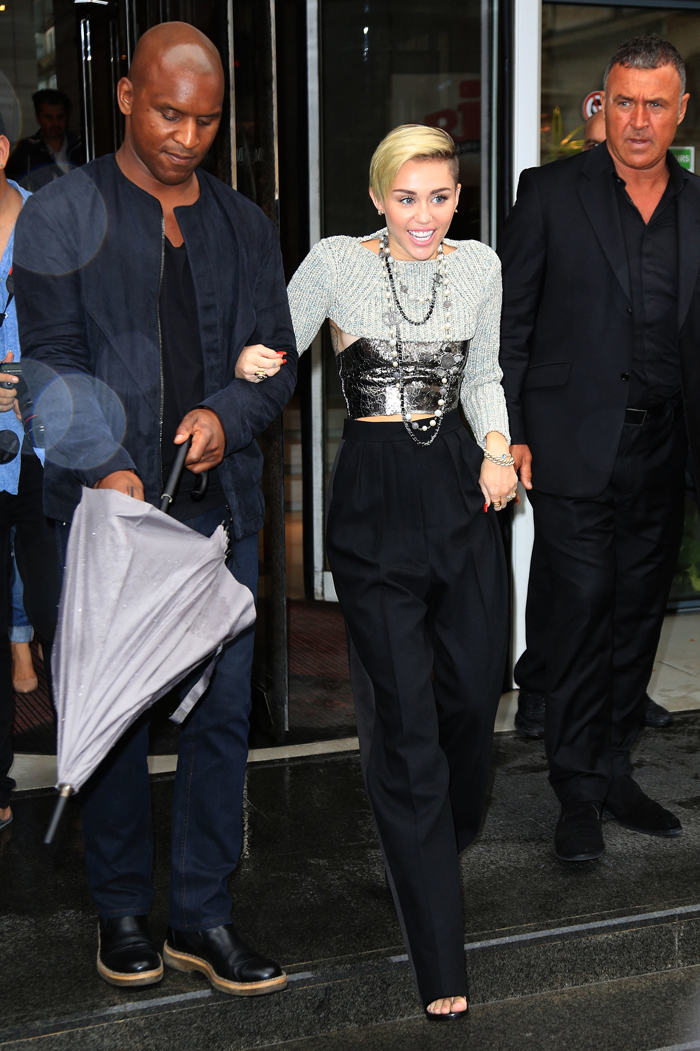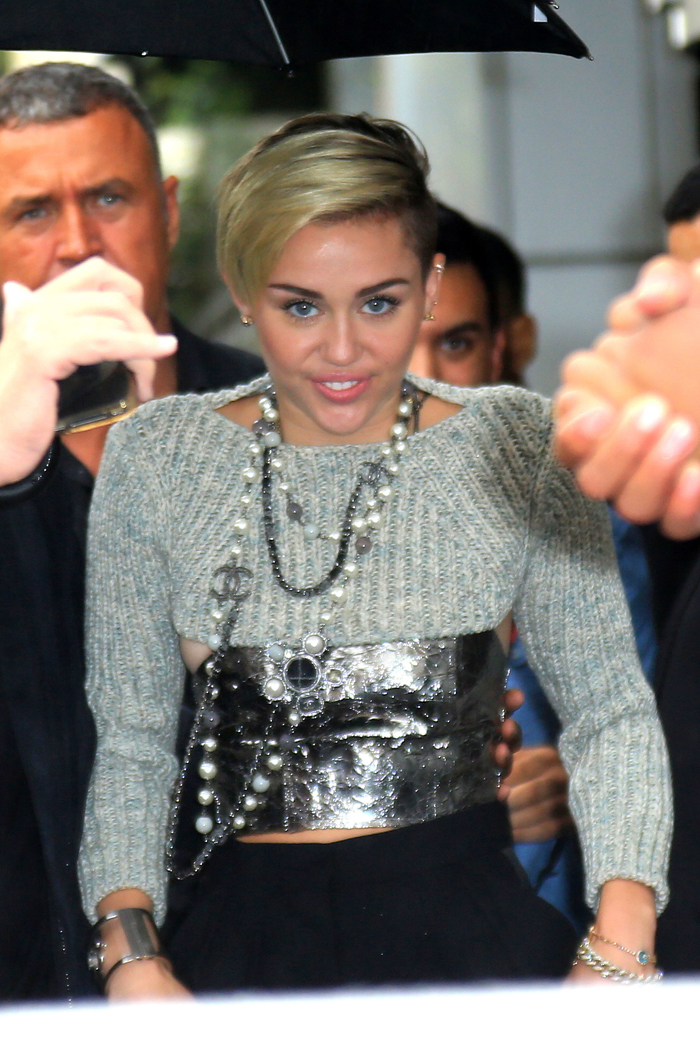 Photos courtesy of Fame/Flynet and WENN