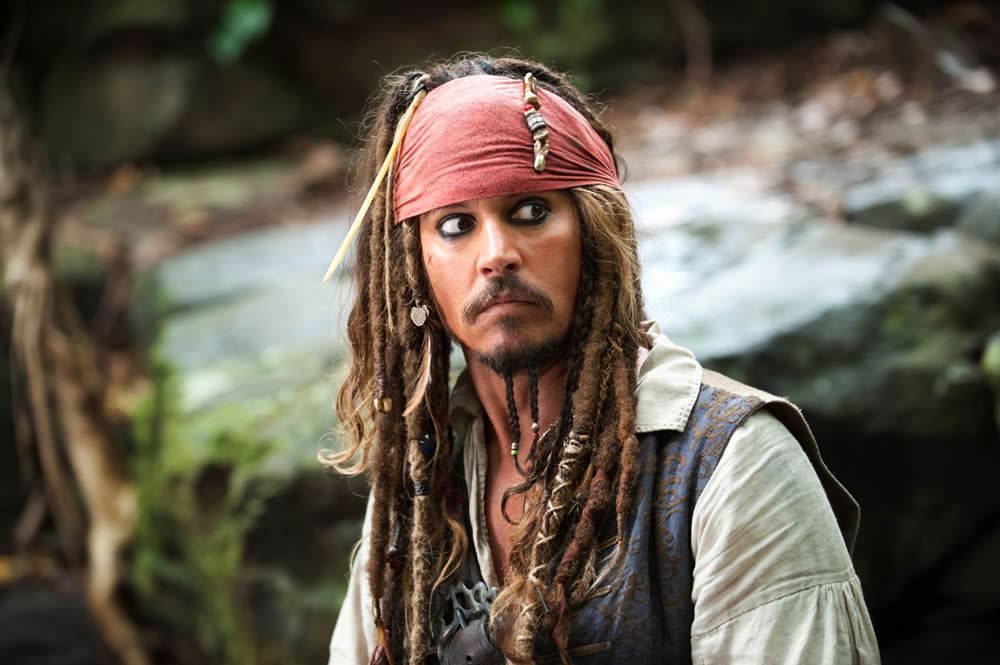 I knew this was coming. After the catastrophic failure of The Lone Ranger, it's widely known that Disney will write off a $190 million loss. In the aftermath, Johnny and co-star Armie Hammer blamed the critics (ha!). Johnny went even further and threatened to retire. That's actually not a bad idea. Johnny should really take a few years off and come back with some marvelous indie flicks. Let us see what we've been missing all these years, you know? But no.
Johnny forged ahead with his plans to make Pirates of the Caribbean 5 because why not? He earned $350 from the first four movies, and you know he loves the "stupid money." He'll even quit a modest little biopic if they don't pay him $23 million.
Sadly for Johnny, Disney is starting to get cold feet about Pirates 5 and has pushed back production. We won't see the movie until at least 2016 — if that. Why did this happen? Jerry Bruckheimer makes dumb movies all the time. Of course it's Bruckheimer's fault too, but I tend to place more blame for The Lone Ranger debacle upon Johnny Depp. Why? Ego. Johnny thought he could do anything — even plop a dead bird on his head — and audiences would pay to watch it. Read it and weep makeup tears: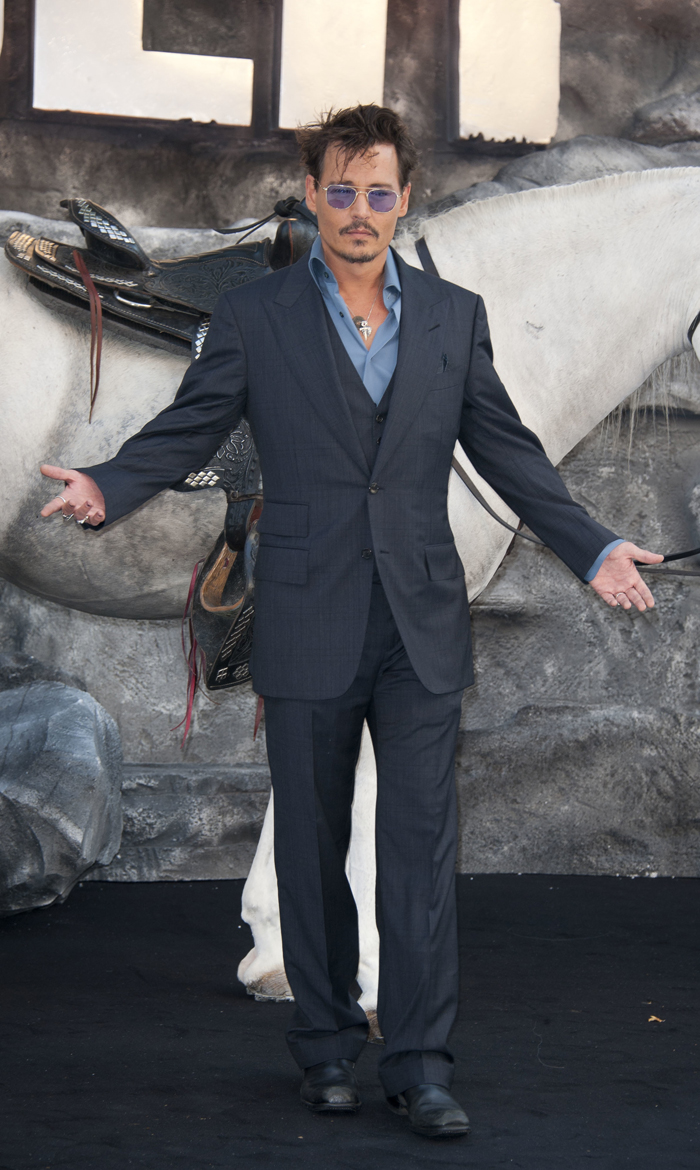 The next installment in Disney's Pirates of the Caribbean franchise will be delayed beyond its planned summer 2015 release date, sources tell The Hollywood Reporter.

Producer Jerry Bruckheimer says the decision to push Pirates of Caribbean: Dead Men Tell No Tales, which is set to return Johnny Depp to the Capt. Jack Sparrow role, was made because of script issues. He is hopeful that the film can be ready for summer 2016.

"We have an outline everyone loves but the script is not done," Bruckheimer revealed in an exclusive interview with THR.

The move comes in the aftermath of The Lone Ranger's failure at the box office this summer. Disney has said that the $250 million-plus production from the team behind the Pirates movies could lead to a $190 million write down for the studio.

Asked whether the potential price tag of the next Pirates film played a role in the delay, Bruckheimer replies, "It's all a factor. We want a script that everyone's signed off on and a budget that everyone's signed off on." (Such projects have cost as much as $300 million in the past.) Coming up with a great script is "always hard," Bruckheimer says, and after this summer, "everybody's more cautious." The summer saw several costly movies underperform.

Disney now hopes to keep the cost of the fifth Pirates movie under $200 million – a goal the studio is unlikely to meet. But bringing in Kon-Tiki directors Joachim Ronning and Espen Sandberg, who made their film on the water for a price, should help keep costs down. Nonetheless, industry observers have anticipated a tough negotiation between Disney and Bruckheimer, given the size of the Lone Ranger write down.

Bruckheimer says it was necessary to push the project because "we're supposed to start in March and you start spending a lot of money now." According to the producer, the Pirates filmmakers weren't happy with screenwriter Jeff Nathanson's initial script, and he's now at work on a second attempt based on the well-received outline. But Bruckheimer asks, "How do you budget an outline?"

A source says the studio thought the original Nathanson script "was too expensive but it was also really complicated and hard to follow."

Asked whether he's still confident that the project will come together, Bruckheimer says, "With any movie, you're never confident. But it's a billion-dollar franchise." The last Pirates movie, 2011′s On Stranger Tides, grossed $1.04 billion
[From Hollywood Reporter]
I know it sounds like I'm being mean to Johnny. I acknowledge that he is a kind soul and a legitmately nice guy, but he's truly lost the plot. He's forgotten why he came to Hollywood in the first place. He's lost sight of the wonderfully weird character actor that he used to be. He hides behind makeup and weird costumes. I want the old Johnny Depp back. Perhaps he'll stop pouting and realize that The Lone Ranger failed for good reason.
Side note: Do you think that Johnny's artist girlfriend, Amber Heard, will stick around if Pirates 5 fails to happen?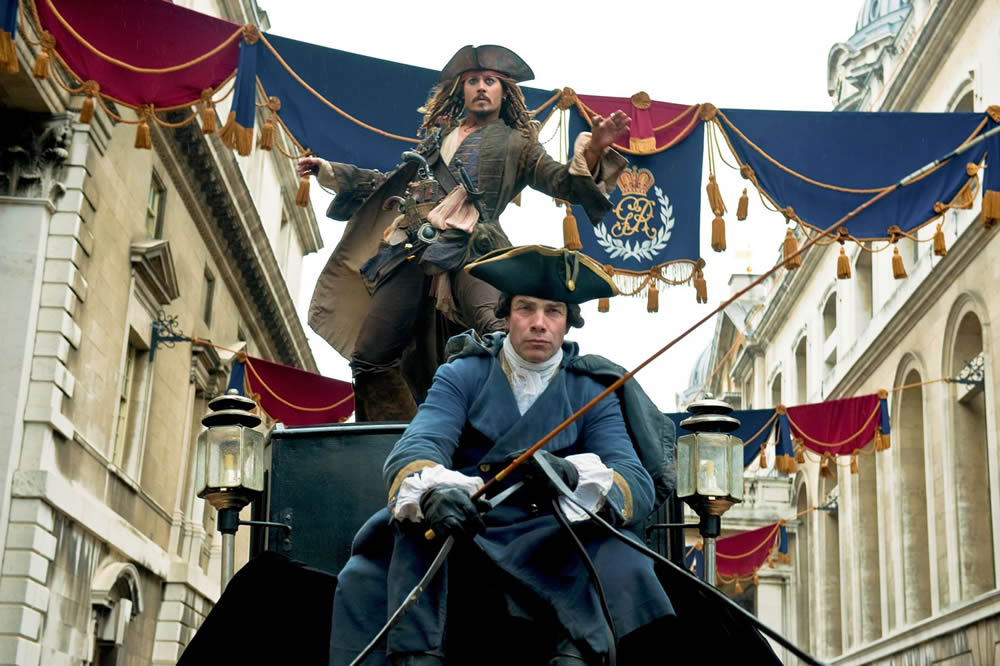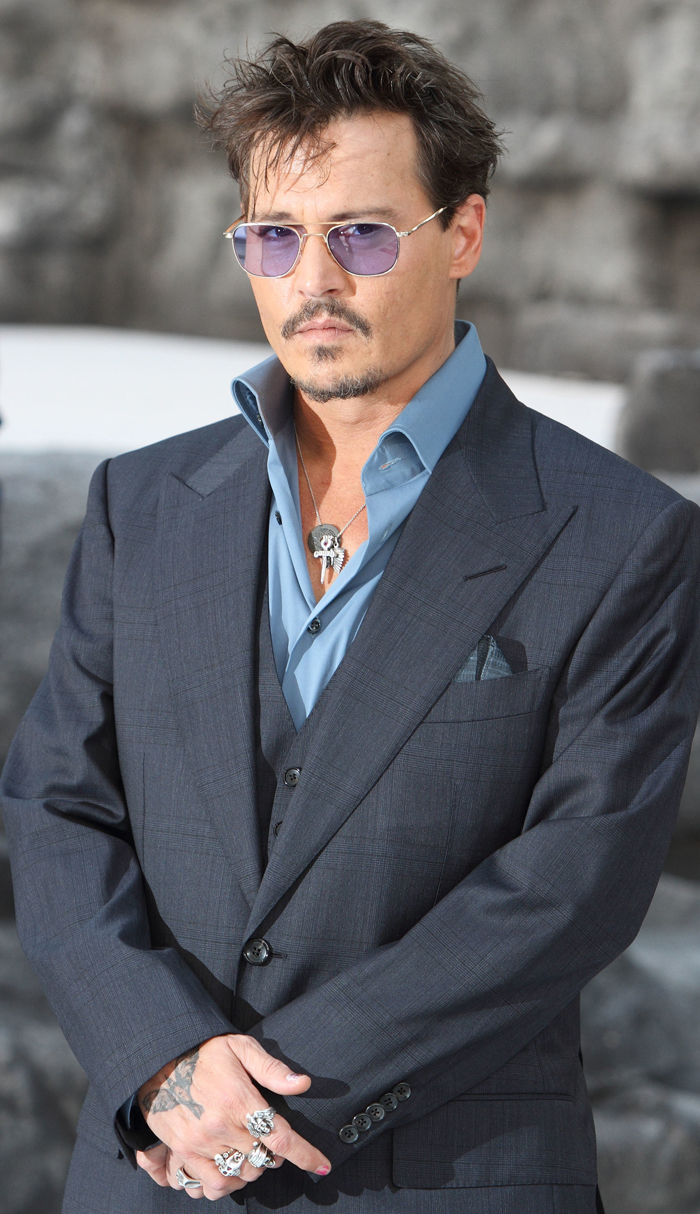 Photos courtesy of AllMoviePhoto and WENN