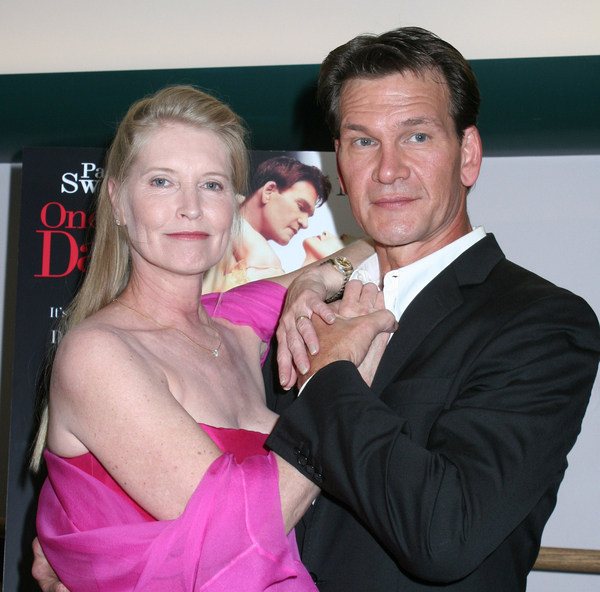 Patrick and Lisa in 2005
Patrick Swayze, 56, and his wife of 33 years, Lisa Niemi, 52, are writing a book together. Patrick has been battling pancreatic cancer for the past year. He had a bout with pneumonia earlier this month, for which he received treatment in the hospital for about a week. He is now resting comfortably at home and has announced plans to write his memoirs:
Patrick Swayze's increasingly dramatic story is headed for yet another medium.

The actor and his wife of 23 years, Lisa, "will be collaborating on his memoirs," Swayze's rep, Annett Wolf, tells E! News. "There is no further information at this time."

But what a tale the 56-year-old actor could tell, going from unknown dancer to up-and-comer to full-fledged heartthrob after starring in Dirty Dancing to cult-favorite character in Road House to established leading man
in Ghost to reborn character actor in Donnie Darko to… You get the picture.

And along the way, there were struggles with substance abuse and now, sadly, a battle with pancreatic cancer that has thrown Swayze back into the public eye with a vengeance.
[From E! Online]
OK! Magazine says that Patrick and Lisa writing an "inspirational book" together, and given all the triumphs in Patrick's life it's easy to see how his story will be inspirational. One of his biggest successes is his lifelong relationship with Lisa. Patrick and Lisa met 38 years ago when she was just 16 and was taking dance lessons from his mother. He joked that he "robbed the cradle" by dating her as he was 20 at the time. Their love has endured through good times and bad. Swayze told told Barbara Walters that "I have no greater respect for any other human being on this earth like I have for her."
Swayze's new gritty crime drama on A&E, "The Beast," is holding steady in the ratings, with his performance earning praise from critics.
Patrick and Lisa are shown on the set of "The Beast" in Chicago on 7/28/08. Credit: Splash News. They're also shown at the premiere of his movie "One Last Dance" on 8/23/05. Credit: PRPhotos