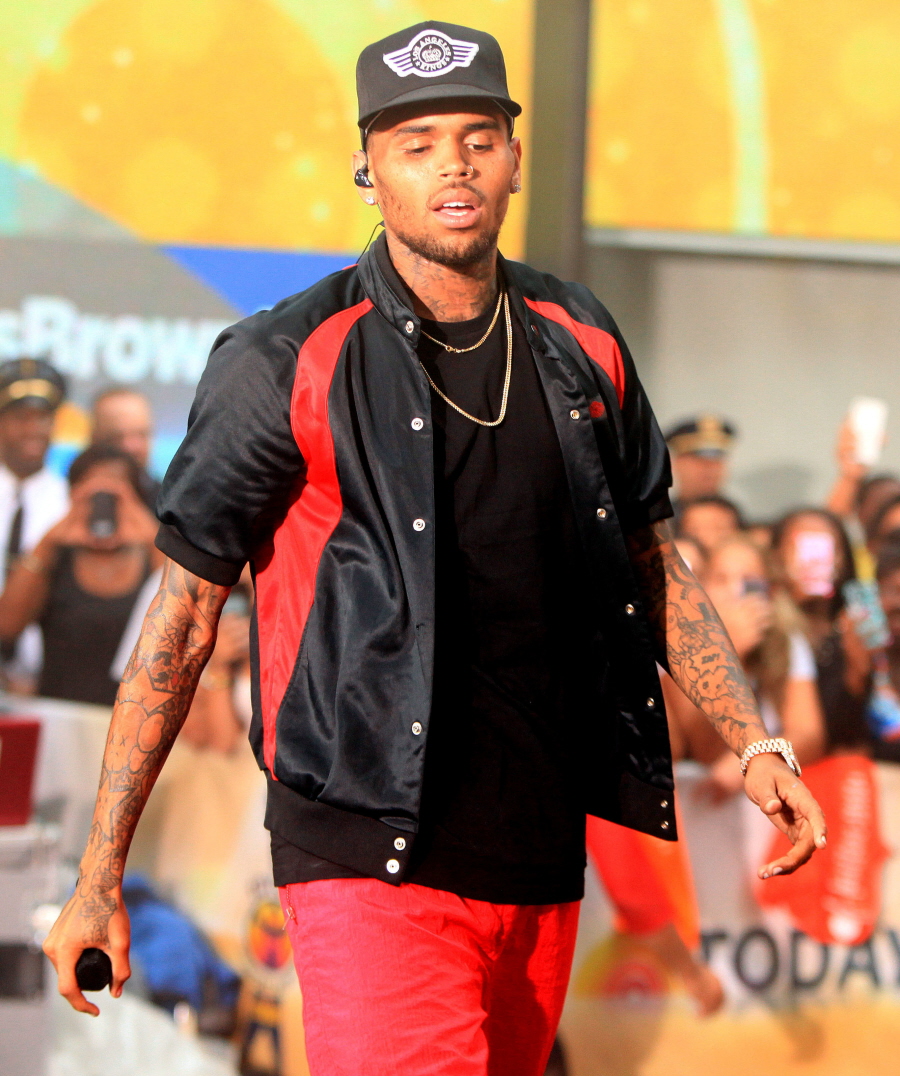 Chris Brown, America's Suckiest Baby, had a new, lengthy interview in The Guardian this weekend. You can read the whole thing here, but I wouldn't really recommend it. It's a long piece and no one really needs that much Breezy in their life. Which is why I've culled some highlights (if you want to call it that) from this mess. I think The Guardian interviewer was trying to do a "clean slate" interview – they note at the beginning that Chris is a tabloid mess and his image is that of a tantrum-prone thug, a woman-beater, a liar and a misogynist. But still The Guardian gives Chris a chance to tell his side of things and the result is… ugh. The interviewer repeatedly says that Chris seems out of it, that his answers don't seem to have any bearing on anything, that Chris seems bored, angry and annoyed. So professional, Breezy.
Breezy is a ball of creativity: "Well, I would say I'm an inspirational guidelines book. You can take my life story or scenarios or songs and relate to them, and apply them to your everyday life. You know, whether it be personal or musical, I just think I'm a walking art piece, just a ball of creativity." Were it not for what he refers to as "the incident with Rihanna", he would now be "bigger than life. Yeah." He can't think of anything he's bad at, apart from "just being able to relax and sleep".

If he could speak to his 14-year-old self: "Honestly, I probably would have laughed at my clothing. Because back then our T-shirts would be down by the knees, baggy jeans, maybe some Timberlands on. I don't wear baggy any more."

What's his earliest memory? "I remember my kindergarten teacher made me count pennies and see how much did it add up to, and then I just remember her telling my mom, 'He's a smart kid.' When I was three, I remember being at a daycare centre and having to stay in a room with a bunch of little kids my age, but I just felt like, OK, I know what I'm doing, I know how to unlock the gate, I know how to get out. My mom told me as a youngster I was always intellectual, like as far as being able to adapt fast and quick. But I had a fun childhood, went to regular school."

He lost his virginity when he was 8 years old, or so he claims: He lost his virginity when he was eight years old, to a local girl who was 14 or 15. Seriously? "Yeah, really. Uh-huh." He grins and chuckles. "It's different in the country." Brown grew up with a great gang of boy cousins, and they watched so much porn that he was raring to go. "By that point, we were already kind of like hot to trot, you know what I'm saying? Like, girls, we weren't afraid to talk to them; I wasn't afraid. So, at eight, being able to do it, it kind of preps you for the long run, so you can be a beast at it. You can be the best at it." (Now 24, he doesn't want to say how many women he's slept with: "But you know how Prince had a lot of girls back in the day? Prince was, like, the guy. I'm just that, today. But most women won't have any complaints if they've been with me. They can't really complain. It's all good.")

Whether he thinks of himself as a child star who flames out: "I guess people could say that. But the only thing that's probably changed for me is just the facial hair a little bit. When I first came out, it was more of a young, warm, clean look. Very clean, very Disney."

Does he regret becoming famous so young? "Honestly, where I'm from, probably not. I think me being able to travel from the small town I was from, me already having a good IQ, and you know being intelligent, and regular stuff, I just had to learn more and more of the street life, you know, how to manoeuvre around a room full of wolves."

Was he always in control of his career? "No, I think control, I definitely had that under wraps. I would pick the songs, write the treatments for the videos and co-direct them, but people didn't know it because I would always give the director his credit and say I don't need a co-directing credit. But actually I started getting behind the camera more, every video, the concepts, how the video's coming together, what it's about. I've always had that creative side."

Nearly killing Rihanna was hard on HIM: "That was probably, like, one of the most troubling times in my life, because I was 18 or 19, so being able to feel the hatred from more adult people, you don't understand it at the time, because you made a mistake." But he knew one thing: "I'm going to come back, I know the music that I'm doing, how hard I work, is not just for nothing." He found himself writing seven or eight songs a night, "just out of pure… I wouldn't say heartbreak, but just pure ambition. To prove people wrong. So from there it wasn't really a problem. I just focused on what was necessary, abiding by all the stuff I had to do legally and professionally."

The judge ordering 1,000 hours of community service after he lied about it: "But that's not a compromise! Community service, that s–t is a bitch. I'll be honest – and you can quote me on that – that is a motherf–ker there. For me, I think it's more of a power trip for the DA. I can speak freely now, because I don't really care what they say about it, but as far as, like, the 1,000 extra hours they gave me, that's totally fricking bananas." Did it seem vindictive to him? "Oh, absolutely. They want me to be the example. Young black kids don't have the fairer chances. You can see Lindsay Lohan in and out of court every day, you see Charlie Sheen, whoever else, do what they want to do. There hasn't been any incident that I started since I got on probation, even with the Frank Ocean fight, the Drake situation, all those were defence modes. People think I just walk around as the aggressor, this mad black guy, this angry, young, troubled kid, but I'm not. I'm more and more laid-back. It's just that people know if they push a button, it'll make more news than their music. Attaching themselves to me, good or bad, will benefit them."

His anger management classes: "I think the actual class I went to was a little bit sexist." What does he mean? "It was beneficial because it made me cater more to a woman's thoughts and a woman's needs, and how to handle situations. But the class itself, no disrespect to the class, but the class itself only tells you you're wrong, you're wrong, you're wrong." I ask him to elaborate, but he seems to check himself. "Well, I don't want to get too far into that."

The Rihanna Incident: He describes "the Rihanna incident" as "probably the biggest wake-up call for me. I had to stop acting like a little teenager, a crazy, wild young guy." But when I ask if that's how he thinks of himself when he looks back at that time, he snaps back, "No, not at all" as if the description had been mine and not his. "Cos you can talk with all my girls that I did mess with before, and it's never been a violent history." Then he switches again: "But at the same time, I learned from it, and it was almost like… I wouldn't say it happened for a reason, but it was something to trigger my mind to be more of a mature adult. To handle myself in situations, don't throw tantrums, don't be a baby about it."

His tattoos: "I really don't care. A tattoo's a tattoo; it's my body, my skin." Suddenly he is sulky and petulant. "My favourite line is, 'F–k you.' I like giving the world a big f–k you. Every tattoo I have is a big f–k you. So it's just, like, this is just me, and I'm the guy who's going to be just the same guy at all times… I'm not going to walk around every day of my life depending on the opinions of other people. Because if I do that, I'll just be trying to please everybody and that's not what I'm here for." He glowers. "Just make music. If they like it, they like it. If they don't, f–k you."
The interview ends when The Guardian interviewer keeps pressing Chris about his tattoo of a woman's face, and how the tattoo looks a lot like Rihanna's bruised and battered face. That's when Chris gets really mad and I'm guessing he just walked out of the interview. Because of course he did. Anyway, what are the thoughts on Chris's claim that he lost his virginity at the age of 8? To a girl of 14? I don't think that whatever happened would, should or could be called "sex". It's like Chris was being molested and he doesn't even realize it, I think.
Obviously, this interview is a symphony of delusion, aggression, tantrums, self-pity and self-aggrandizement. I don't know what was funnier, the part where Chris talks about how he was always brilliant or the part where he's whining about his community service, or maybe the part about how he didn't like his anger management classes because they kept telling him, the abuser, that he was wrong. He's such an a—hole. Gawd.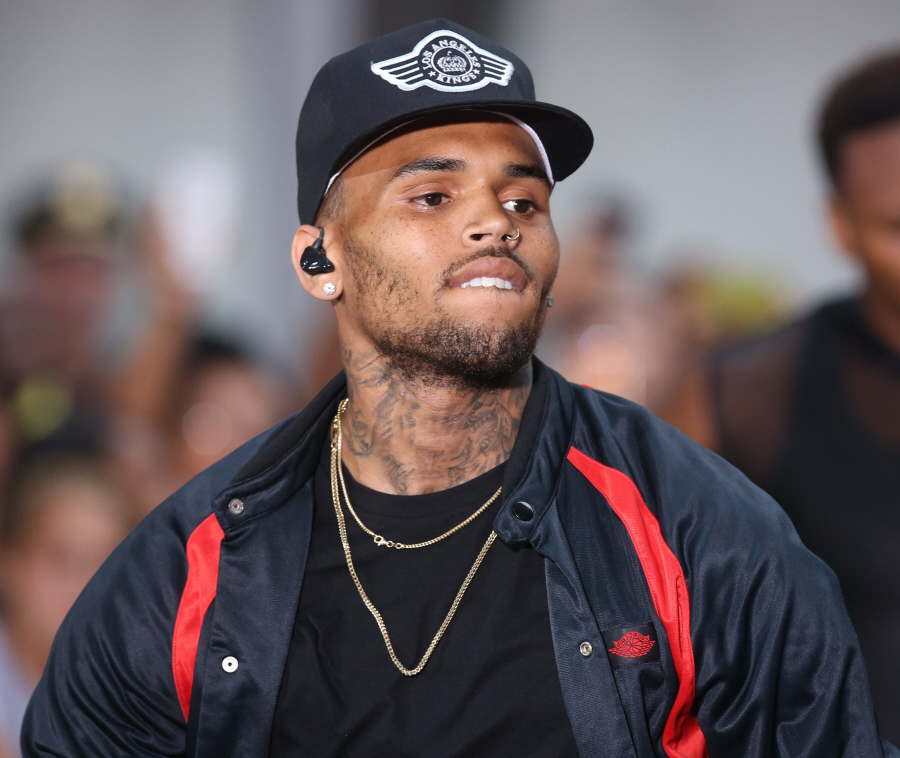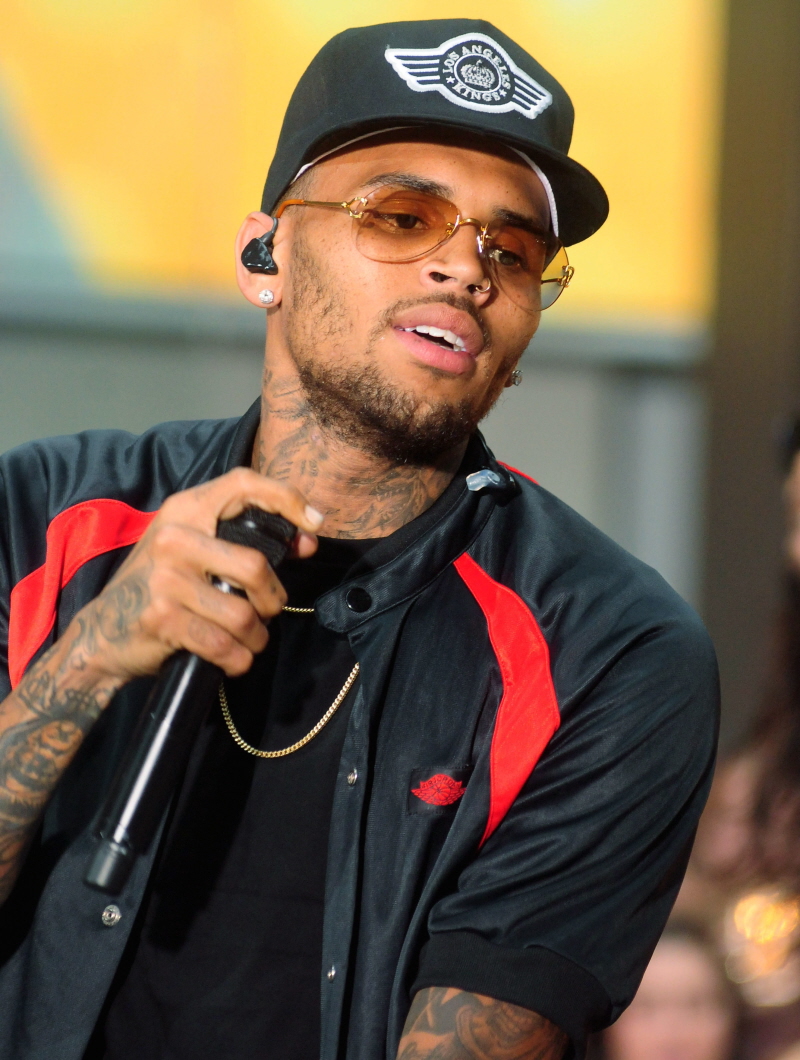 Photos courtesy of WENN.