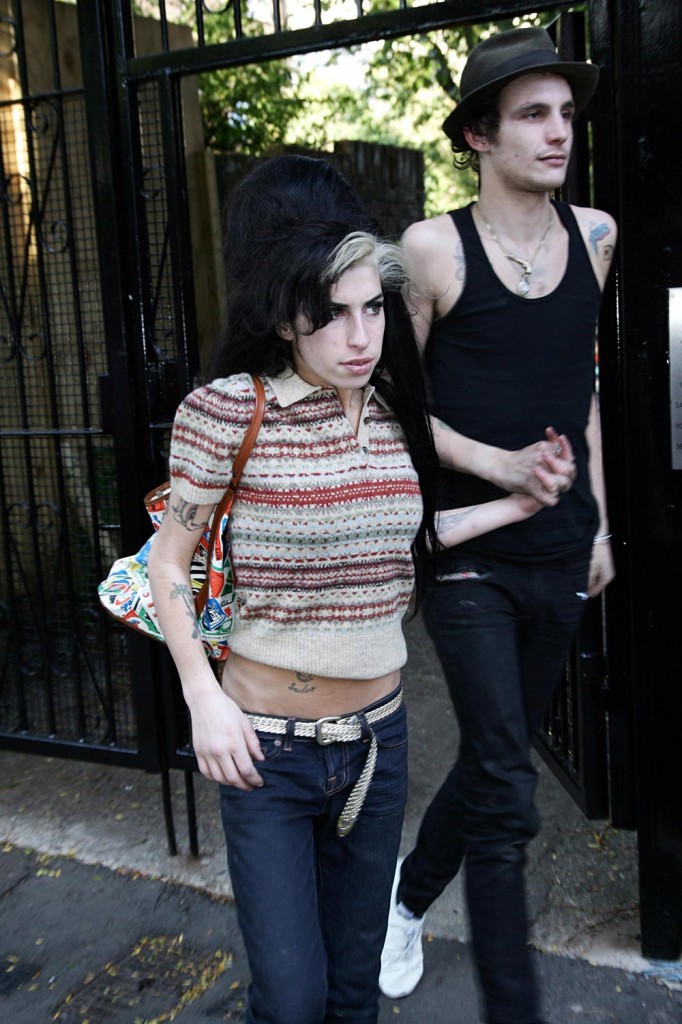 Blake Fielder-Civil has decided to divorce Amy Winehouse, following her public romance with other men and comments that Blake isn't much of a sexual performer. Now that he will no longer be married to his meal ticket on his release from prison, Blake feels the need to ensure that he's got a reasonable claim to her money.
His evidence is a rambling love letter that Amy wrote hime, where she implies that he is inspiring her music and that she will be writing songs about him.
After suggesting a collection of cover versions of their favourite songs she put the idea to one side and wrote: "So I'm thinking how about I WRITE you a few albums instead."

In her own rambling fashion, Amy continued: "Blake you are . . . the most beautiful creature I have ever seen. I pinch myself thinking about pinching you baby. Oh to kiss your skin.

"You are grace and majesty, your lips with mine are royal cushions that carry away in sweet savage dreams the minute they meet. You are a REAL boy. Everything I could pray for. REALLY my Boy Wonder."

Amy then teased Blake with revelations of her new lingerie. She wrote: "For my birthday I got loads and loads Agent Provoc stuff, you'll love it.
But how is this proving that Blake has a claim on his soon-to-be-ex wife's earnings?
And as Blake's mother Georgette Civil gave us the bombshell love letter yesterday she admitted she'd been enraged by Amy humiliating Blake and branding him a flop in bed.

"Amy's been incredibly cruel with her comments." said Georgette. "It was so unnecessary.

"This love letter completely contradicts what she's been saying. It will be an important part of his divorce case."

A legal source revealed: "The letter could prove pivotal as it proves how important Blake was to Amy's career.

"By the time the case gets to court Amy could be worth as much as £12 million and realistically Blake could end up with a quarter of that."
£3 million pounds to get rid of Blake and his clearly adorable mother Georgette? Sounds like a bargain to me. Why would Georgette release this letter to the papers if it actually had legal merit? Unless she is desperately eager to embarrass Amy, or show other potential sugar-mamas that her son is a desirable partner, I can only imagine that she is attempting to create a public perception that Blake is somehow deserving, which in turn could lead to a bigger divorce settlement.
Blake has admitted that he introduced Amy to cocaine and heroin, and her addiction has left her incapable of making an album at a time when she should be releasing a follow-up to her successful Back to Black album. In this sense, it would be easy to prove that Amy's marriage and drug addiction have been a distraction from her work, and have in fact cost her millions. Could be a very interesting divorce, sure to be fought out in the British tabloids as much as the courts.
Amy and Blake are shown on 10/4/07 and 10/11/07. Credit: WENN