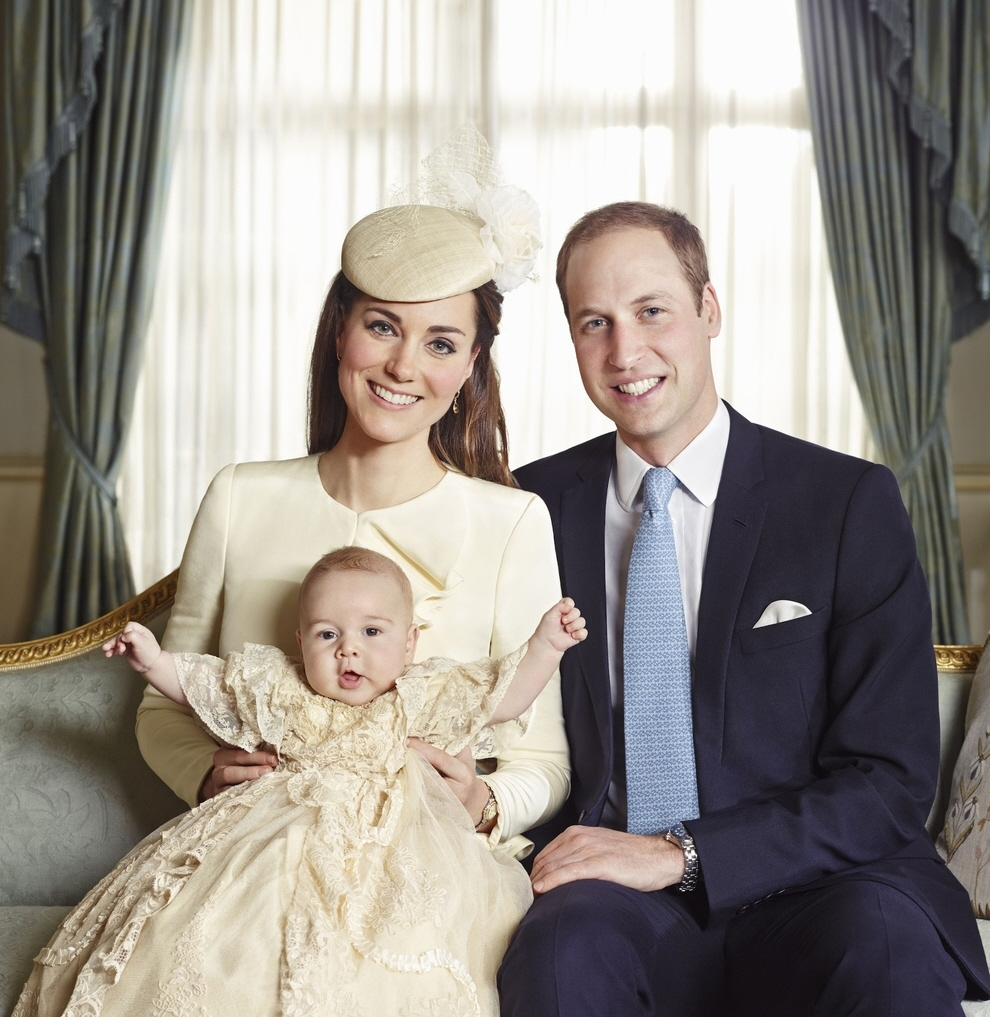 Here are the new official portraits from Prince George's christening on Wednesday. These photos were supposed to be released "on Thursday," and like all things having to do with William and Kate, they waited until the very last minute to release them. I think the photos were released, like, in the dead of night in England. Around 11 pm or so, which seems weird. Anyway, there are lots of poses and groupings to choose from. My favorite is the tight family unit one of just Will, Kate and George. George looks very, very happy in that shot. He's even waving his little arms like he's about to yell "HUZZAH!" Or possibly "Yay, I get to be king!"
The photos were taken in the Morning Room of Clarence House, the Prince of Wales' residence and offices (most of Charles' offices are in St. James Palace, I guess). The Middletons were included in one of the portraits and in an interesting twist, Harry and Pippa were posed side-by-side. Please, let's not do another round of "Pippa and Harry, let's make it happen." He's got Cressida. He doesn't want Pippa's mess. I think the photo of the Queen with the next three generations of kings is an interesting photo – very interesting. Is this what modern monarchy looks like? It looks… stream-lined. Lean. Personally, though, I'm a fan of the royal "dead-weight" like Princess Anne and the York princesses. I'd trade in half of these people for the Princess Royal.
As for Kate and how it looks like she's lost all of the baby weight (and then some), Star Mag had an interesting piece on that:
Just three months after giving birth to baby George, Kate has lost all of her baby weight. "In fact, she looks even more toned and fit than she was before her pregnancy," says body expert Alicia Hunter.

How did she do it? Although naturally thin and likely predisposed to have an easier time dropping pregnancy pounds, a palace source confirms to Star that the Duchess "set aside time every day to work out. Kate's trainer had her doing a lot of cardio, abdominal exercises and weight training. Her main focus was her stomach. She was determined to have a flat stomach – and she loves how it looks now."

Kate has also been breast-feeding and her glowing skin "indicated she's eating clean and staying well-hydrated," says Hunter. Kate "seems to have lost 40 pounds."
[From Star Magazine, print edition]
Is it reasonable for a woman who just gave birth three months ago to be doing abdominal exercises? I'm really asking. I don't know if it's okay. Cardio sounds fine, weight training sounds fine, but just the idea of Kate doing crunches and sit-ups…ouch. But of course she "set aside time every day to work out." It's not like she had a job she had to go back to!
PS… Does Prince George have brown eyes?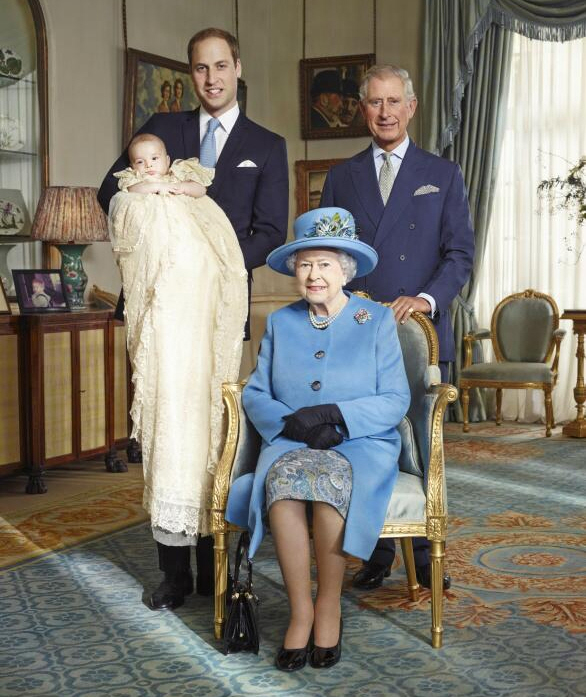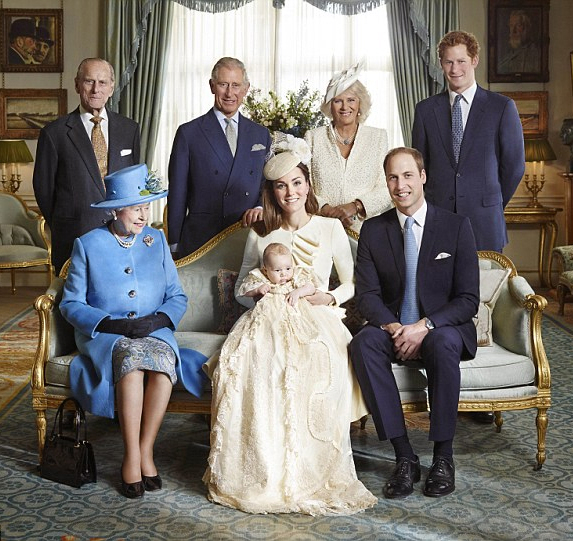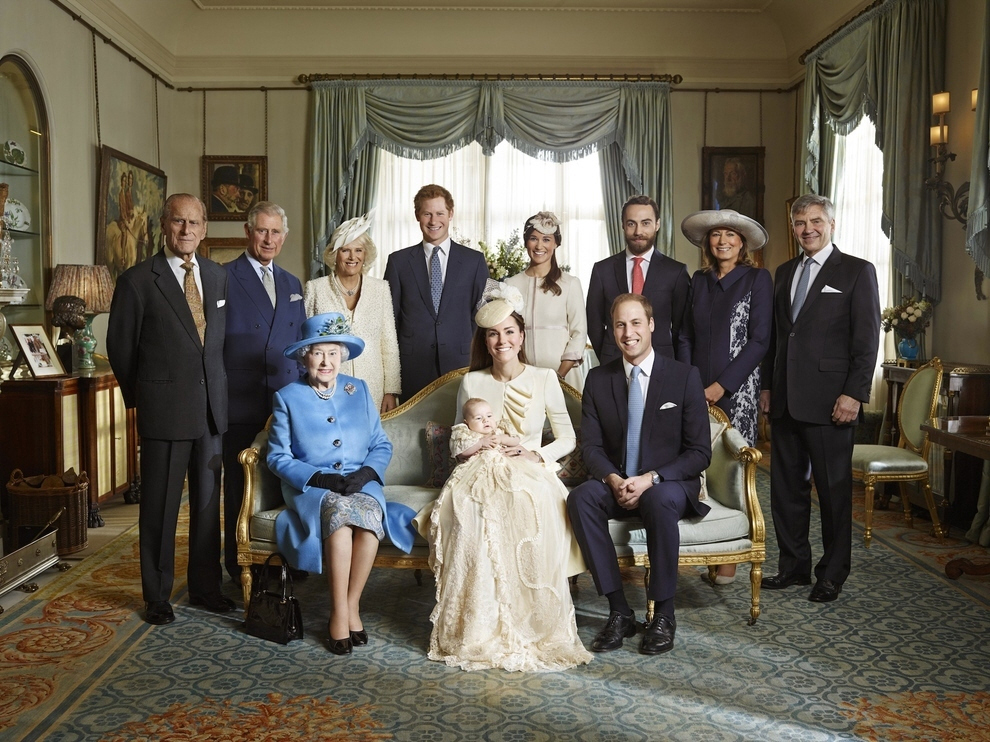 Photos courtesy of Jason Bell/Clarence House.