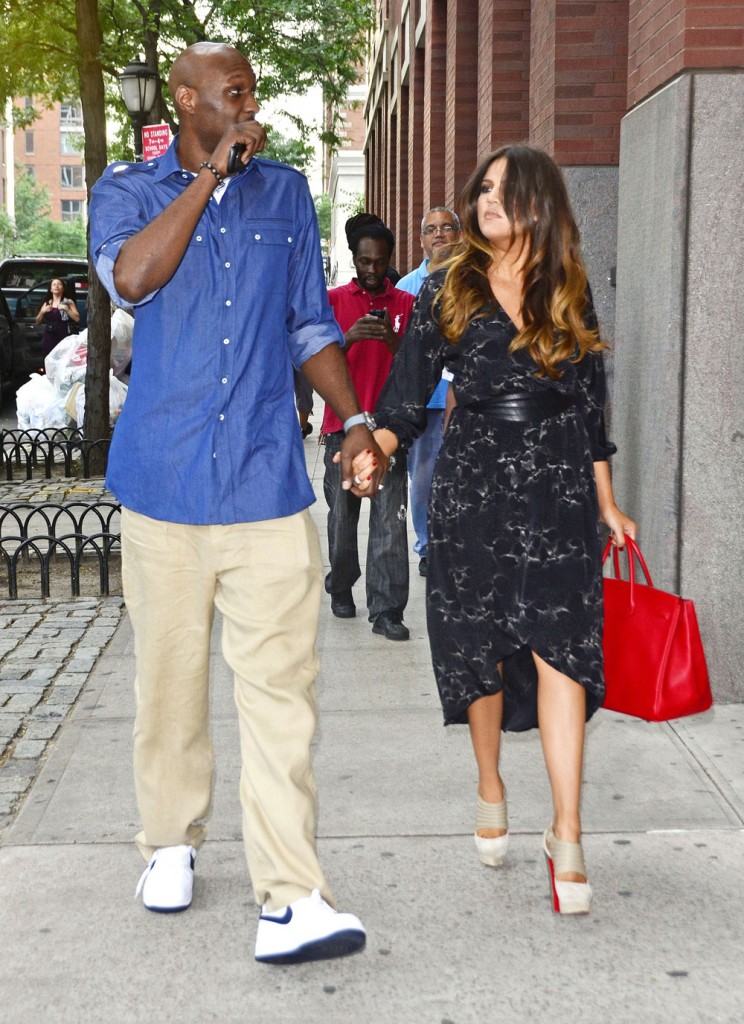 I had the chance to read US Weekly's full cover story on Khloe Kardashian and Lamar Odom's reconciliation, which we covered briefly yesterday. To say it's a real doozy is an understatement. We previously heard the detail that Khloe is taking Lamar back after he got sober and groveled. Lamar also is said to have appealed to The Don herself, Lucifer's homegirl PMK, who gave the reunion her blessing as long as she could exploit it in a tabloid narrative. Hence this US Weekly story, which made me uncomfortable for Khloe. She's making what I consider to be a very bad decision, but if she were an average citizen she would only have to deal with judgment from her friends, family and community. Instead it's all laid bare in the pages of US, with details including Khloe's motivation, how she forgave Lamar, how she feels about his affairs, and the fact that she's sleeping with him again. I was surprised at how candid it was, but I guess this is the price people pay when they sell their souls for profit.
Here's most of what I found interesting and new in the US story:
On how Khloe is coping with Lamar's affairs
She can forgive, but forgetting is another matter altogether. "Khloe is not past his affairs and they still fight about them," the confidant says of the stories of Odom cozied up at hotels with multiple other women – one of whom told a tabloid she thought he had gotten her pregnant. "This is what Khloe is mainly embarrassed about. She hates the drugs, but the cheating and lying are harder."

It's just like old times, they're sleeping together
Yet ever since Odom's forgiveness pleas, the couple have had covert rendezvous nearly daily, with Odom still apologizing endlessly. And their reunions are sometimes so like old times that she's felt comfortable enough to be intimate with him. Confirms a source: "They've been sleeping together."

On how Lamar is ready to get back to work
After a year of watching the Queens, NY native spiral downward, Khloe has seen a remarkable emotional and physical turnaround. "He is working out constantly," the insider says of the free agent, who has had discussions with the LA Lakers. "He's putting on weight and looking great."

Khloe is worried that taking Lamar back makes her look
Now, says the insider, she's more concerned about the reaction to taking him back. "She knows it will look bad," says the insider. "She doesn't want backlash because she forgave an addict and cheater."

On how the reunion was so hard for poor fragile Kris Jenner
The very day of Odom's October 8 apology, Jenner was already raw after announcing to US her separation from husband Bruce. But she put that aside to hear her son-in-law… Kris broke down in tears and hugged Odom. "She told him she loved him and he said the same," says the source. "But she also told him, 'Don't you ever do this again.'"

Lamar is ready to be a Kardashian again
"Lamar also wants to ease back into the Kardashian family. He wants it to be a peaceful, happy reunion when everyone is ready."
[From US Magazine. print edition, November 11, 2013]
At least Khloe, or her mom I guess, is finally admitting how much the affairs hurt her. The previous company line was focusing on Lamar's drug use as the problem, not his wandering dong. Also, that last part about poor noble Kris Jenner is hilarious to me.
Some of you commented in the last post that there's a blind item claiming Khloe is the one who introduced Lamar to drugs. This is ridiculous, in my opinion. Blind items are blind for a reason, sometimes they're just people's hunches turned into blinds, although some of them are legit and end up being true. So I wouldn't put much faith in that one. Plus, even if it's true, it's not Khloe's fault if Lamar was cheating and smoking crack constantly. If you have a glass of wine with someone and they end up being an alcoholic, is that your fault?
As for Khloe's very bad decision, some of you mentioned in the last post that you should stick with your marriage, and your spouse, no matter what. I disagree. There are deal breakers in relationships, and infidelity and extreme addiction are a couple of mine. Some people don't make these boundaries with a spouse, and that seems unhealthy to me. There's a difference between not standing by someone when they need you, and putting up with serial cheating, abandonment or abuse.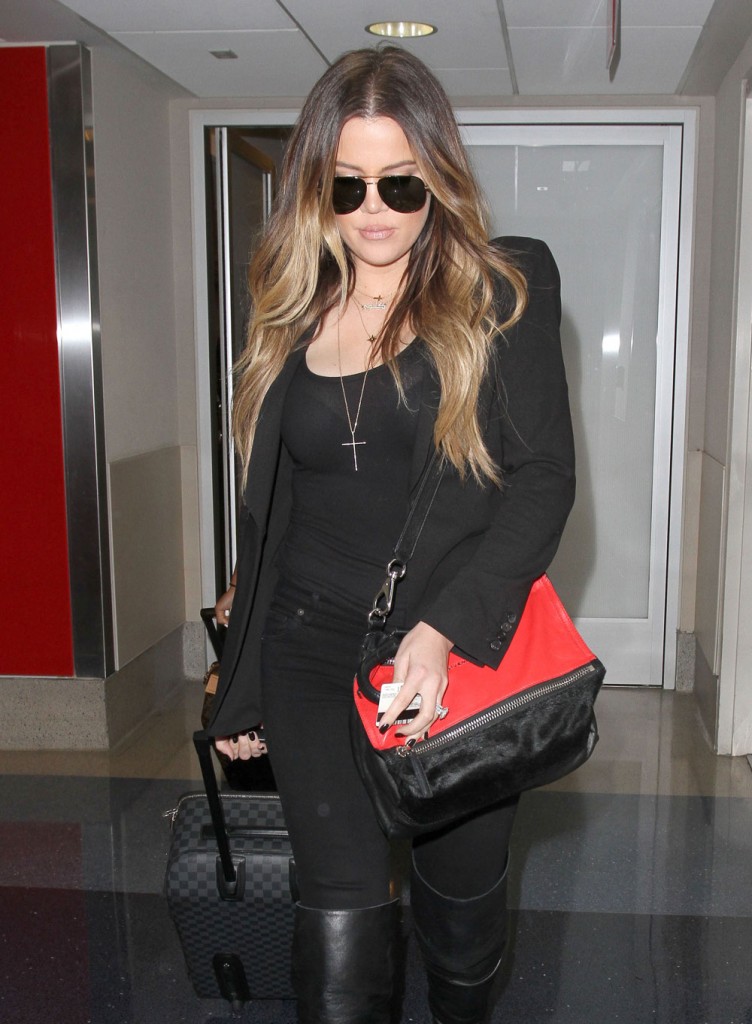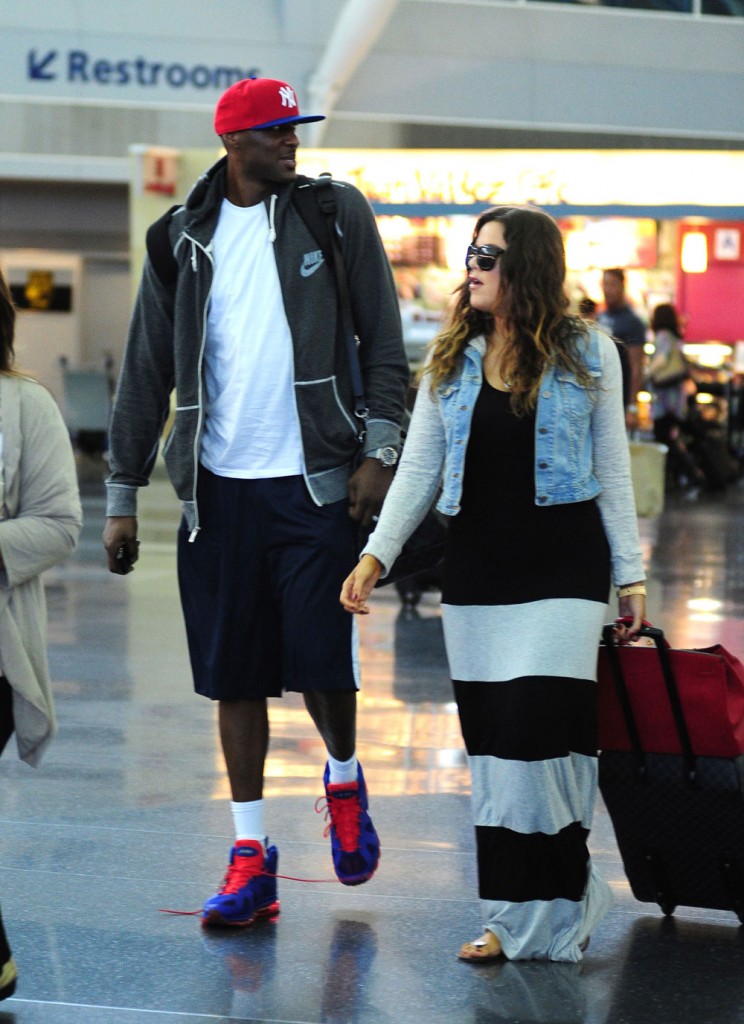 All photos of Khloe with Lamar are from June, 2012. Khloe is shown at the airport and at an event with Kourtney on 10-25-13. Credit: FameFlynet