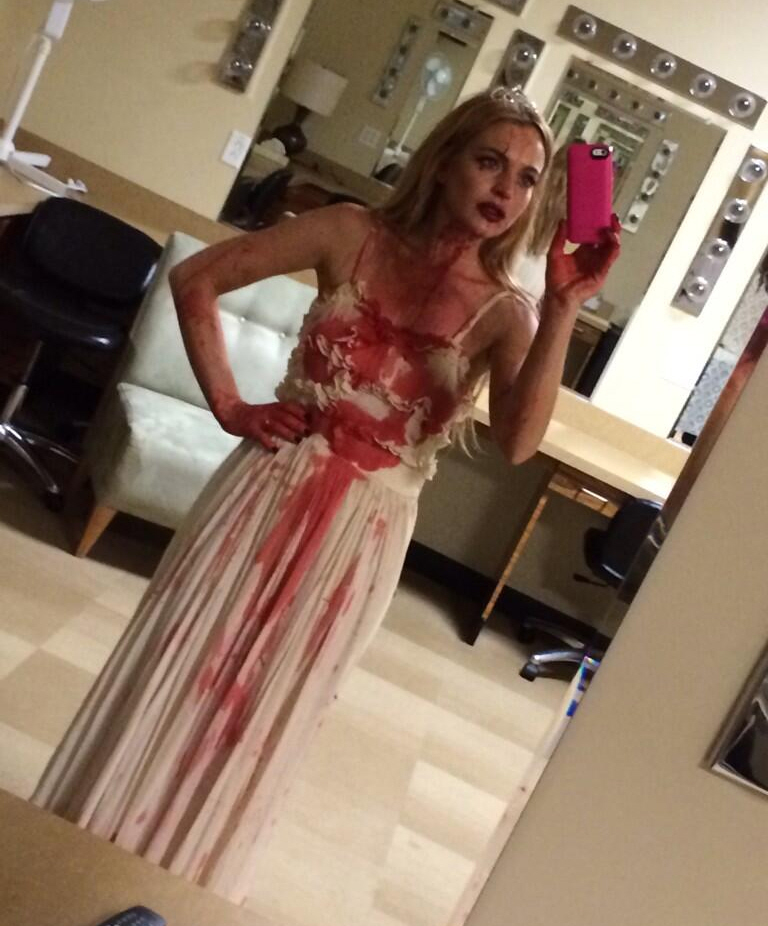 Here is Lindsay Lohan's "Carrie" costume for Halloween. Kelly Osbourne went as Carrie too. You think LL was pissed off about that? For my money, Kelly had the better costume – Lindsay's just looks really budget. As it turns out, everything was pretty budget about Lindsay for Halloween. Not content to merely grift Oprah Winfrey (poor Oprah!), Lindsay somehow landed herself a gig "hosting" a Halloween party at a Connecticut casino. The gig was supposed to be simple enough – Lindsay would show up 10 pm, pose on the red carpet, hang out for a bit inside and she would get paid $50,000 for that. By the way, HAHA on that figure – I think Kim Kardashian probably gets something like $200,000 to show up at a party, and at least Kim gets invited to proper casinos in Las Vegas.
Anyway, Lindsay was supposed to show up on time and she would get an easy $50,000 to BLOW through. But of course this is the Cracken we're talking about and seeing as how she's already relapsed in a major way, it's not a surprise to learn that crackheads are always pretty crackie:
Lindsay Lohan was paid north of $50,000 to host a Halloween party at a casino last night, sources tell TMZ — but she was so late … the casino wants a chunk of its money back.

Sources familiar with the situation tell us, Lindsay was paid to show up to Foxwoods casino in Connecticut at 10pm, but she didn't arrive until 11:43pm.

When she finally did show up, we're told she blew off the red carpet — where she was supposed to pose for photos and talk to fans — and walked straight into the party. We're told Foxwoods is now trying to renegotiate Lindsay's contract because the casino feels she screwed them over.

Lindsay didn't completely drop the ball. We're told she and co-host Floyd Mayweather Jr. judged the Halloween costume contest together and actually did a decent job. (FYI, Lindsay was dressed as Carrie and Floyd was dressed as Freddy Krueger.)

For what it's worth, we're told Floyd (who was paid about the same as Lindsay) was late too — but he made up for it by spending time with fans, signing autographs and taking photos. Lindsay, not so much.
I mean… for the love of God. I can't even imagine what goes through her crack-addled mind at this point. MOVE THOSE PEOPLE, I'M LINDSAY LOHAN. Yes, we know. That's why you're getting paid $50,000 to be nice to people on a red carpet. This isn't damn rocket science, you know. Anyway… how do you feel about the Cracken's return to some good old fashioned crack shenanigans? Also: how g–damn dumb was this casino to give Lindsay the money upfront?! NEVER GIVE HER THE MONEY UPFRONT.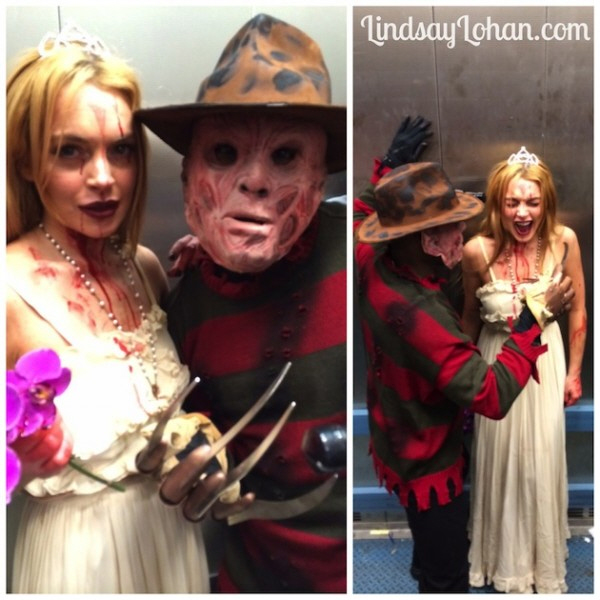 Photos courtesy of Lindsay's Twitter, WENN.