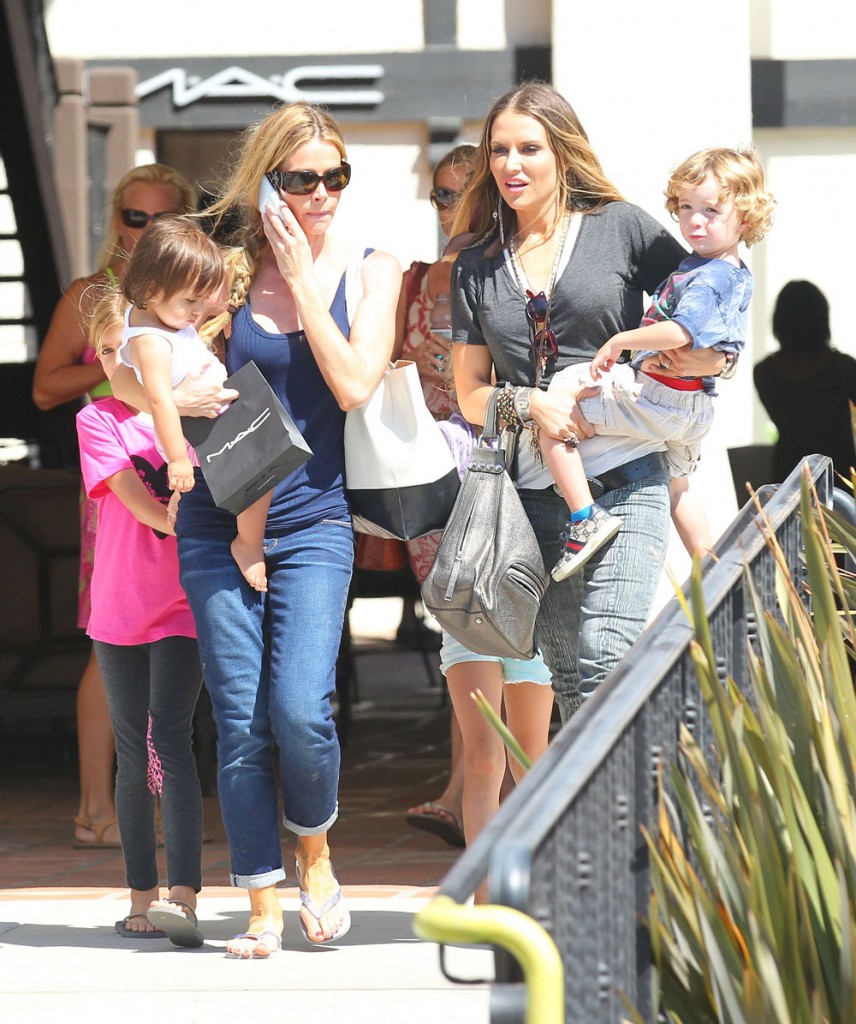 Denise Richards and Brooke Mueller with their kids in September, 2012
This story is based on two competing reports about what went down in a meeting between Brooke Mueller and Denise Richards at the CA Department of Child and Family Services. Denise has been caring for Brooke's four year-old twins with their mutual ex, Charlie Sheen, since May. In a recent letter to DCFS, Denise said she could no longer care for the boys due to their random violent behavior, which puts her daughters and pets at risk. We've heard that "former" meth addict Brooke Mueller is due to regain full custody of the boys, because DCFS is "impressed" with Brooke's improvement after a whole seven months of sobriety, counting the time she spent in her 21st and 22nd rehab. (She switched rehabs, it was her 21st rehab stint overall.)
So Brooke and Denise met yesterday to have an emergency meeting at DCFS called by top agency officials. The objective was to agree on a plan to transition the boys into staying with their mother full time. God help them. Charlie Sheen is not stepping up at all, which is probably a good thing. According to TMZ, the boys currently get three days and two overnights with their biological mother a week. Brooke is angling for full custody, and the $55,000 a month check that goes along with that. Max and Bob will gradually stay with their mother full time, but it will be a whole three weeks before that happens. Denise has to agree to let them stay with her in the meantime, and judging from her letter that will be no easy task. The little guys have regressed quite a bit since they've been seeing their biological mother.
TMZ presents the meeting like it was tense but productive. Radar Online claims that Brooke lashed out at Denise in a way that was obvious, inappropriate, and shows that there are cracks in the facade she's trying to present – as if her entire life up to this point wasn't a huge red flag. Here's Radar Online's report and you can read TMZ's claims on their site.
"Denise told the head honchos of of DCFS she just wanted a smooth transition of the twins back to their mother, Brooke Mueller. Officials were extremely impressed with Denise and her genuine concern and love for the boys.

"However, Brooke was extremely combative and lashed out at Denise. It came out of nowhere and was extremely inappropriate. It was probably the first time DCFS saw cracks in Brooke's previously cool demeanor. Brooke was having a temper tantrum because she felt Denise was making her look like a bad mother. Nothing was accomplished at the meeting, except for Denise maintaing that it was time for the boys to leave her house, but she wants it done with the help of the department so all of the kids have closure," a source told RadarOnline.com exclusively.

The Los Angeles County of Department of Children & Family Services called an emergency meeting between Mueller and Richards to determine if a peace deal can be struck regarding custody of the 4-year-old boys.

"The meeting has been called in hopes of convincing Denise to keep the boys for at least another three weeks until Brooke is scheduled to get them back," a source previously told Radar.
Assuming Brooke was wildly inappropriate like this, it's doubtful that Brooke's behavior will change the custody plan one bit. She's on track to getting her boys back and DCFS seems hell bent on making that happen. One of the reasons the meeting was called was because DCFS officials doubted Denise's sincerity in her letter describing the very serious ways the boys were acting out. Of course they did. And of course they think that Brooke will be a fabulous mother.
So this begs the question: who is TMZ's source and who is Radar's source? Radar is the first outlet that had the full contents of the letter that Denise sent to DCFS. TMZ had extensive interviews with Charlie Sheen, which led to Charlie being slapped with a gag order by the custody judge. So I believe Radar, assuming that their source is either the much more sober Denise Richards or a DCFS insider. Plus, just going on Brooke's past behavior, is she going to try and play nice with the woman who has selflessly cared for her kids while she tried to quit drugs for the umpteenth time?
There was a report earlier this week that Brooke filed papers with the child dependency court claiming that Denise was trying to "bribe" the boys with "toys and candy" and that she was trying to turn them against her. Brooke believed that Denise was telling the boys to misbehave and act out. Brooke only cares about herself and how things affect her. She's blocked attempts by Denise to get the boys the professional help they so desperately need. That might interfere with her gaining back custody and Charlie's monthly checks.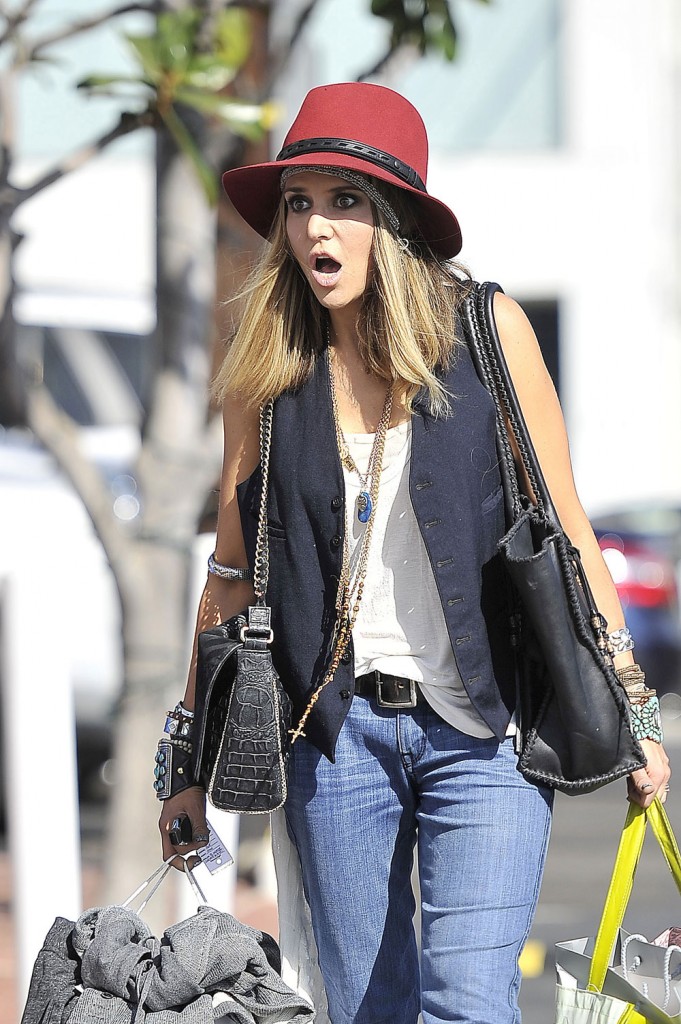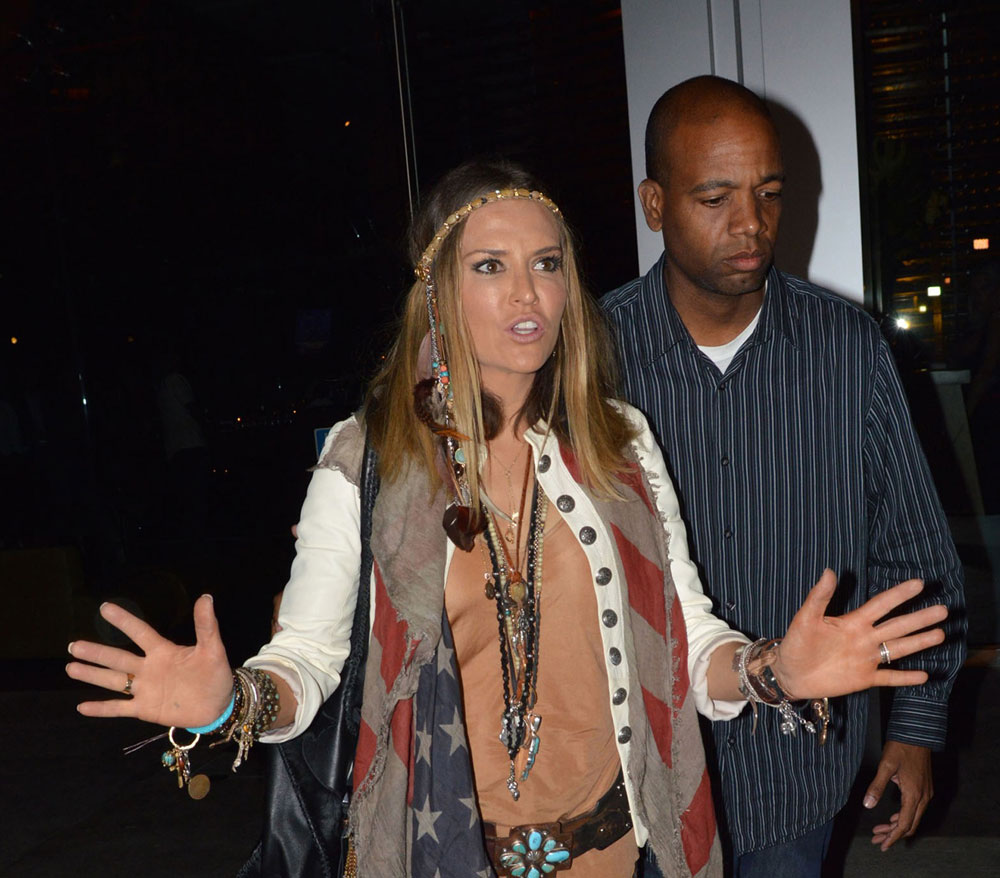 All photos are from September, 2012. Credit: WENN.com