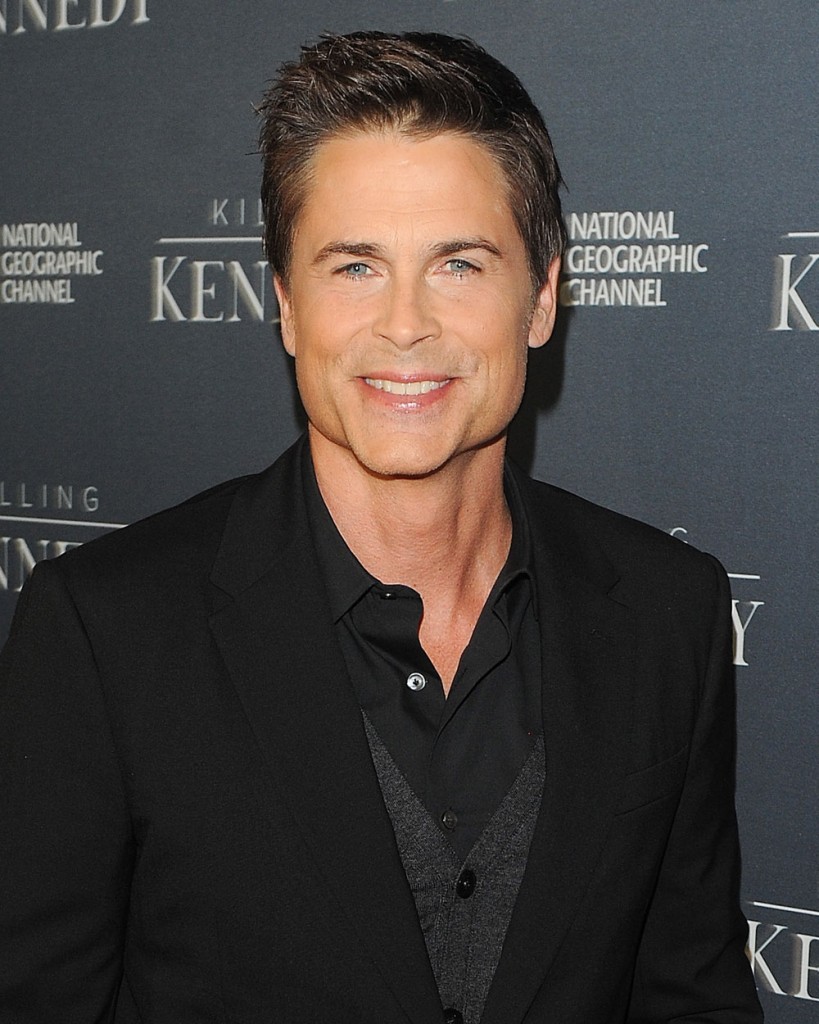 Rob Lowe has had a storied past, and while I think he's largely moved past the scandals of his youth, there's still something smarmy about him. So help me he's still very hot, and the kind of playful deviance he exudes is very attractive to me. So yes, of course I would hit it. It doesn't hurt that the guy is in excellent shape and looks 10 to 15 years younger than he is.
Lowe gave an interview to People Magazine and they asked him about turning the big 5-0, but his birthday isn't until next March! I don't know why they're bringing it up now, but I like that outlets are asking male actors about aging and reaching milestones. Usually those kind of questions are reserved for women. Lowe didn't seem to care too much about numbers, and he also had some very nice things to say about his wife of 22 years, and his career. Rob is promoting his role as JFK in the TV movie Killing Kennedy, which aired on the National Geographic channel on Sunday. Here's more:
"My work life is so chaotic and we live in Santa Barbara so it is a very long drive but I'm home every night and I wake up in a beautiful area with my family," Lowe tells PEOPLE. "Sometimes on days off I don't even leave the property."

And although the past few months has been a busy time for the Parks and Recreation star, he is taking extra care to savor his last few months with his youngest son, John Owen, 18, before he goes off to college, following in the footsteps of his brother Matthew, 20, who is in his second year at Duke University.

"They are both so academically advanced," says the proud papa. "They have also been a handful at times but I wouldn't have it any other way. In fact, if they had not been I would have worried where my DNA was!"

Keep up with your favorite celebs in the pages of PEOPLE Magazine by subscribing now.

If the smarts did not come from the former Brat Pack member, it was perhaps passed down by the boys' mother, Sheryl, 52.

"I'm rediscovering my relationship with Sheryl," Lowe says of his jewelry designer wife of 22 years. "She's great and as wonderful as ever. Emotionally, I am in love like a teenager."

And outside of his family life, Lowe couldn't sound busier: The actor is "in denial" about his recent decision to move on from Parks and Recreation. He is developing a new sitcom for NBC, working on the upcoming film Sex Tape with Cameron Diaz and Jason Segel, and stars as the title character in the National Geographic Chanel movie Killing Kennedy airing Sunday.

"I feel more creatively fulfilled than I've ever felt," says Lowe, whose costar Ginnifer Goodwin will be doing a live Twitter chat with PEOPLE readers Sunday. "JFK is a role I've always dreamt of playing. I'm really happy, gratified, grateful for this particular moment in my life."

And turning 50 in March is having no negative impact on the youthful-spirited star.

"The candles on the cake mean absolutely nothing," says Lowe. "It truly is about how you lead your life and not how much life is led."
Rob Lowe says "there are days when I don't leave the property" while my equivalent is "some days I sit on the couch, watch TV all day and don't change out of my sweats." Rob's days at his property probably involve surfing, a personal trainer coming over, and a chef preparing him healthy low calorie meals.
That was sweet what he said about being deeply in love with his wife. I have no evidence for this, apart from some unsubstantiated and I think false claims made by a nanny trying to squeeze money out of the Lowes, but I've assumed in the past that they were swingers. Maybe it's because they both look like they're up to something. They definitely have that in common. It could just be that they have an awesome sex life and it makes them look smug together.
As for Killing Kennedy, Entertainment Weekly gives it a B and calls Rob's performance "effective." They describe the film as "solidly watchable" but "quickly forgettable." Rob needs to do much better than that to top his performance as plastic surgery victim Dr. Startz in Behind The Candelabra.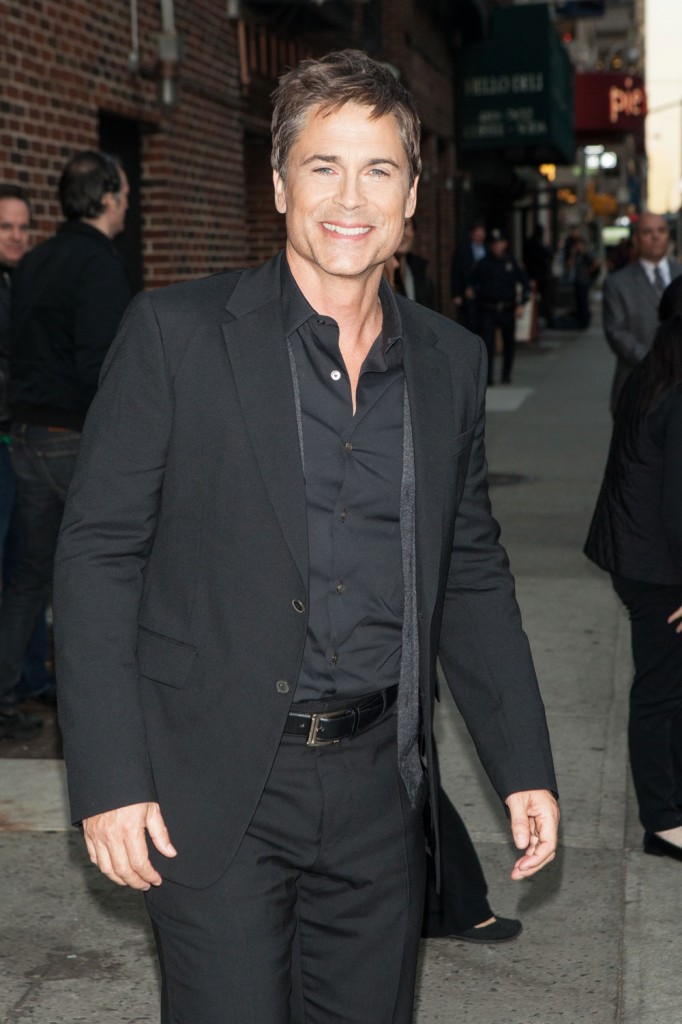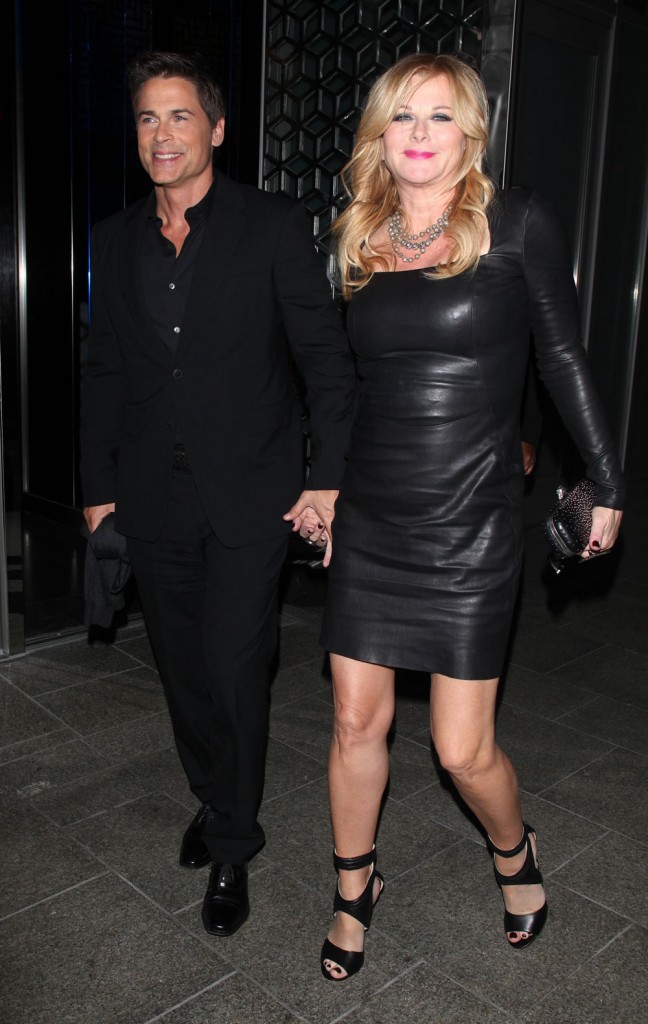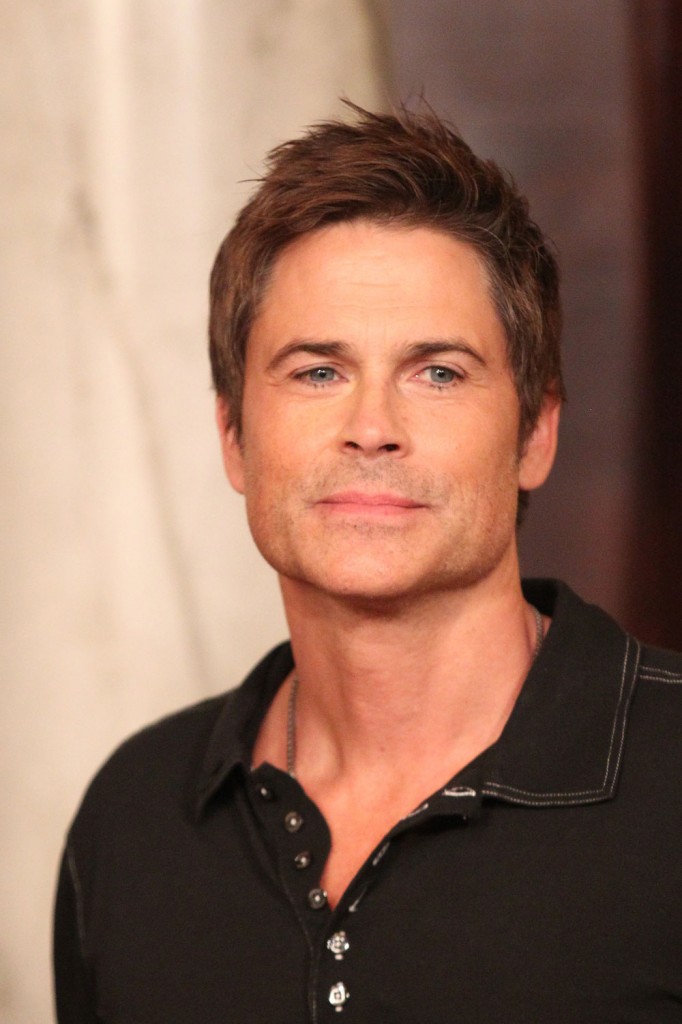 Rob Lowe is shown with his wife, Sheryl, at the Killing Kennedy premiere on 11-4. He's also shown at the late show on 10-29 and at a Parks & Rec event on 10-17. Credit: WENN.com