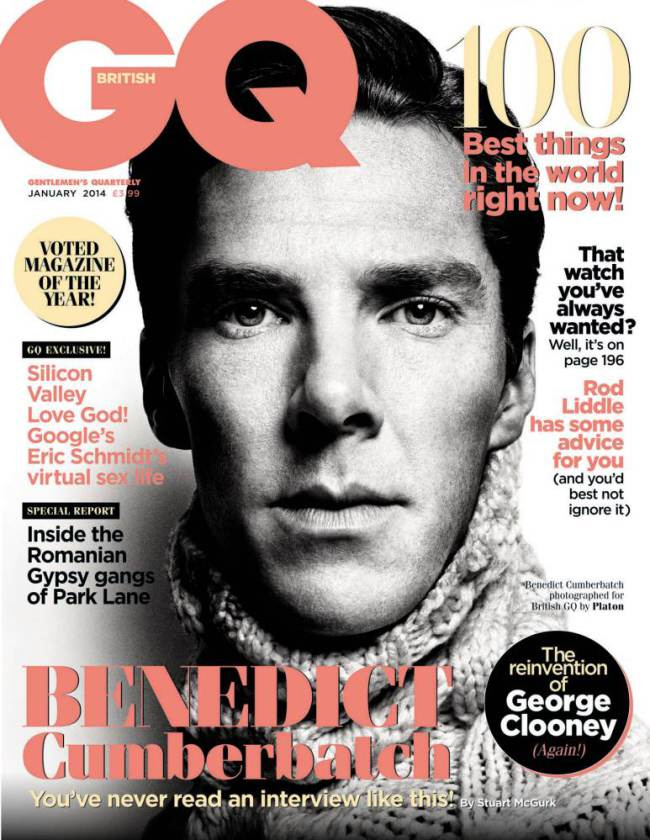 Merry Christmas!! Here is your early Christmas present… Benedict Cumberbatch on the cover of GQ UK's January 2014 issue. He's promoting Sherlock Season 3, mostly, although it probably helps that he's also got The Desolation of Smaug and August: Osage County coming out around Christmas too. Sigh… all I want for Christmas is to get Benedict out of this TWEED. And out of that girlish turtleneck. Who styled this poor sex god for GQ UK? Was it the same person who put Tommy Hiddleston into that pimp coat? Seriously, that tweed photo is making my biscuit sad. Of course I would still hit it, but it's only because I can close my eyes and think of the Sex Gloves.
As for the GQ UK interview, it's actually the triumphant return of ol' Bitchy Batch. Remember when he used to complain about everyone seeing him as so terribly posh? He toned it down while promoting Star Trek and The Fifth Estate, but here it is again. Lovely. And he talks about how hard it is to find a girlfriend. Benedict, STOP. You know where I am.
Benedict Cumberbatch may be the world's sexiest actor but that doesn't mean that the actor has it easy when it comes to finding love. Opening up about his love life (or lack of) to GQ Magazine, the actor who will soon be returning to our screens as Sherlock, admitted:

"It is harder [meeting women], because people think they know more about you than they actually do. And you can't control that… You can't control perceptions of you."

Recalling his run-in with the Madonna, 55, the Star Trek actor quipped: 'She said, "You're the one with the strange name". I said, "Yes, I am, Madonna…"

But he said he had little time for people who only see his oddities.

'All the posh-baiting that goes on… it's so predictable, so domestic, so dumb. I'm an upper middle-class kid. I know that's counted as posh, but then I know people who I would call posh, and I don't talk like them,' he told GQ magazine.

Meanwhile, Benedict's romance troubles aside, the 37 year-old also wanted to make clear that he can play various roles other than Sherlock.

Understanding that he will forever be linked to the role of the iconic Baker Street detective, Benedict said: "I know that everything I do now will have flavours of 'Sherlock'. Everyone wants those dark, complicated anti-heroes and, of course, I play them. But I also plays Charles in August: Osage Country, an everyman; he's not super-sleuthing or cracking code or breaking algorithms. I play Ford in 12 Years A Slave and Alexander in Stuart: A Life Backwards – he's a pretty open book; smart man though he is, the complexity is all about Stuart."

He added: "I mix it up."
[From Metro & Entertainmentwise]
"It is harder [meeting women], because people think they know more about you than they actually do." Like Katia? It's difficult because we know about Katia and the Summer of Sadness when we realized Benedict had been taken in by a Russian famewhore who parlayed their relationship/friendship/whatever into more media coverage for herself? Is he saying he got burned by that experience? I hope that's what he's saying because I'm not sure I can go through that again. As for the "posh-baiting"… I guess you have to be British to really understand the subtle class warfare he's discussing. I hope he threatens to move to America again!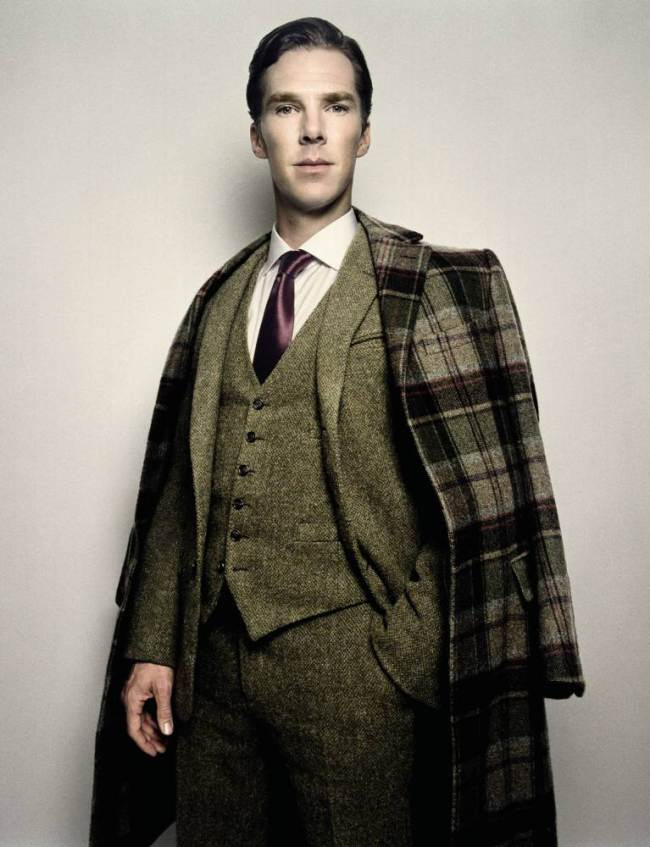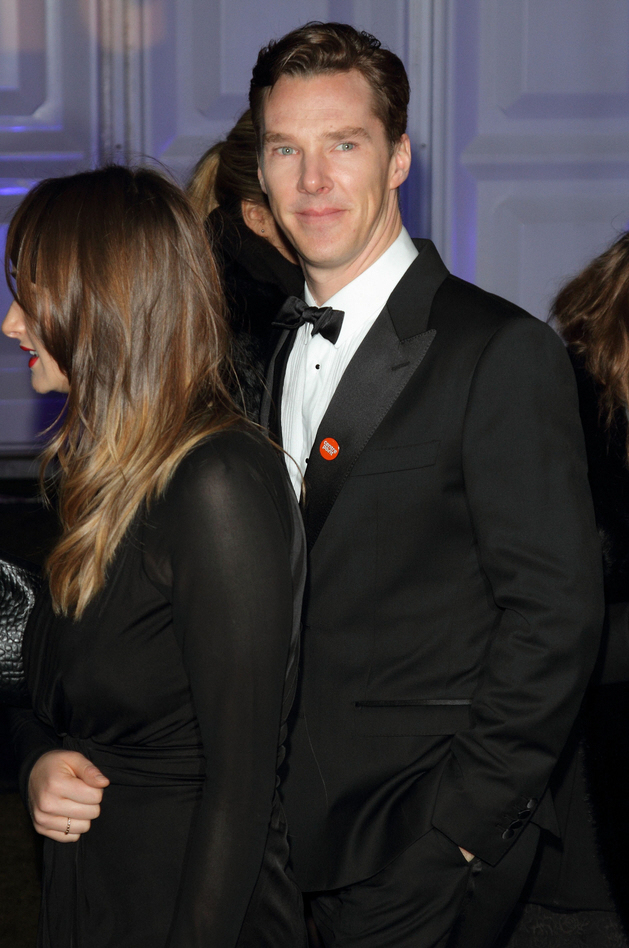 Photos courtesy of WENN, PR Photos, GQ UK.