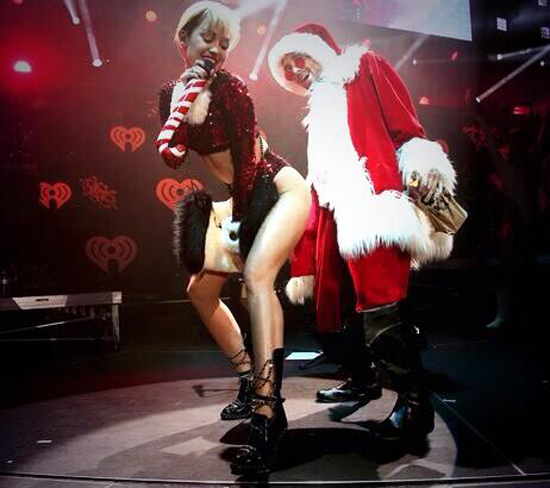 To no one's surprise Miley Cyrus grinded her booty against Santa's crotch at Friday night's Jingle Ball. We made an editorial decision to not show the video of the performance because it's slightly NSFW. The act arrives with backup dancer thong intact. If you're interested, you can see it here. What do you think of Bad Santa? The guy inside the costume is Cheyne Thomas, Miley's BFF/assistant/enabler. Miley twerked a little bit on him, and she sang into a candy-cane microphone. I was really distracted by her furry Chanel handbag. Why did she wear that thing other than to emphasize her white trash and Chanel style motto? The bag was too big and kept flopping around and getting in the way of her "dancing." I guess I should just be happy it was blocking the general view of her hairless crotch area.
Speaking of hair, Miley showed off a new 'do on Saturday night and duly Instagrammed a photo: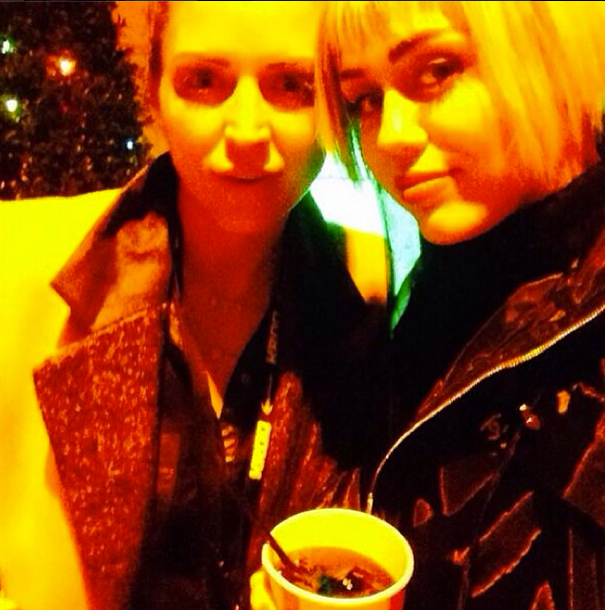 You can see a better picture of the bob here. I think there's a fair chance that this is mostly Miley's real hair when brushed down. Those may be clip-on bangs, but I think her hair is grown out enough for this bob style. I'm not loving it.
In other Miley-related news, Rashida Jones is attempting to explain her Twitter rant from a few months ago where she asked young female celebrities to "stop acting like wh-res." I agreed with Rashida's general sentiment — women shouldn't have to strip to be successful — but I didn't appreciate her use of the word "wh-re" as a descriptor. Using that word invites accusations of "slut shaming," and there's no hope for a coherent conversation once that happens. Here's Rashida's new column for Glamour:
This fall I was hanging out with my sisters, catching up on pop-culture stuff. We watched some music videos, looked at a few Instagram accounts, and checked out blogs. And amid the usual duck-lipped selfies and staged paparazzi photos, a theme emerged: Stripper poles, G-strings, boobs, and a lot of tongue action were all now normal accessories for mainstream pop stars. Across the board the Instamessage seemed to be: "You know you want to have sex with me. Here, take a look at lots of parts of my body."

That was at the end of October, a month that had already brought us the Miley Cyrus cross-continental twerk-a-thon and Nicki Minaj's Halloween pasties. With the addition of Rihanna writhing on a pole in her "Pour It Up" video, and Lady Gaga's butt-crack cover art for the song that goes "Do what you want with my body," I was just done. I'd had enough.

I don't know when the pornification of pop stars became so extreme, but as Robin Thicke's "Blurred Lines" video played in the background–naked fantasy women bouncing around and licking things–I realized that the lines were not really blurry at all. They were clear. A new era had arrived.

Let me say up front: I am not a prude. I love sex; I am comfortable with my sexuality. Hell, I've even posed in my underwear. I also grew up on a healthy balance of sexuality in pop stars. Yes, we had Madonna testing the boundaries of appropriateness, but then we also had Janet Jackson, Whitney Houston, and Cyndi Lauper, women who played with sexuality but didn't make it their calling card. And for every 2 Live Crew "Me So H-rny" video girl, there was Susanna Hoffs singing tenderly about her eternal flame.

Twenty years later, all the images seem homogenous. Every star interprets "sexy" the same way: lots of skin, lots of licking of teeth, lots of bending over. I find this oddly…boring. Can't I just like a song without having to take an ultrasound tour of some pop star's privates?
[From Glamour]
I agree that Gaga's butt-crack single cover was disgusting. I didn't need that mental image at all. I think all of these ladies have a right to express their sexuality, but that seems like all they're doing these days. Miley sure has enjoyed the attention, but this won't do much for her career in the long run. Gaga's act is clearly wearing thin as well.
So is Rashida right about every pop star using profanity and sexuality to sell their wares? Even squeaky clean Selena Gomez dropped an F bomb at the Jingle Ball show over the weekend. Oh well. At this point, I'm actually starting to appreciate my daughter's addiction to Taylor Swift's music.
Here's Miley on the Jingle Bell red carpet before the Santa twerk. She's wearing Calvin Klein and looks almost classy!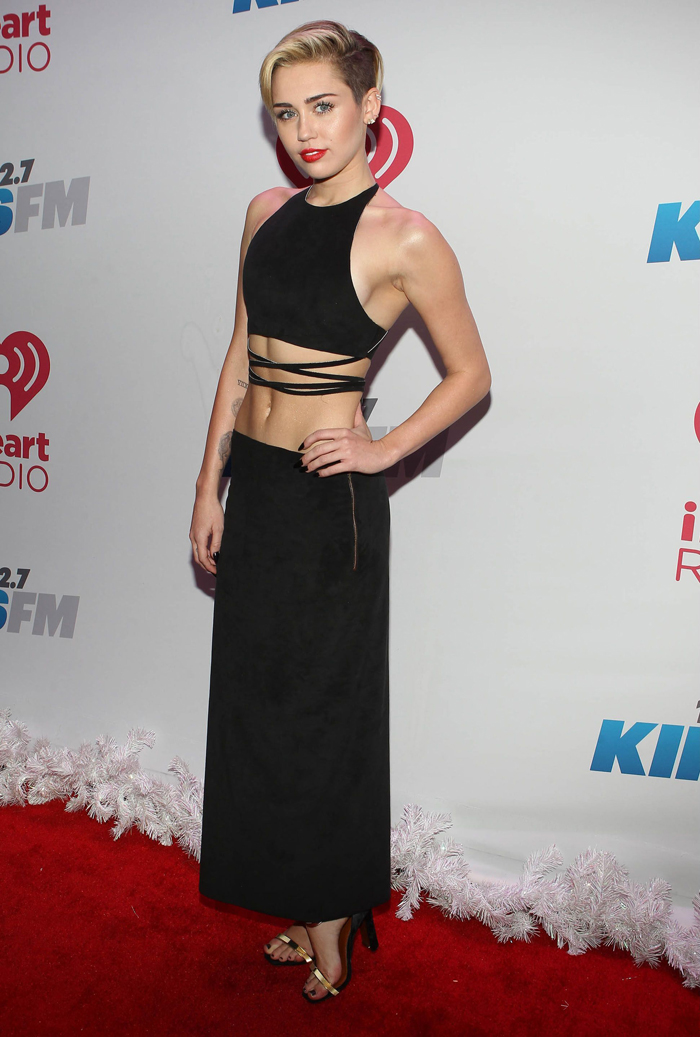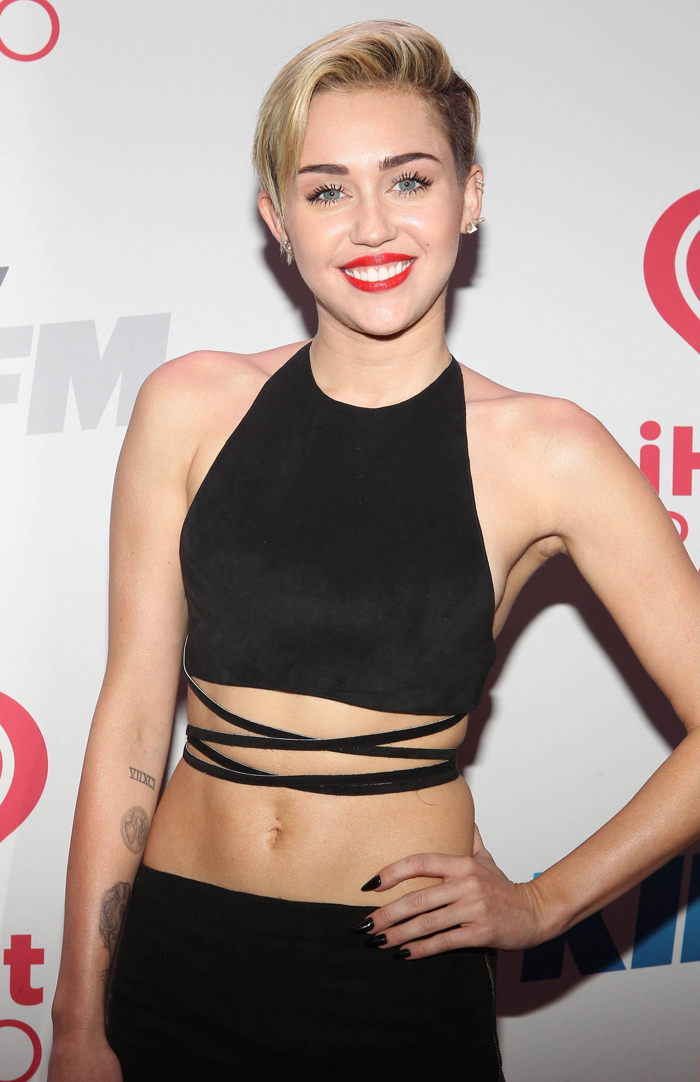 Photos courtesy of Miley Cyrus on Twitter & Instagram & WENN