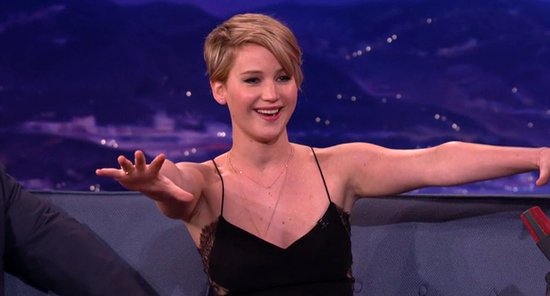 Jennifer Lawrence is everywhere, and I love it. American Hustle hits wide release tomorrow, so she's making the rounds. She's been named one of People's Most Intriguing of the year. Last night, JLaw appeared on Barbara Walters' final Most Fascinating People show. We already covered her (hopefully exaggerated) desire for fat shaming regulation. Now here are her thoughts on feeling like a zoo animal:
"I don't know. You feel like a zoo animal, or something. I don't know what it is. It's something in somebody's eyes. It's like not connecting, not making eye contact sometimes. And now I'm surrounded by people all the time, and I can be so lonely when everyone goes. But I have to remind myself it's just being alone, it's not lonely." She added that in ten years, her dream is to have "everything calm."
[From ABC]
Fame is a conundrum, but I think Jennifer will be fine. There are times I worry about her because she's so high-strung and "nitro," but she'll be okay as long as she keeps her nose clean. Which she probably will.
Here's a funnier subject. JLaw stopped by to visit Conan O'Brien last night, and things got a little wacky. We've already heard Jennifer tell David Letterman all about sh-tting her pants on the Catching Fire tour (which was only disturbing to me in relation to this dress). Now she's talking about her stash of (unintentional?) sex toys that a hotel maid found:
"This is actually really funny. Somebody as a joke bought me a bunch of b*tt plugs. It's a long story. I had a copious amount of b*tt plugs. Tons of b*tt plugs. All different kinds of colors and the maid was coming so I was like, 'well I'll just shove this under the bed so she doesn't see all these b*tt plugs.' She might not know they are for a joke. Then I came back and all of them were brought out of the bed and were in this beautiful display on my bedside table. I think she knew what she was doing. They were under the bed. I wanted to leave a note like, 'not mine' or 'bought as joke.'"
[From Team Coco]
I totally know who did this to Jennifer. The gifting, I mean. It had to be Josh Hutcherson. They have that type of joking, prank-playing relationship. JLaw asked for this "gift" the time she walked by Josh during an interview and innocently asked, "Is your rash doing okay?"
Jennifer also told Conan about how she wet the bed at age 13 and couldn't wait to tell her friends. God, she's just a big mess of bodily functions, isn't she?
JLaw is so damn weird. I wish she hadn't ducked into Conan's show without doing a little dance for the paps! As a consolation prize, here are some screencaps of the last time JLaw visited Conan. How could anyone fake this?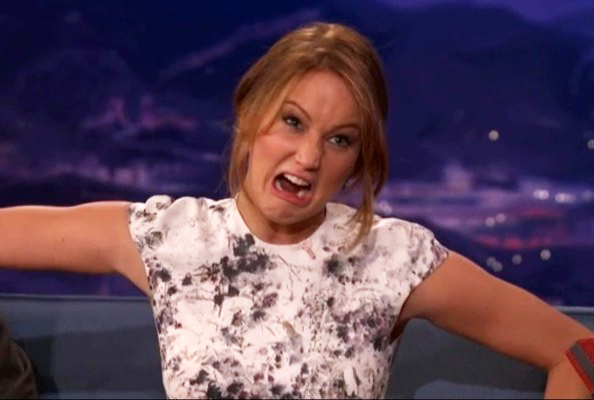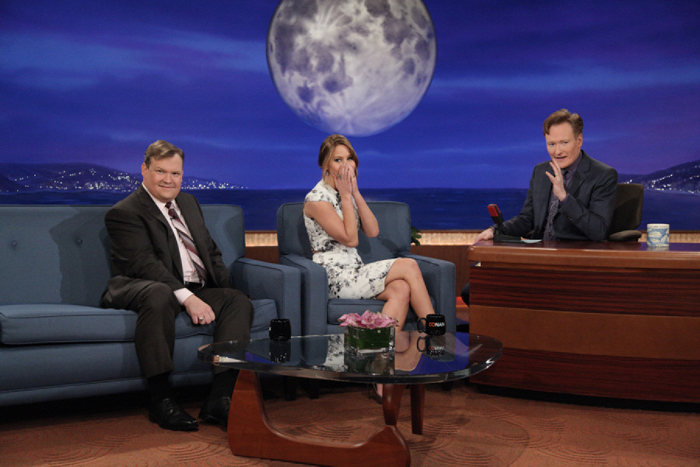 Screencaps courtesy of Team Coco