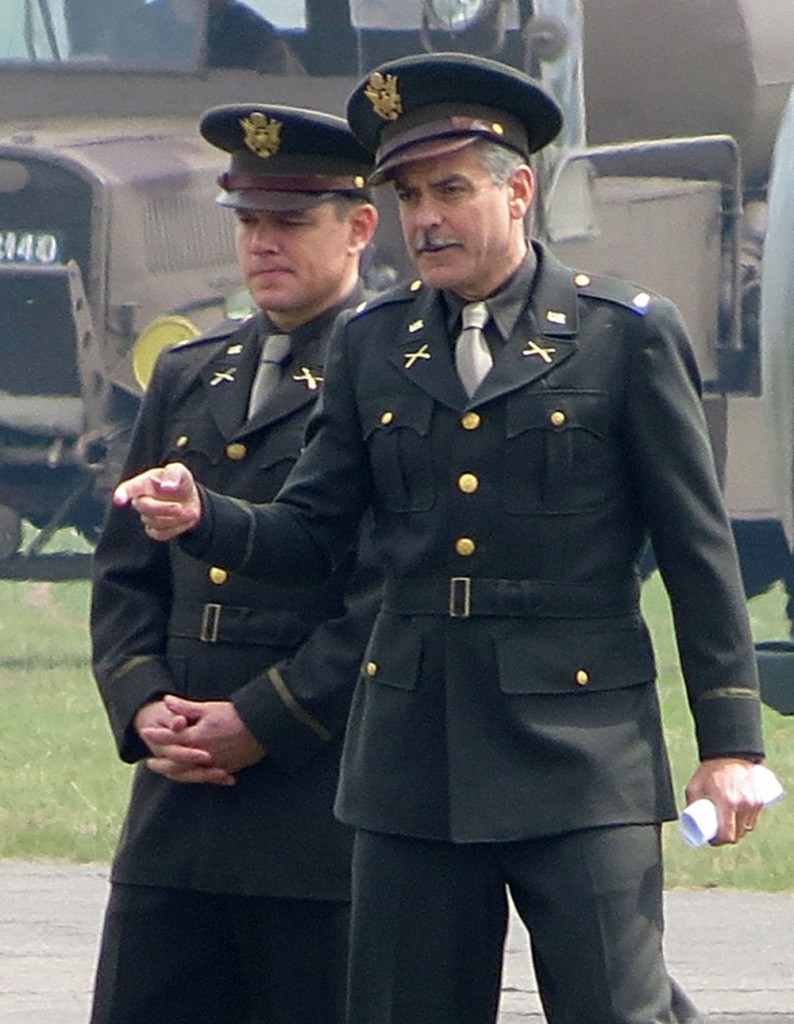 Matt Damon was on The Tonight Show earlier this week to promote Monuments Men, with George Clooney, which is out February 7. The movie is about a group of Americans helping rescue invaluable art in Germany following WWII. While talking to Jay, Matt was charming, good-natured and funny as usual. I just love to listen to his deep voice. He said he really enjoyed the Golden Globes, where he was the butt of a few jokes, and that Tina Fey and Amy Poehler did a great job. It's worth noting that Matt improvised very well during the Globes. He was unable to read the teleprompter without his glasses and had to adlib his introduction to best picture nominee, Captain Phillips.
On The Tonight Show Matt was wearing his glasses and he was also sporting a sling from a broken collarbone sustained while mountain biking. I remember Matt mentioning the sling during the Globes red carpet interviews, saying he would put it back on when the ceremony was over. He hit a rock while biking down a hill and fell over.
The best story Matt told to Jay was about an ongoing prank George Clooney played on him during filming. Clooney is known for his elaborate pranks and this one sounds like it took a lot of planning and work to pull off. I'm not sure if it's true or not though. Here's more:
I read, finally, which answered a lot for me, that he had been taking my wardrobe in, my pants by about an eighth or a sixteenth of an inch, every couple of days. He had said "we're going to get in shape…" so I was working out, and the pants just wouldn't, I was like "this can't be." I never said anything to him, of course, which he probably loved even more.
[From video on The Tonight Show website]
Here's my question. If Matt never said anything to Clooney about taking his pants in, how does he know that Clooney did this? He says he read it, but it sounds like an old story. I can see Clooney doing this, but I'm side-eying Matt's account. I remember, years ago, Matt admitted that he told his wife that he suspected Clooney was secretly altering his clothes, when the truth was that Matt was just gaining weight. His wife had to break it to him that it wasn't some big prank. Matt said that in 2009.
So now Matt claims that when his pants were fitting tighter, it was Clooney's fault. So either Clooney really did this, Matt is recycling an old joke, or he's incorrectly blaming Clooney when he gained a little weight. Given how Matt repeats himself in interviews, I'm thinking it's just an old story. I still love him though.
In other Matt Damon news, on Tuesday he emceed the UNICEF ball, where he presented his Behind the Candelabra co-star, Michael Douglas, with the Danny Kaye humanitarian award. Matt got a surprise humanitarian award too, for his work with Water.org.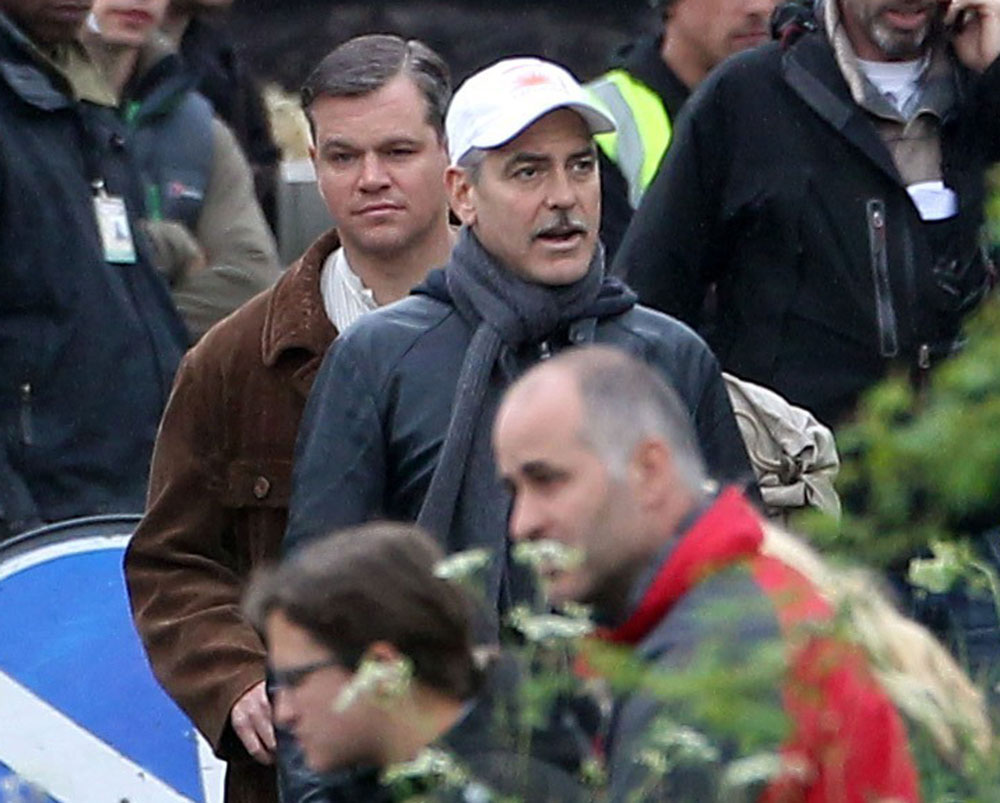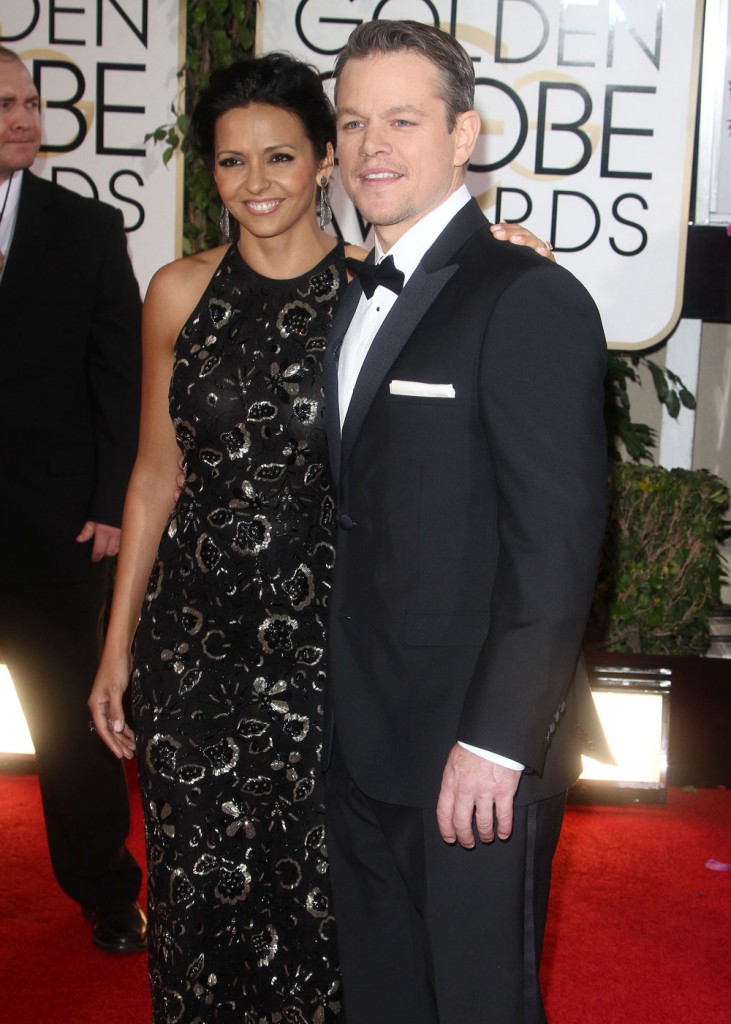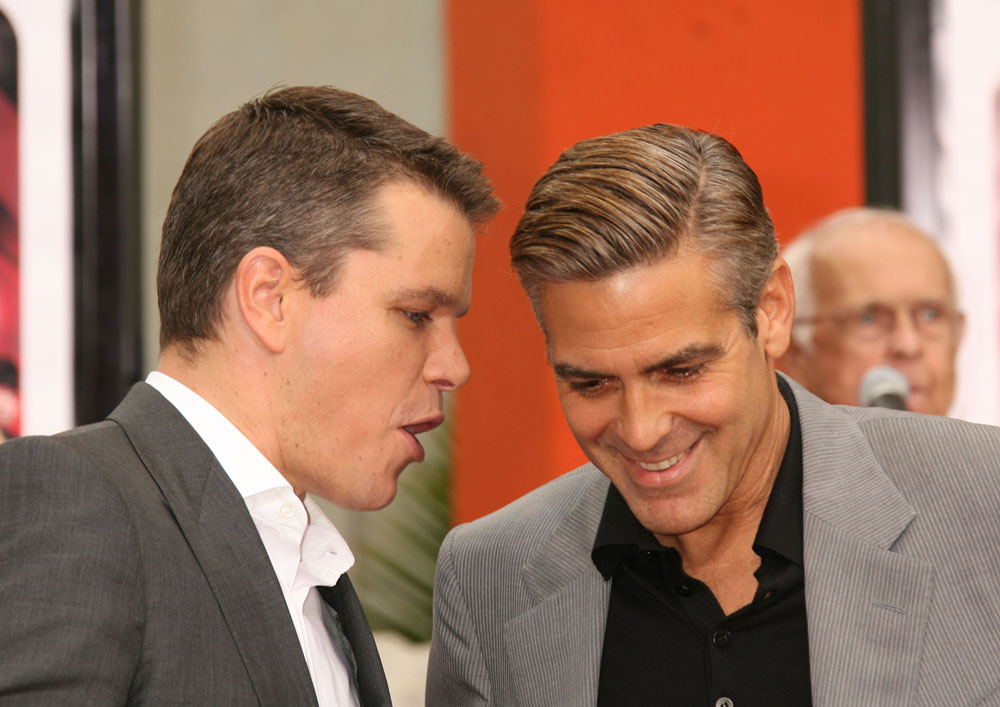 Photos of Matt and George on set are from May, 2013. Photos of them on the red carpet are from 2007. Photos of Matt and his wife, Luciana, are from this year's Golden Globes. Credit: WENN.com and FameFlynet