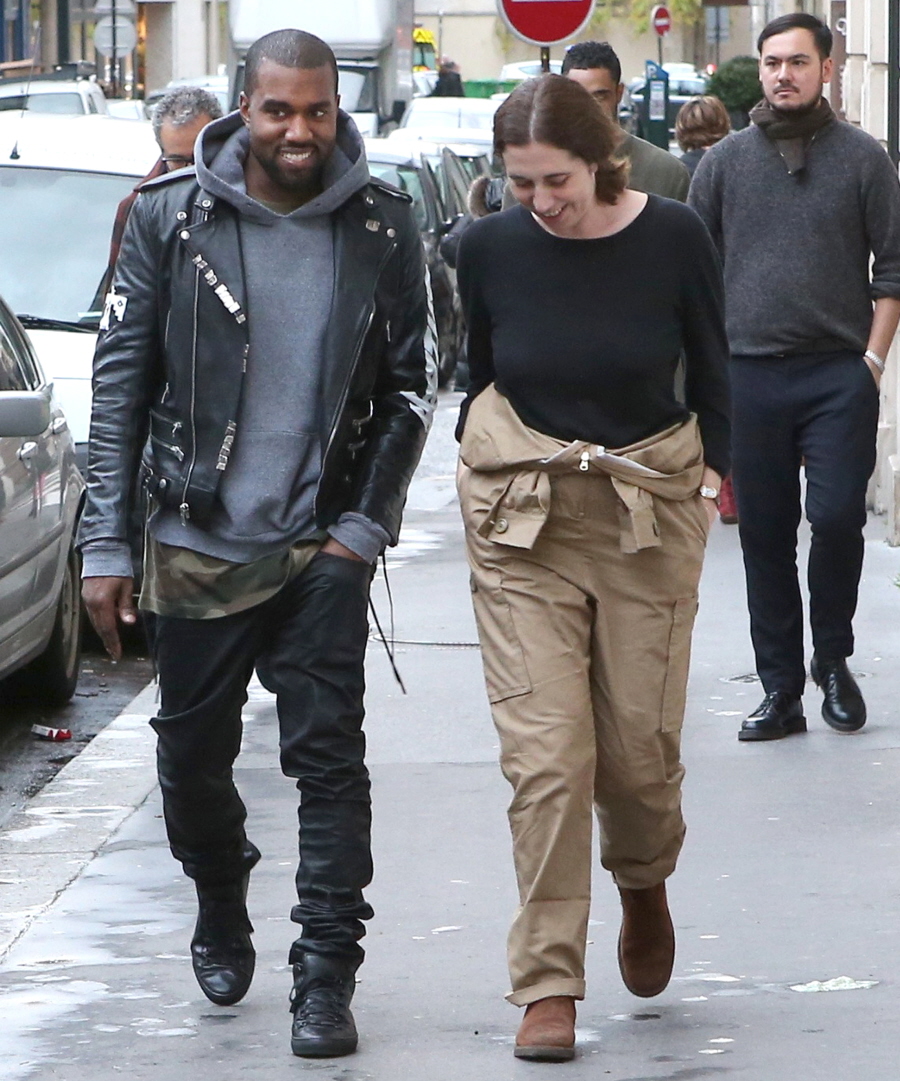 Here are some photos of Kanye West in Paris yesterday. Man, he flew out of LA in a hurry, didn't he? It's almost like he quickly boarded an international flight to avoid answering questions from the Beverly Hills Police Department about an assault where he punched an 18-year-old kid in the face 30 times. I don't know the identity of Kanye's companion, but from the way he's smiling, I'd say she was some kind of fashion professional. Maybe a buyer or one of Choupette Lagerfeld's maids.
As for the incident/assault that took place in a Beverly Hills chiropractor's office on Monday, In Touch Weekly has some additional details:
Kim Kardashian feared she would be killed during the racially charged run-in on Monday, Jan. 13 with a teenager who allegedly called her a "n***er lover", a source close to the reality star told In Touch.

The 33-year-old's fiancé Kanye West was accused of attacking the teen in a chiropractor's waiting room earlier this week. According to initial reports, the Yeezus star punched the 18-year-old multiple times after Kim called to tell him about the racial slurs. But a source close to the reality star said today the teen was heckling Kim and followed her into the building.

She became so frightened that the guy was going to shoot her and everyone around them that she ran into a chiropractor's office to phone Kanye, who naturally came to her aid, the insider said.

"Kim said that he had crazy eyes and she was thinking, 'Is he going to shoot me and start shooting all these people'. She was really scared. She was shaking. Neither Kim nor the kid were going to the chiropractor. It seemed as if the kid was just there to taunt Kim and he heckled her going in and then he followed her into the building.

"Usually she'd have a guy [bodyguard] with her; a guy with her, a driver. I don't really know why she didn't — maybe it's because she wasn't with Nori, sometimes people just have a day off."

The source confirmed to In Touch that when Kim called Kanye for help, he could hear the teen calling her the racial slur in the background, but said reports he punched him 30 times were exaggerated.

"It wasn't that much. It was like 30 seconds before the receptionist for the chiropractor broke it up," the source said. "The kid obviously had no idea how close Kanye was. He threatened her. That's why her attorneys are filing suit."
This is a different version of events. And why would Kim file "suit" instead of going to the police and filing a report? And what would have happened if this incident had gone down in a "Stand Your Ground" state? Because the description of Kim's "fears" for her safety – that would be enough legal justification for Kim to shoot the kid, had Kim been armed, correct? In a Stand Your Ground state, if you feel physically threatened and you THINK someone is going to harm you, that's enough justification to pull your weapon and shoot. But is it enough justification for you to call your boyfriend and have him punch the kid in the face two dozen times?
The Enquirer's gossip guy Mike Walker has another Kimye story that I actually believe 100%. It's about what name Kim will take once she and Kanye are married:
YOU CAN'T SPELL KARDASHIAN, KANYE OR KRAZY WITHOUT A "K!" A Kardashian family holiday get-together at KRIS JENNER's Hidden Hills mansion suddenly erupted into a tense confrontation around the dining table when Momager gushed that she thought soon-to-be bride Kim's decision to become "KIM KARDASHIAN-WEST" was absolutely perfect!

"Everyone at the table gave a thumbs-up – except KANYE," said a close family source. "He sat quiet and stern-faced, then blurted forcefully, 'She will be known as Kim West! My wife will bear my name only!' "

A sudden uncomfortable hush came over the table until Kim broke the silence and tried to pacify everyone, saying there'd be plenty of time to discuss details.

"Kanye let the subject drop, but by the end of the night, Kim was in tears because all the way home he kept ranting that he was furious about her even considering to keep the Kardashian name. When Kim fought back, saying her celebrity's based on her famous family's name, big-headed Kanye snapped that HIS name holds more weight and respect then hers ever will. Kim just couldn't stop crying because she suddenly realized she's in for ongoing pressure – not only from Kanye, but from Kris, who'll be livid if she drops the Kardashian name!"
Kanye losing his temper and ranting for hours about people underestimating him and his name? Oh yes. This has the ring of truth. But Kim's right – the "Kardashian" name is part of brand and while Kim West sounds kind of cool, it's just not who she is.
Oh, and Kim appears on The Ellen Show today – when I saw that Kanye was in Paris, I actually thought to myself, "I bet Kim starts posting photos of America's Baby now that he's gone." And that's basically what she did – she gave Ellen new photos of Nori to use.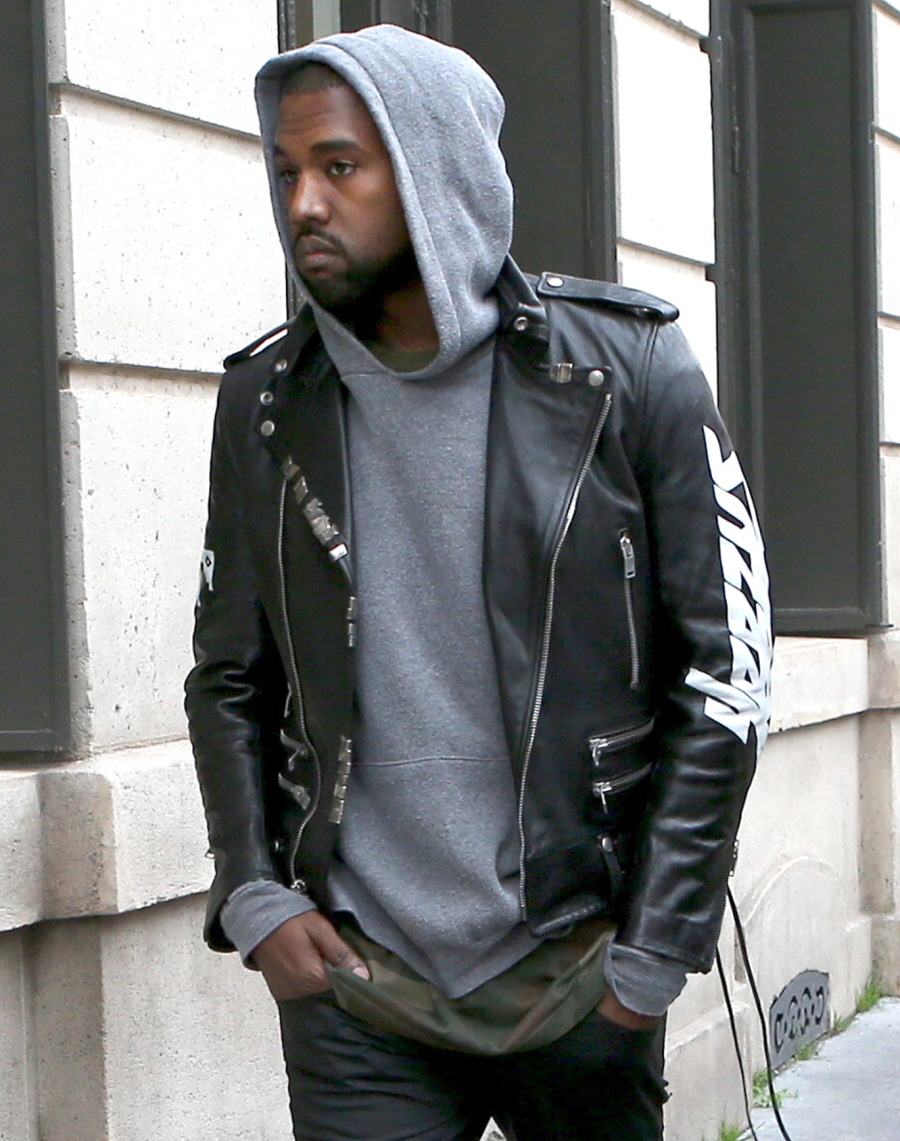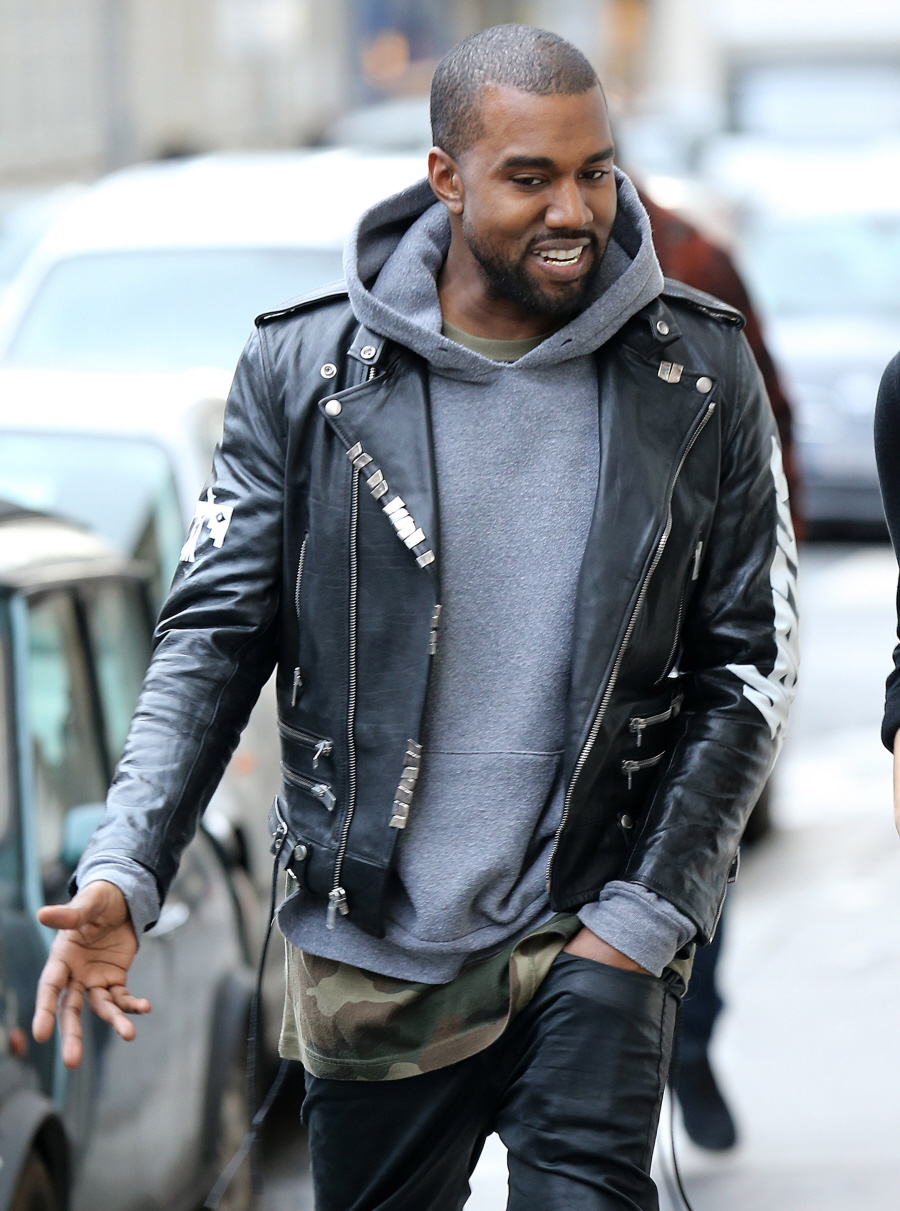 Photos courtesy of Fame/Flynet.