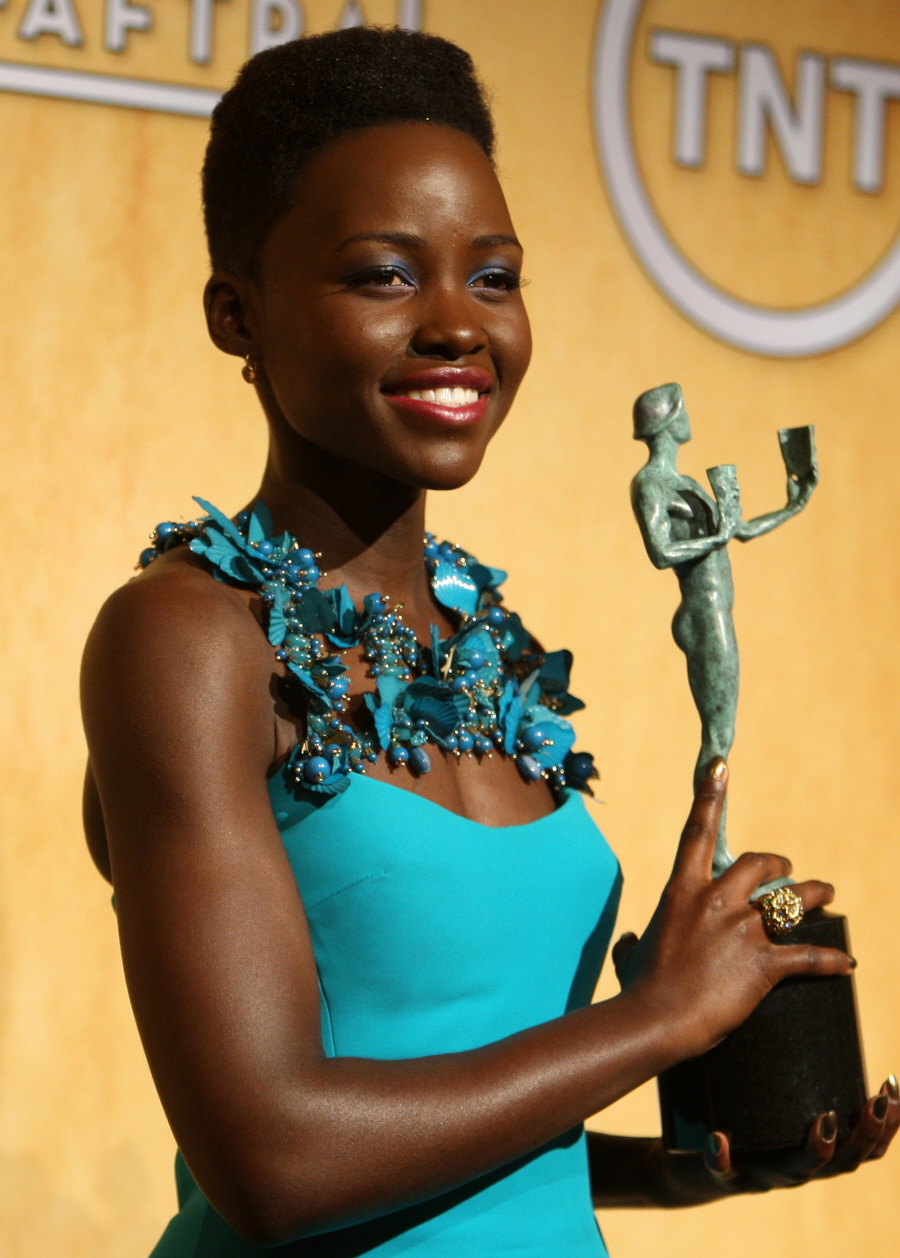 We, as a society, cannot get enough of Lupita Nyong'o. It's actually making me worry. This young woman is so flawless, so funny, so charming, so beautiful, so gamine and so game, I worry that she's going to make one small mistake and everyone is going to jump on it and yell "SEE, SHE'S NOT PERFECT, I HATE HER." Can Lupita keep this up for another five weeks of Oscar campaigning? *fingers crossed*
As for how the press is treating her… well, she's leaving a wake of lovesick puppies every time she walks out of a press room. I swear, she's getting better press than Jennifer Lawrence. The NY Times just published a fluff piece about how Lupita is adored by everyone and how she's going to charm her way into an Oscar. The best part? After the SAG Awards, she was dancing with Benedict Cumberbatch. To a Lionel Richie song. OH. MY. GOD. Some people are shipping Lupita and Jared Leto, some are shipping Lupita and Leonardo, but now I want Lupita and Cumberbatch to happen. PLEASE. I will do anything. I'm offering $50 and boob photos to make Benedict and Lupita happen. Some highlights from the NYT piece:
…Lupita got teary in her televised [SAG] acceptance speech, then sang and lit birthday candles at the after-party, still dressed in her turquoise Gucci gown. A steady parade of actors turned fans, like Michelle Dockery of "Downton Abbey" (they share a stylist) and Jesse Tyler Ferguson of "Modern Family" (he voted for her, he said) lined up to pose for photos and deliver kudos. In between, she and her "12 Years" cast mate Benedict Cumberbatch danced to a Lionel Richie song.

In her audition, Mr. McQueen counseled Ms. Nyong'o that despite her suicidal suffering, Patsey is not noble. "That was something that he repeated, and I repeated to myself thereafter," she said. "She was just simple, and she was just trying to get by on a daily basis. She's not sentimental about her pain." To play that, Ms. Nyong'o added, "I had to have the same kind of attitude."

Ms. Nyong'o lost the Golden Globe to Ms. Lawrence, but followed in her footsteps as a designer darling: She is a face of Miu Miu's spring collection. Still, she said that the tumult of attention that comes with being a cover girl is overwhelming. "I think everything in my life has prepared me for this," she said of playing Patsey, "and then nothing has prepared me for the red carpet."

You wouldn't know it to see her there, or hoisting a statuette. Unlike other Oscar hopefuls on the circuit, Ms. Nyong'o admitted that she prepared remarks. "I think about it," she said at the Screen Actors Guild after-party. "You have a one-in-five chance" of winning, she added, and besides, she wanted to do right in her gratitude.

Those speeches have been a study in graciousness — emotional (she cries easily), thoughtful (at the Screen Actors Guild Awards, she thanked the film's screenwriter, costume designer and makeup artist by name, details noted by Academy voters, especially those in the below-the-line craft ranks) and personal. She dedicated an award to an uncle and acknowledged her parents — her father is Peter Anyang' Nyong'o, a prominent Kenyan politician, and her mother, Dorothy Nyong'o, is the managing director and head of public relations at the Africa Cancer Foundation — thanking her family for keeping it real.
I love that she admits that she thinks about what she would say if she wins. There's a fine line and I'm not even going to pretend I don't judge actors for either being too prepared (Anne Hathaway) to win or for being completely befuddled and weird when they win (Jacqueline Bisset). I also hate it when people bring up a written speech. That's one of my biggest peeves, especially for actors who get paid to memorize their lines. If you want to prepare a speech, memorize it for the love of God. But so far, I've enjoyed Lupita's acceptance speeches. She is very gracious, funny and just the right kind of emotional.
A few nights ago, Lupita made her first late-night talk show appearance on Jimmy Kimmel Live. I don't think I've ever seen Jimmy this smitten with a guest before. Part 1 has Lupita talking about meeting Leonardo, Part 2 has her talking about her background and her first trip to America, watching cheesy American TV, playing video games and her first terrifying trip on a rollercoaster.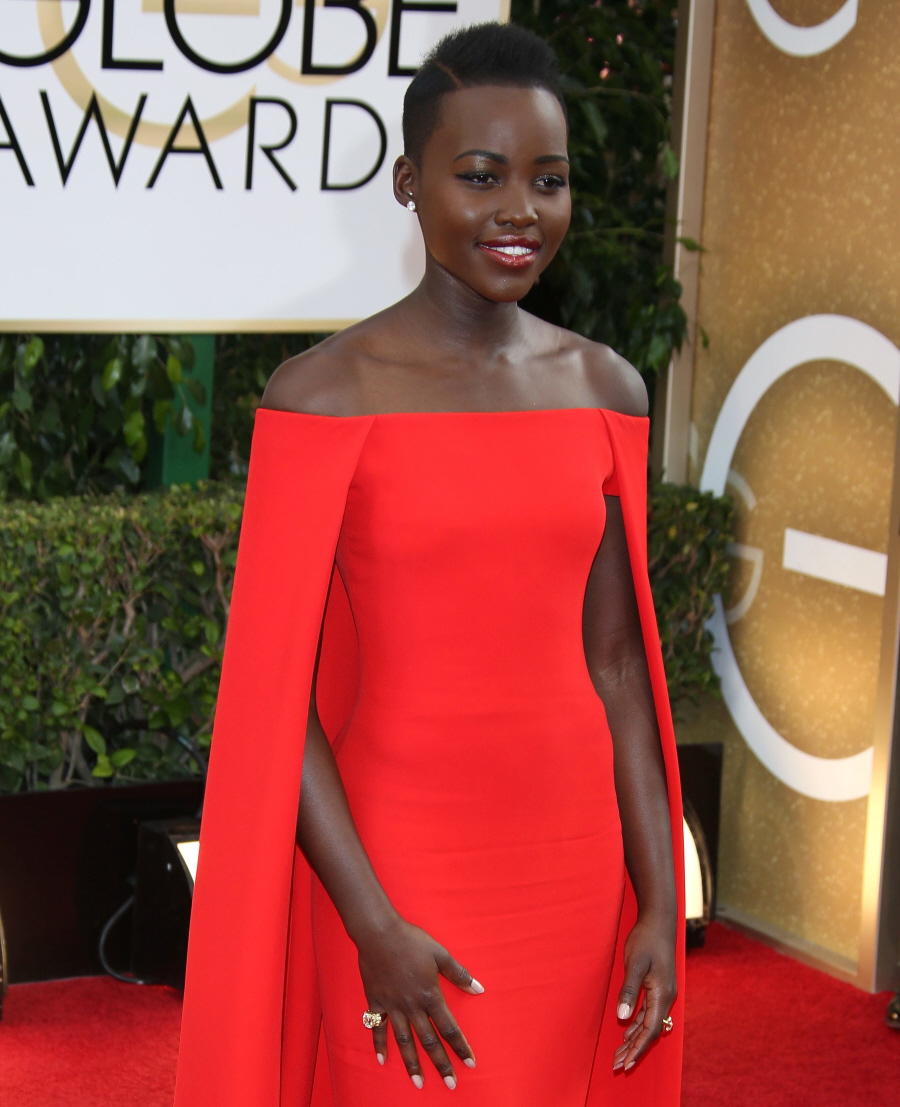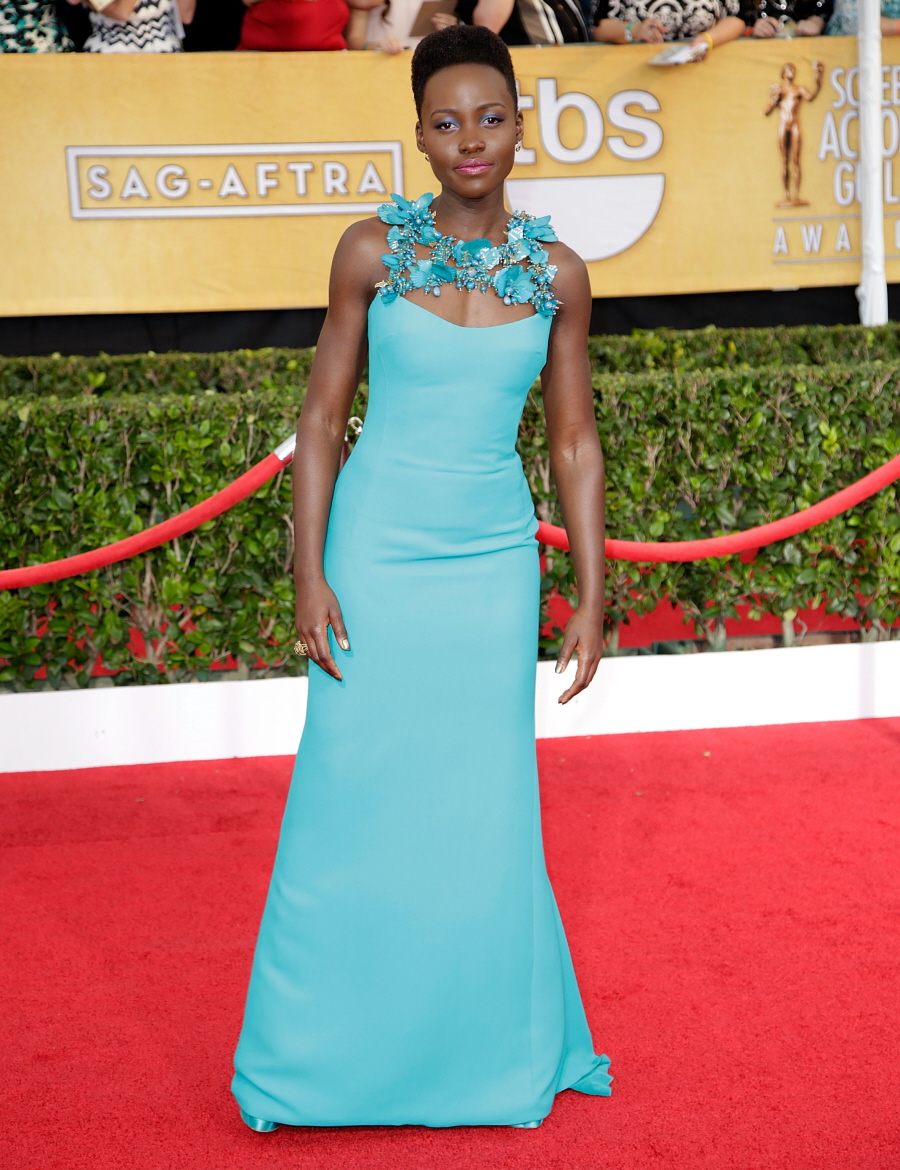 Photos courtesy of WENN.