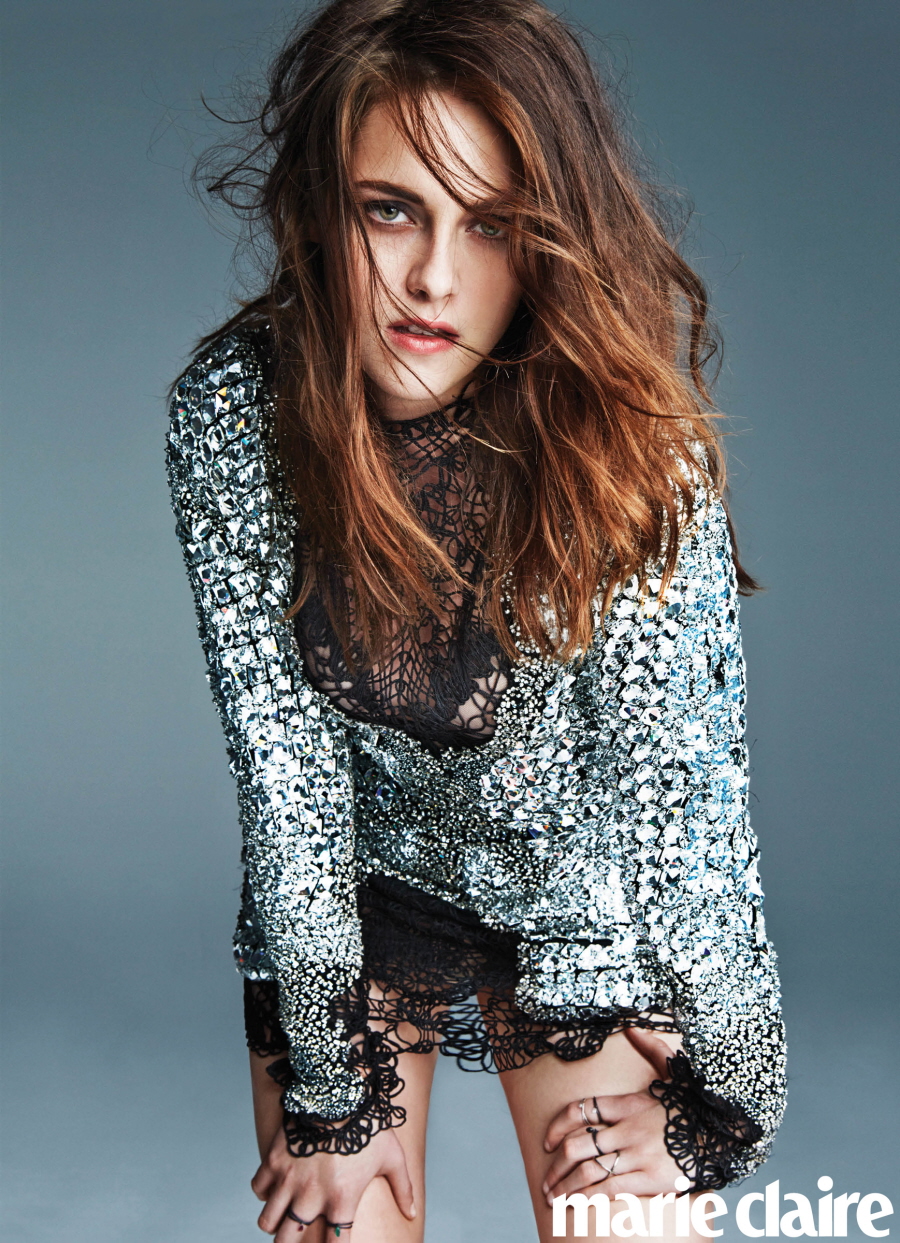 As I previewed yesterday, Kristen Stewart covers the March issue of Marie Claire, and it's a doozy of a cover interview. Kristen has been much more press-friendly as of late, giving longer interviews on behalf of her Balenciaga contract and seeming more… loose, I guess. Not so grumpy, more willing to play. Anyway, yesterday I just had some early highlights from the interview, but now Marie Claire has released the whole piece online – you can read it here. She smokes Camel filters. She fidgets constantly. She curses a lot and talks like a Valley Girl. She also gave Marie Claire one of her poems. For real! You can read it here. Some additional highlights:
On making choices based on what frightens her: "Dude, I have no idea what I'm doing, and that's kind of how I love it. I had no idea Twilight was going to be huge. Certain movies I've done I thought were going to be amazing did nothing. So it's fun not having so much control. It's kind of a fly-by-the-seat-of-your-pants lifestyle – it's fun, but it's scary as f–k. If it's not scary, it's usually – you kind of have to step back and go, 'You're probably making this decision because it's right on paper.' But unless you get that irking fear, it's not right."

On being thrown into the unknown: "I really like being thrown into the unknown and then finding my way. I don't want to show someone something. I want people to watch me find something."

On her M.O: "I'm kind of, like, an extremist. I really don't want to be working unless I'm bleeding it. And if I'm not working, then don't ever try to make a plan with me."

On being judged as a peril of fame: "I stand by every mistake I've ever made, so judge away."

On Drugs: "I'm such a control freak. I'm glad I grew up in this era because I think if I grew up in my parents' age of drugs and discovery and crazy sh-t, I don't think I would do drugs well."

The Snow White sequel: While a Snow White & the Huntsman sequel is far-off, "it's not where I thrive," she says. "I really like being thrown into the unknown and then finding my way. I don't want to show someone something. I want people to watch me find something."

On doing press to promote her latest projects: "I have an embarrassing inability, seriously, of summoning fake energy…I'm just not very good on TV, and it's not my main goal in life to get good at it. People are like, 'She just can't handle' – for lack of a better word – 'the spotlight'. No, actually, I can't, and that is totally who I am. I love being an actor, but I'm the last person to want to have a birthday party. I don't try to force it or turn it into something else or fabricate this personality…so I totally agree when people say I'm, like, the most awkward person. If you're operating from a genuine place, then you can't really regret anything."

On her poetry: "I don't want to sound so f–king utterly pretentious…but after I write something, I go, 'Holy f–k, that's crazy.' It's the same thing with acting: If I do a good scene, I'm always like, 'Whoa, that's really dope.'"

She's a reader but she wishes she had a college education: "The biggest struggle I've ever had has been about not going to school and working instead. I was worried about turning down specific individual experiences. Like each movie was, 'F–k, I have to do that movie.' I just did a movie with Tim Blake Nelson [Anesthesia, which recently wrapped], and he is brilliant. If I were as smart as he is, I could have the most killer conversation with anyone because I know I have it in me. I just don't have the tools necessarily as well-developed as he does. I play this character who is getting her master's degree in philosophy at Columbia, and I think I'm smart, but I'm definitely not book smart in that way."
Eh. What do you want me to say? I can't really bash the girl for this interview. Does she sound like a pretentious hipster at times? For sure. But that's her age and her self-aware, self-acknowledged awkwardness. And quite honestly, I'd rather read an enjoyable interview with her where she's reading poetry to the Marie Claire journalist and answering every question directly than, say, someone who just sits there muttering incoherently. Compared to someone like Shia LaBeouf, Kristen comes across as interesting and cool.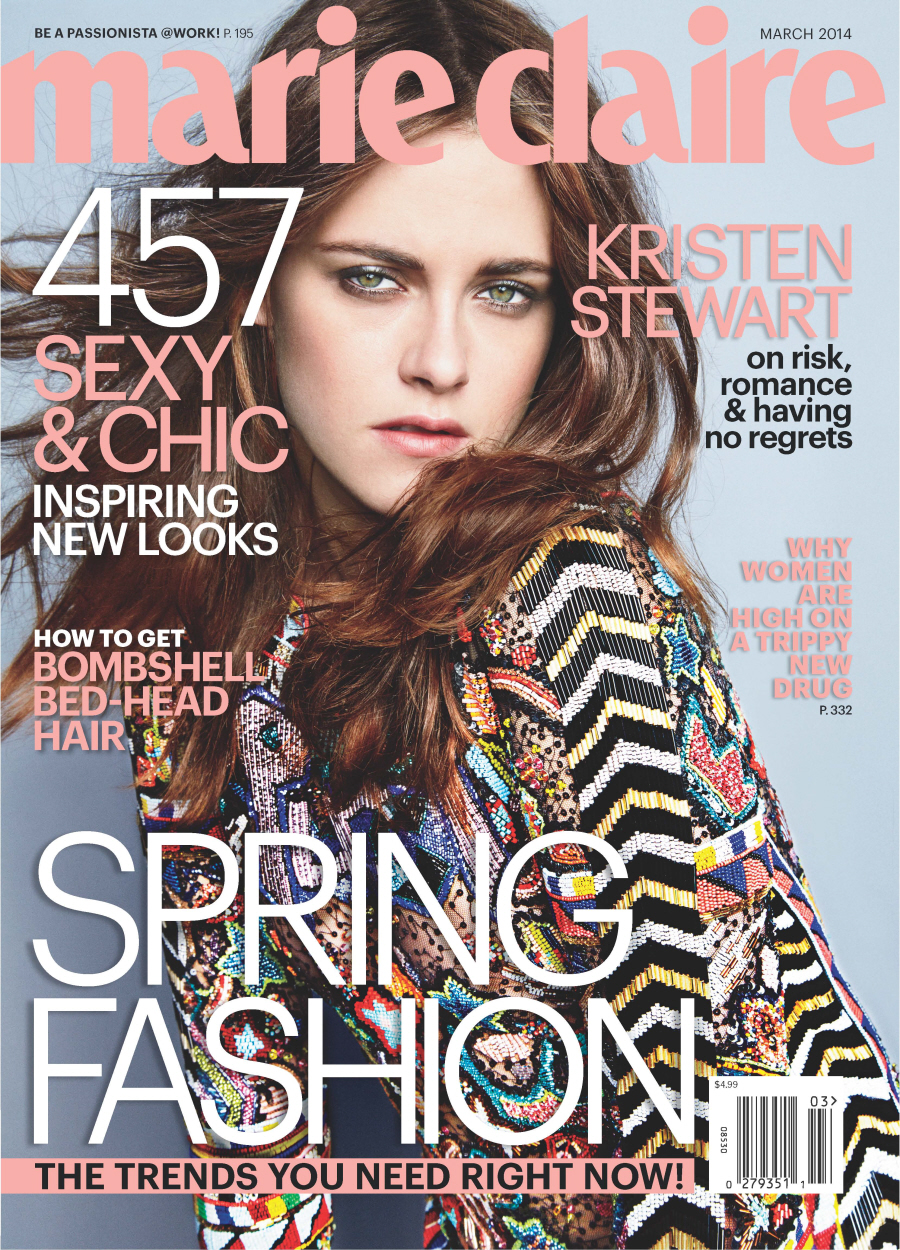 Photos courtesy of Tesh/Marie Claire.