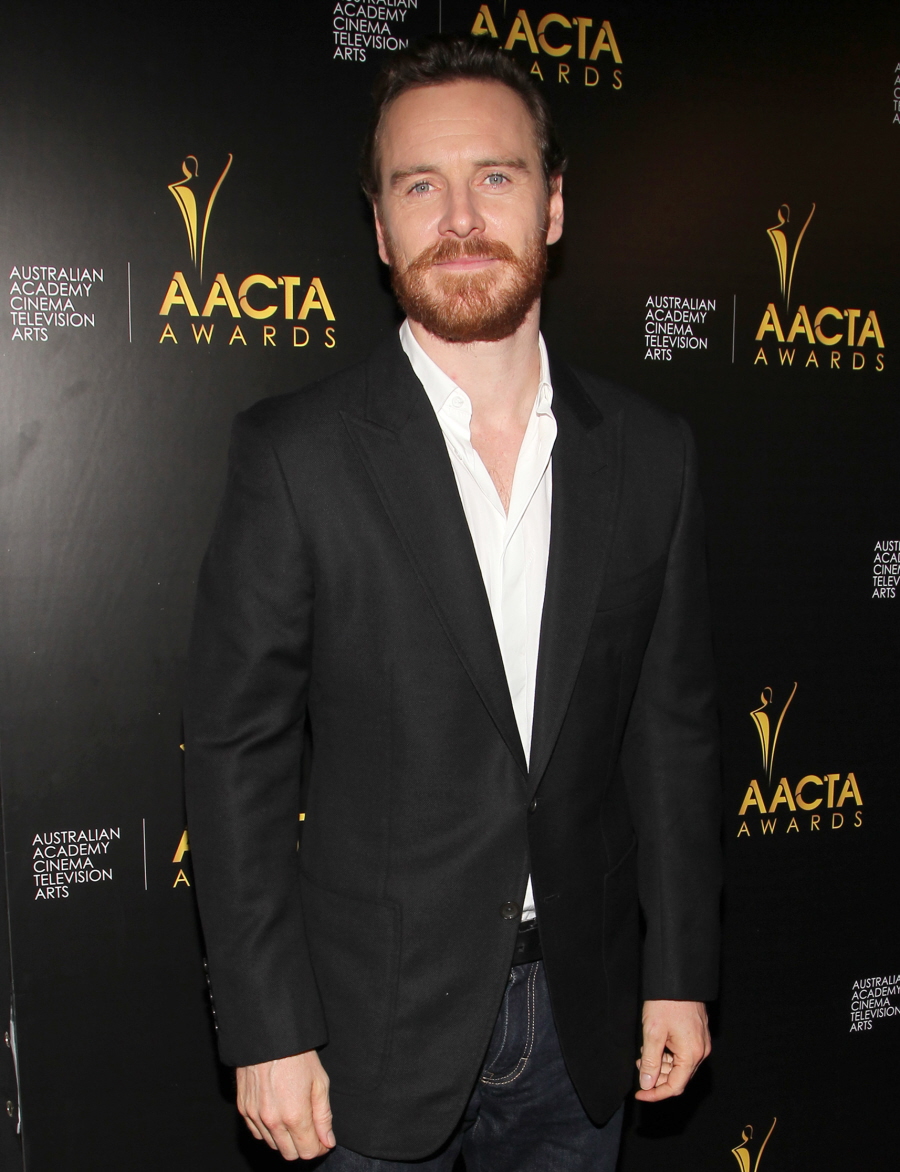 I know a lot of people are upset with me because I am upset with Michael Fassbender these days. My Fass-love took a major hit when he announced in GQ last year that he wouldn't be Oscar-campaigning for his role in 12 Years a Slave, and then the Fass-love disappeared altogether when we found out that his current girlfriend is Gerard Butler's famewhore ex. Some of you are mad at me because I stopped paying attention to Fassy for the most part. To which I have to say… it's not really a choice I'm making. He's barely been around. He's filming projects back-to-back and hasn't given any interviews in support of 12 Years a Slave in like three months.
The argument I've heard is "But if Fassy went all Anne Hathaway, you would hate that too." True. But this isn't an all-or-nothing proposition. It's not like Oscar campaigns are either "nothing" or "Hathaway". There are many amusing, charming, pleasurable and non-famewhorey ways to campaign for an Oscar. The least obtrusive of which is to A) show up to the major events when you're nominated, B) do a modicum of press, a few magazine interviews and some stuff in the trade papers, C) even if you don't want to promote yourself, promote the film as a whole and D) don't act like a petulant child still holding a grudge from all the times the Academy didn't nominate you. Fassy has failed in all of these situations.
Anyway, I bring up all of this anger and angst because The Gold Derby – a site that discusses all of the Oscar races in detail – has a piece basically asking, "Would it have made a difference if Michael had campaigned or would Jared Leto still be breezing through the awards season?"
Despite receiving rave reviews for "12 Years a Slave," Michael Fassbender decided early on that he wouldn't participate in an Oscar campaign. And while he reaped a Supporting Actor bid, he skipped the academy's official nominees luncheon on Monday. So, is it any surprise that he is ranked far behind frontrunner Jared Leto ("Dallas Buyers Club") in this race?

Fassbender's skittishness can be traced back to being snubbed by the academy in 2011 for a trio of acclaimed performances in "Jane Eyre," "A Dangerous Method," and "Shame." That latter film, his second with "12 Years" helmer Steve McQueen, netted him Golden Globe and BAFTA nominations. Reflecting on his continuous campaigning then, he told GQ last fall: "I won't put myself through that kind of situation again … It's just a grind. And I'm not a politician. I'm an actor."

While "12 Years a Slave" leads our racetrack odds for Best Picture, Best Supporting Actress (Lupita Nyongo) and Best Adapted Screenplay, Fassbender is a longshot at best. Would campaigning have made the difference?

Working the awards circuit certainly paid off for the likes of Octavia Spencer ("The Help") and Kate Winslet ("The Reader"). Melissa Leo's lobbying for "The Fighter" was infamous — she bought her own trade ads asking voters to "Consider …," which caused such a controversy that there was concern she'd be the rare actor brought down by a campaign — but she held on to win Best Supporting Actress anyway.

Then again, Katharine Hepburn won a record four Best Actress awards but skipped all 12 Oscars at which she contended, only showing up once, in 1973, to fete her friend Lawrence Weingarten who was receiving the Irving Thalberg award.

Mo'Nique famously shunned the campaign trail when "Precious" was a major contender in 2009, but she won Best Supporting Actress anyway. In her acceptance speech said, "I would like to thank the academy for showing that it can be about the performance and not the politics."

Would Fassebender be in front had he been shaking hands and going to parties all season? Leto's performance as a transgender woman in "Dallas Buyers Club" is the kind of radical physical transformation voters love. Add in the role's social and historical importance and you have a winning combination. Indeed, he has taken home every major precursor prize: New York, Los Angeles, and Chicago critics, the Golden Globe, Critics' Choice and SAG awards. He has reached a Mo'Nique level of inevitability.

But if there's one chink in Leto's armor, it's BAFTA where's "Dallas Buyers Club" was snubbed completely. Fassbender is the clear frontrunner to win at BAFTA with overwhelming odds of 1/4. Could he pull off an Oscar upset? The last person to win the Supporting Actor Oscar without at least a BAFTA bid was Morgan Freeman ("Million Dollar Baby") in 2004. And Oscar does like its villains, especially in the supporting categories: Christoph Waltz in "Inglourious Basterds"; Javier Bardem in "No Country for Old Men"; and, again, Mo'Nique.

If Fassbender doesn't win, we'll never know if campaigning could have tipped the scale in his favor. His movie is the frontrunner to win Best Picture and he's missing the party. That's a real "Shame."
Yeah… my takeaway is that maybe Michael wouldn't have won even if had gone Full Hathaway, but at least he would have given Jared Leto a good fight. Does Fassy regret it now? Doubtful. But it was just announced this week that Fassy will deign to appear at the BAFTAs on Sunday. God knows, he might even win with Leto out of the race. Here's my question at the end of the Oscar speculation: will Hollywood think differently about Fassbender after this no-campaigning thing? Will producers think, "Hey, maybe we should hire someone more willing to play the game instead of Fassbender"?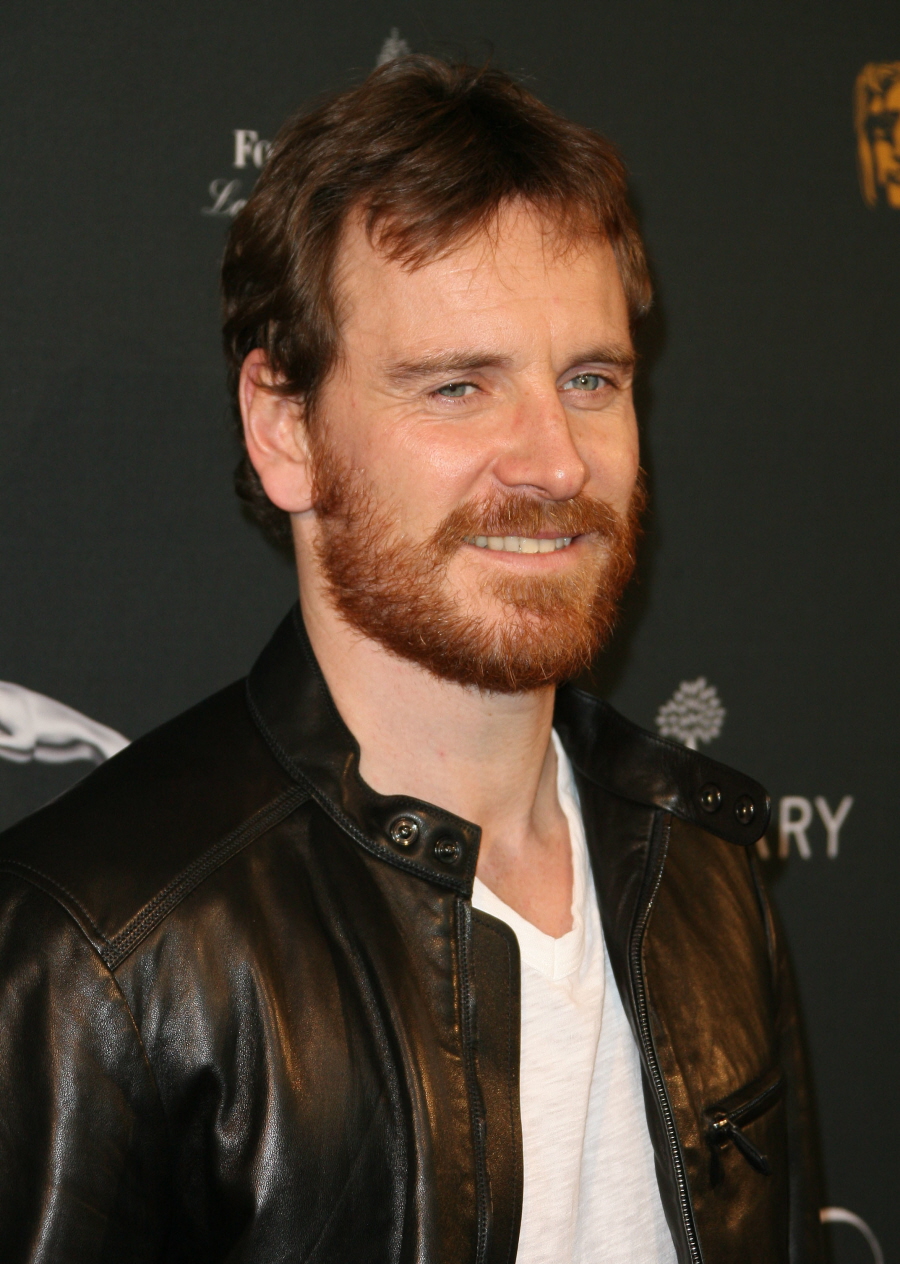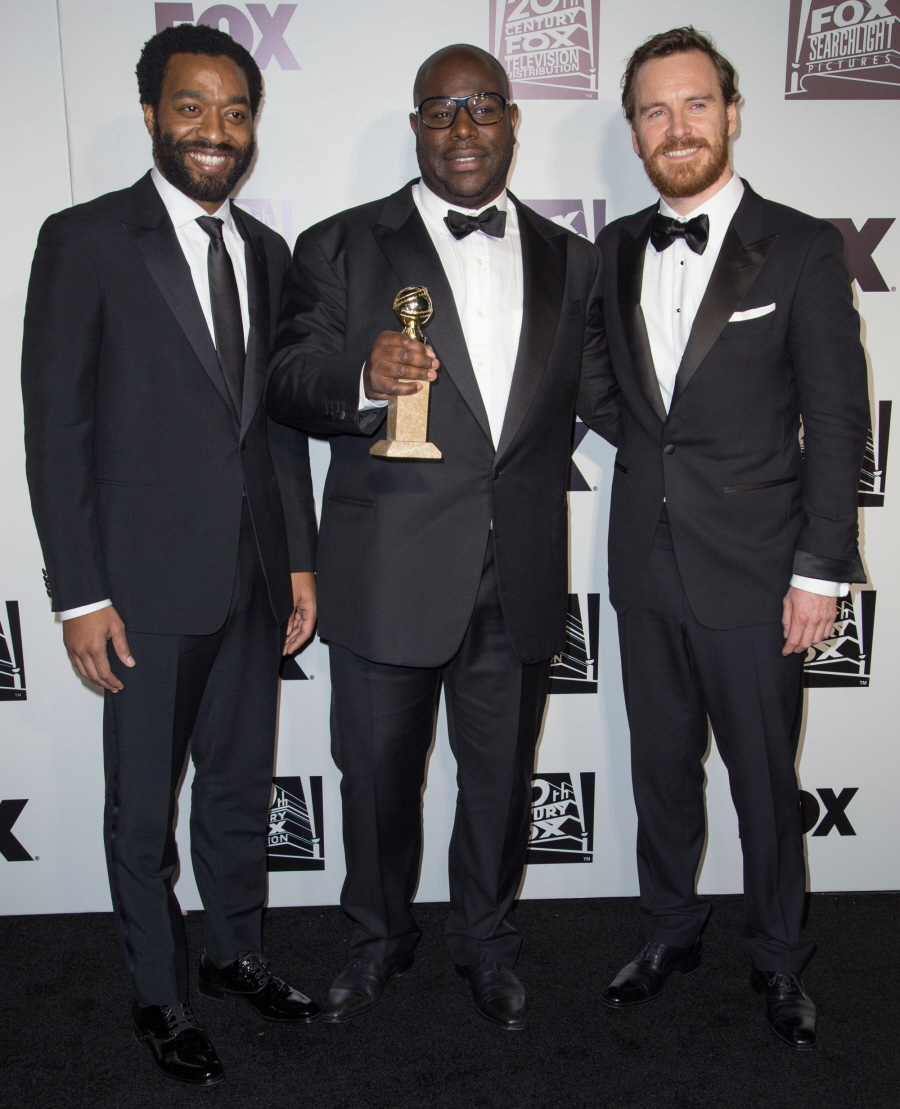 Photos courtesy of WENN.