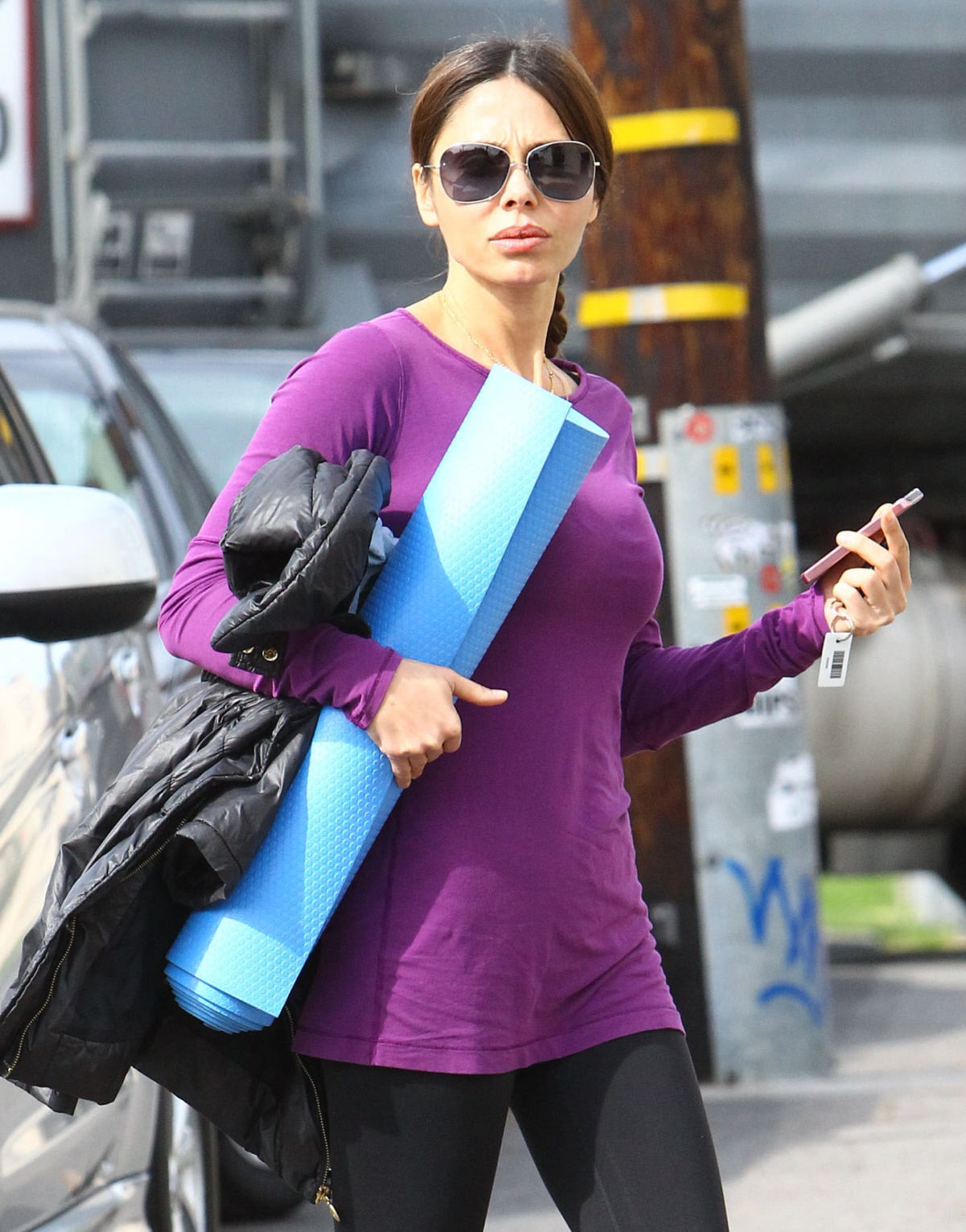 Here are some new photos of Oksana Grigorieva this weekend, going to a yoga class. Girl, stop messing with the yoga mat and get a J-O-B. As we discussed earlier last week, Mel Gibson's former girlfriend/victim Oksana is broke. Totally, completely broke. Filing-for-bankruptcy broke. At one point, Oksana could have been paid $15 million to just go away and stop making Mel look so bad, but refused the settlement offer (thinking she could get more if she took Mel to court), and then she ended up only getting $750,000 spread out over five years. Apparently, all of that money just goes towards her lawyers' fees though. Legal bills will make you go broke every damn time! But as it turns out, that wasn't the only thing fishy with Oksana's financial situation – she had to say buh-bye to $375,000 (half of her settlement) because she violated the confidentiality agreement Mel's lawyers made her sign:
Oksana Grigorieva — the woman who Mel Gibson struck in the mouth — just lost hundreds of thousands of bucks because of her big mouth … by violating her confidentiality agreement. … court sources tell TMZ.

It all has to do with an interview she did in October with Howard Stern. Oksana — who promised in her settlement agreement with Mel she would say NOTHING about him publicly — blabbed about the actor.

In the Stern Interview:

– Howard sympathizes about her problems with Mel, telling her she has to go forward in life. She refers to her "painful and dark" experience and says now she wants to help others.

– Howard asks if Mel wined and dined her. She says it's too painful to even talk about.

– Howard talks about how amazing the famous audio tapes are, and Oksana responds, "Life happens … I'm still catching up on the humor part."

– Howard, who referenced portions of Mel's rants during the interview, told her a woman shouldn't be treated that way, especially the mother of your child. She said, "Thank you."

Apparently that was enough for a judge, because court sources tell us, hizzoner ruled Oksana was never supposed to talk about Mel — even obtusely — and as a result she forfeited the remaining installments of her $750,000 settlement. We're told she was still owed half — $375,000 … money she now will NOT get.

TMZ broke the story … Oksana has filed for bankruptcy. Pretty amazing, since Mel initially offered her $15 MILLION but she rejected it.
I understand that some of you still consider Oksana to be some kind of "golddigger" but I stopped thinking of her that way once I heard all of those recordings of Mel screaming abuse at her. My take is that she DID deserve that money because it was basically combat pay. But even though I still have lingering sympathy for Oksana, I think we can safely say that this whole thing is a #GolddiggerFail or #GolddiggerDont. First of all, NEVER sign the confidentiality agreement. Never! Second of all, if you sign the confidentiality agreement and you really want to break it, don't break it giving away a free interview with Howard Stern, for the love of God. If you have to break your agreement, do it because you're writing a tell-all book and you're getting a seven-figure advance.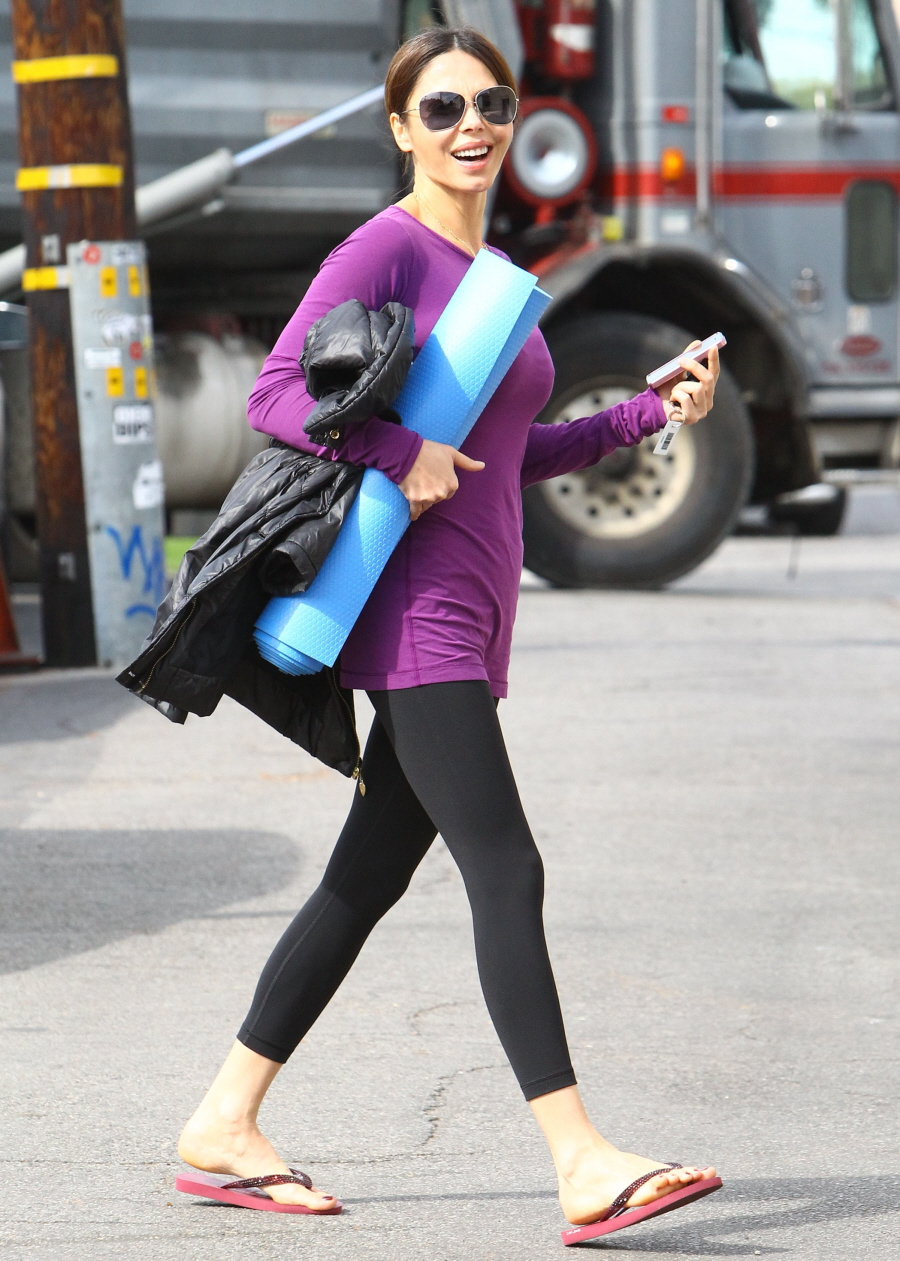 Photos courtesy of Fame/Flynet.