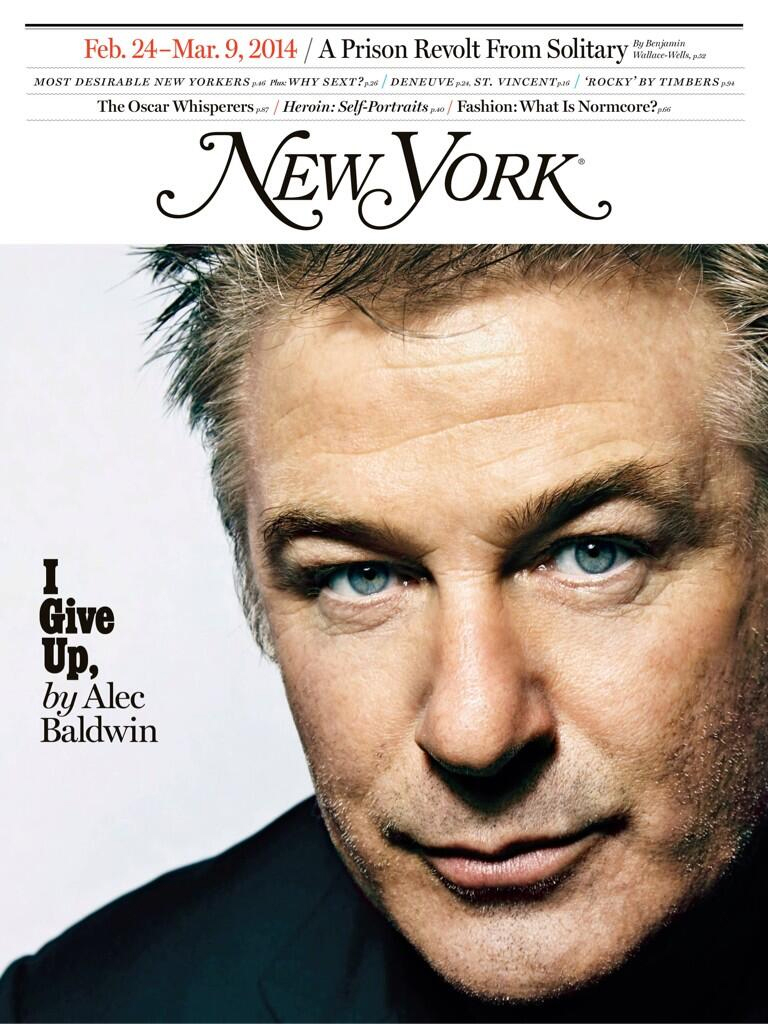 Last fall, Alec Baldwin had another breakdown. Alec's breakdowns are always pretty special – he's long been contemptuous of "the media" and "the paparazzi" even as his wife actively courts them and even as Alec signed on to do an MSNBC show last year. The meltdown came because the paparazzi were taking photos of Alec as he walked around NYC, and for their trouble, Alec called one of them a "c—ksucking f-g". This was not even the first time Alec has dropped some hate speech in public, and after last fall's incident, most people were just like, "Jesus, enough. We're so over Alec Baldwin." He was fired from his MSNBC show and he made a self-righteous and half-assed apology for the whole incident (which he still denies saying anything homophobic).
So, that's where we were, more or less. Alec's wife still poses for the paparazzi and posts baby photos to her social media accounts, and Alec still tweets and yells at clouds. And now Alec has told his sad, sad story to NY Magazine. The cover story is called, "I Give Up, by Alec Baldwin." It's a first-person rant from Alec about all of the people who have wronged him and let him down, because of course it is. And so, Alec has given up on everything and everyone and he has declared himself "no longer famous." You can read the full rant here (it's pretty epic) and here are some highlights:
He was unfairly labeled "a homophobic bigot" by "Andrew Sullivan, Anderson Cooper, and others in the Gay Department of Justice."

He references "One young man, an F-to-M tranny." Seriously.

Woe is Baldwin: "I've read where a number of people have felt that 2013 was a sh–ty year. For me, it was actually a great year, because my wife and I had a baby. But, yeah, everything else was pretty awful. And I find myself bitter, defensive, and more misanthropic than I care to admit. And I'm trying to understand what happened, how an altercation on the street, in which I was accused—wrongly—of using a gay slur, could have cascaded like this. There's been a shift in my life. And it's caused me to step back and say, This is happening for a reason."

He loves gay people: "Am I a homophobe? Look, I work in show business. I am awash in gay people, as colleagues and as friends. I'm doing Rock of Ages one day, making out with Russell Brand. Soon after that, I'm advocating with Jesse Tyler Ferguson and Cynthia Nixon for marriage equality. I'm officiating at a gay friend's wedding. I'm not a homophobic person at all. But this is how the world now sees me."

Shia LaBeouf: "There was friction between us from the beginning. LaBeouf seems to carry with him, to put it mildly, a jailhouse mentality wherever he goes. When he came to rehearsal, he was told it was important to memorize his lines. He took that to heart and learned all his lines in advance, even emailing me videos in which he read aloud his lines from the entire play. To prove he had put in the time. (What else do you do in jail?) I, however, do not learn my lines in advance. So he began to sulk because he felt we were slowing him down. You could tell right away he loves to argue. And one day he attacked me in front of everyone. He said, "You're slowing me down, and you don't know your lines. And if you don't say your lines, I'm just going to keep saying my lines." We all sat, frozen. I snorted a bit, and, turning to him in front of the whole cast, I asked, "If I don't say my words fast enough, you're going to just say your next line?" I said. "You realize the lines are written in a certain order?" He just glared at me."

MSNBC: "Morning Joe was boring. Scarborough is neither eloquent nor funny. And merely cranky doesn't always work well in the morning. Mika B. is the Margaret Dumont of cable news. I liked Chris Jansing a lot. Very straightforward. I like Lawrence O'Donnell, but he's too smart to be doing that show. Rachel Maddow is Rachel Maddow, the ultimate wonk/dweeb who got a show, polished it, made it her own. She's talented. The problem with everybody on MSNBC is none of them are funny, although that doesn't prevent them from trying to be."

When a journalist claimed his wife was tweeting at a funeral: "In my rage, however, I called him a "toxic little queen," and, thus, Anderson Cooper, the self-appointed Jack Valenti of gay media culture, suggested I should be "vilified," in his words. I didn't feel bad about the incident. He lied about my wife. They say this is what comes with stardom—I don't agree with you. A journalist isn't supposed to write a lie about you. If he was in New York, I might have had the impulse to beat the shit out of the guy. At the time, I didn't view "toxic little queen" as a homophobic statement. I didn't realize how those words could give offense, and I'm sorry for that."

He hates Rachel Maddow: "Once they fired me, a former MSNBC employee I knew emailed me. He said, "You watch now, Phil is going to start leaking left and right to bury you." When I left, "Page Six" was flooded with lies about me. Another told me, regarding the "toxic little queen" comment, that Rachel Maddow was the prime mover in my firing, as she was aghast that I had been hired and viewed me as equivalent to Mel Gibson. Another source told me, "You know who's going to get you fired, don't you? Rachel. Phil will do whatever Rachel tells him to do." I think Rachel Maddow is quite good at what she does. I also think she's a phony who doesn't have the same passion for the truth off-camera that she seems to have on the air."
I started skimming the rest of the article after that. You get the idea. Everybody is out to get Alec. He did absolutely nothing wrong, and what he did do that was questionable, he already apologized for. It's not his fault, it's SOCIETY. It's the MEDIA. It's the paparazzi. Everybody else is wrong. Not Alec.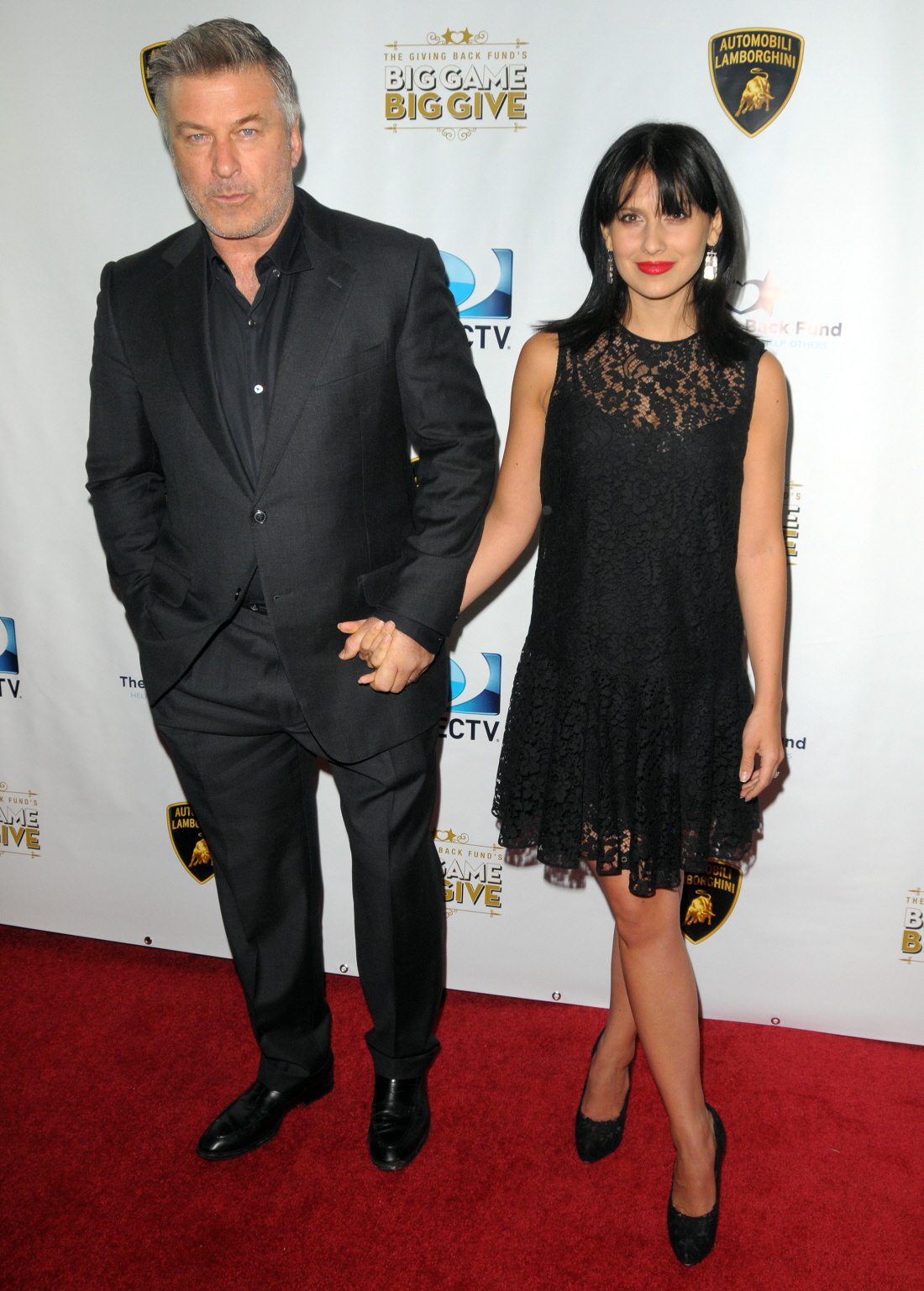 Photos courtesy of WENN, NY Magazine.