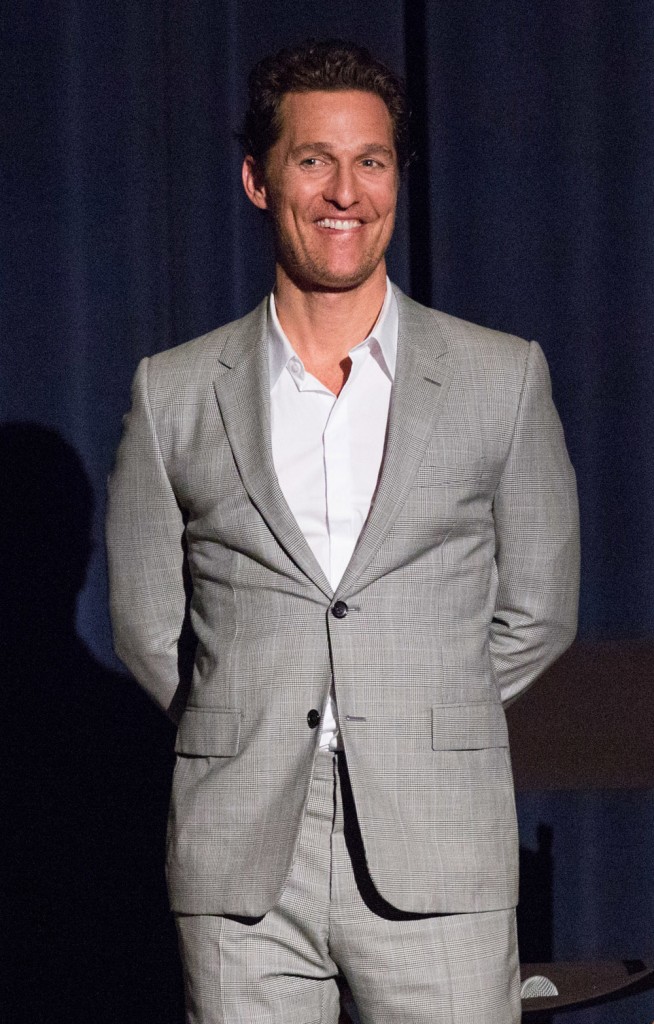 Matthew McConaughey has taken home the best actor statue for his transformative portrayal of AIDS victim turned advocate entrepreneur Ron Woodruff in Dallas Buyer's Club. McConaughey has swept the best actor category this year, taking home a SAG, Globe and Independent Spirit Award, so this win was expected for him. Of course we also expect McConaughey to give a colorful speech. At the SAGs he talked about taking a ride in a spaceship to Neptune and at last night's Spirit Awards he gave a very long speech about the nature of independent film. Tonight he tried to rein it in a little, but he spoke quickly and remained highly entertaining. McConaughey really loves a good turn of phrase and he loves to tell a story. Here's some of his speech, which had a rough kind of theme that seemed like he was fleshing out on the fly.
There's about three things… that I need each day. One of them is something to look up to, another is something to look forward to, and another is something to chase. First off I want to thank God because that's who I look up. He has graced my life with opportunities that I know are not of my hand or any other human hand. He has shown me that it's a scientific fact that gratitude reciprocates. In the words of the late Charlie Laughton who said "When you've got God you've got a friend, and that friend is you…"

To my father who I know he's up there right now with a big pot of gumbo, I know he's in his underwear and he's got a cold can of Miller Light and he's dancing right now. To you dad, you taught me what it means to be a man… To my [family] you are the four people in my life that I want to make the most proud of me.

To my hero, that's who I chase. When I was 15 years old I had a very important person in my life come to me and say 'who's your hero,' and I said 'I'm not going to think about that, give me a couple of weeks.' I come back two weeks later this person comes up and says 'who's your hero' and I thought about it… 'it's me in ten years.' So I turn 25 ten years later and that same person comes back to me and says 'are you a hero?' and I was like 'not even close. My hero's me at 35…' My hero's always 10 years away. I'm never going to be a hero. I'm never going to obtain that, I know I'm not.

So to any of that, whatever it is we're chasing… to that I say "alright, alright, alright."
McConaughey was floundering in romcoms for a while, then he became a dad, took some time off and waited until some meatier roles came his way. He'll tell you about it in his inventive way, and he won't disrespect his earlier roles. Congratulations to Matthew, he really brought it for Dallas Buyer's Club, and it was much more than extreme weight loss. He became that character in a incredible film that took 20 years to get made. And now he can add "Academy Award Winner" before his name.
Update: Here's video of McConaughey's speech: