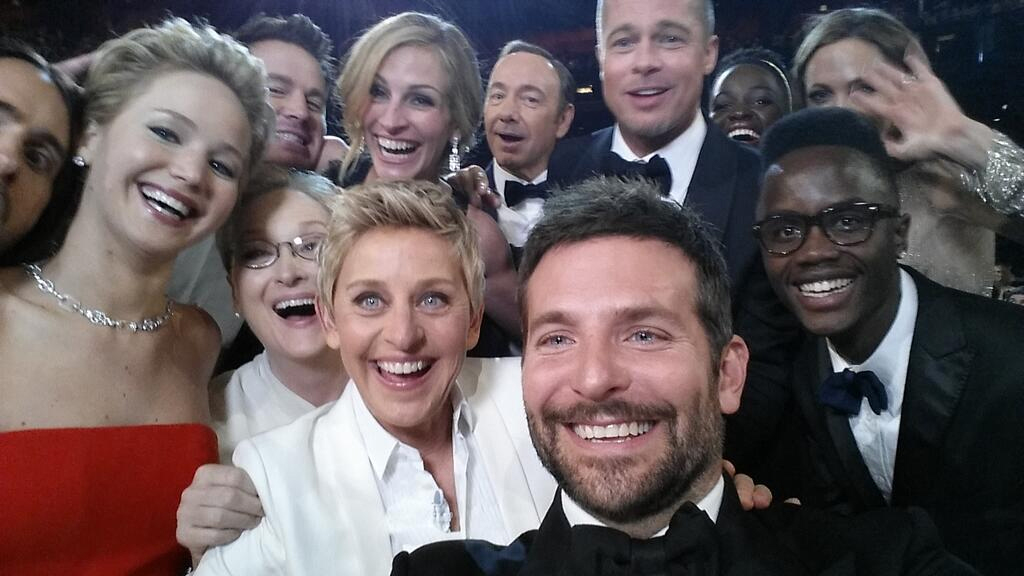 Some people hated Ellen DeGeneres' social media thing at the Oscars. She took a bunch of selfies, but the big one, the star-studded one with all of the celebrities, was a huge explosion on Twitter. Twitter crashed for a time last Sunday because of it. Personally, I thought the pizza bit was awkward and went on too long, but I liked the selfie part, because I thought it seemed like a cool "Celebs are just like us" moment and that one celeb-filled photo was and is really cool, a nice piece of Oscars ephemera. But what if the selfies are made of lies?! What if this was all just some high-level product placement?
Endearing, spontaneous moment or basic product placement? Host Ellen DeGeneres helped bring in record-breaking numbers on Sunday, March 2 with the live telecast of the 86th annual Academy Awards, which was watched by 43 million viewers according to the Hollywood Reporter. And one of her biggest moments of the night was when she rounded up 10 of Hollywood's elite for an "impromptu" selfie — which in turn birthed the most retweeted item ever.

It began, of course, with DeGeneres asking Oscar winner Meryl Streep to participate in a selfie with her and then other winners and nominees like Jared Leto, Jennifer Lawrence, Channing Tatum, Julia Roberts, Bradley Cooper, Kevin Spacey, Brad Pitt, Angelina Jolie, and Lupita Nyong'o quickly jumped in.

But in plain view was the large white Samsung Galaxy Note 3 phone Cooper used to take the photo. The Wall Street Journal doesn't think this was a coincidence.

"As part of its sponsorship and ad pact for the Oscars with ABC, the TV network airing the show, Samsung and its media buying firm Starcom MediaVest negotiated to have its Galaxy smartphone integrated into the show, according to two people familiar with the matter," the Journal reports.

The site also reported that Samsung executives trained DeGeneres to use the Galaxy phone prior to the show.

"It was a great plug for the Samsung brand," Allen Adamson, managing director at Landor Associates, a branding firm owned by WPP PLC told the Journal. "Ellen's selfie is going to be more impactful than their commercials. You can't buy that magic of going viral."
See, if you told me that Twitter had laid down some serious cash for Ellen to post stuff live on air, I would believe you, because that's what I came away with – that Twitter is everywhere now and that Twitter made a bit appearance at the Oscars. But in the week after the Oscars, no one was talking about the PHONE Ellen used. No one was like, "Damn, I need that phone." Well, almost no one. After the Oscars, Ellen did tweet this:
I gave everyone in my audience a @SamsungMobileUS Galaxy Note 3. Anyone else want one? http://t.co/IEBeuU8MDN

— Ellen DeGeneres (@TheEllenShow) March 3, 2014
So… yeah. This was all product placement for Samsung. The fairy tale is over. Christmas is canceled. There is no spontaneity left in the world. It's all just advertising and consumerism.
Well, it's all BS except for this. This, at least, was pure.
Here's Benedict Cumberbatch photobombing U2 at the #Oscars pic.twitter.com/fWry03hJQc

— VANITY FAIR (@VanityFair) March 3, 2014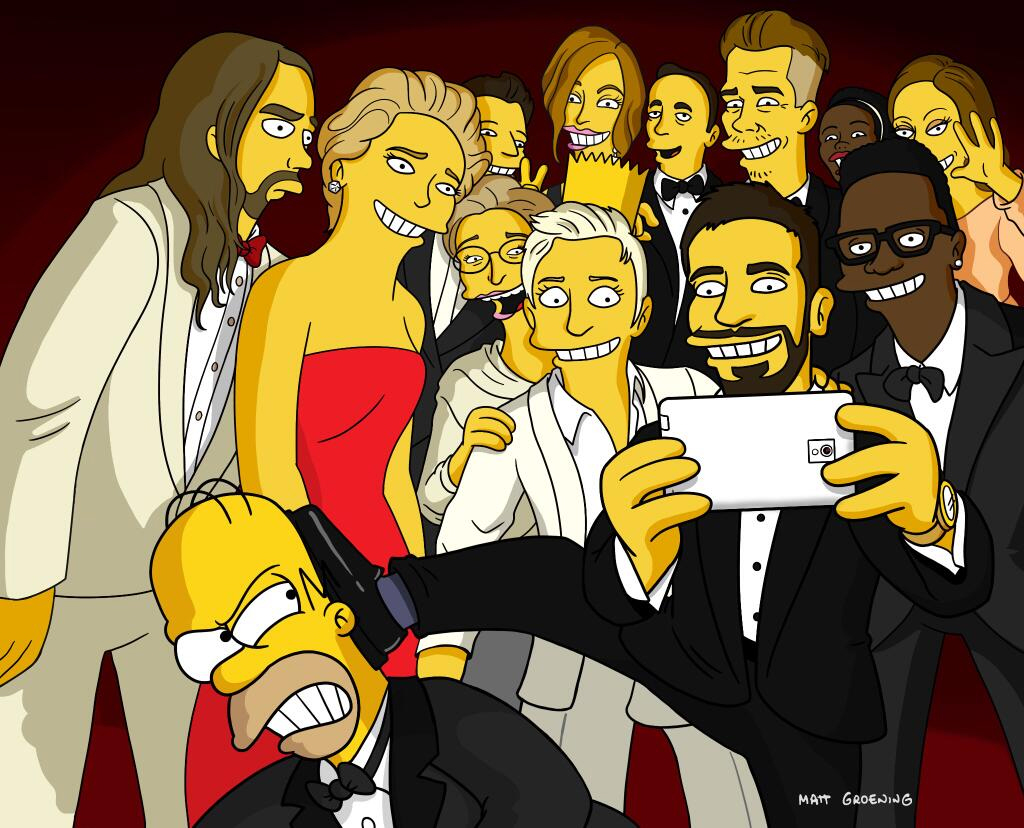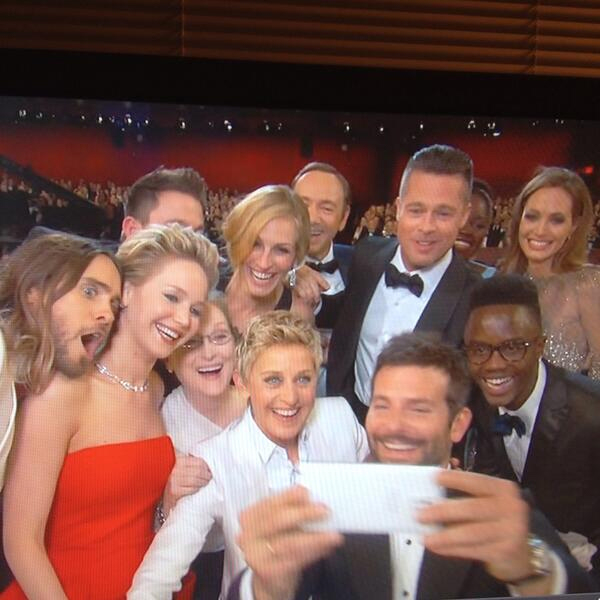 Photos courtesy of Ellen's Twitter, VF's Twitter, The Simpsons' Twitter.