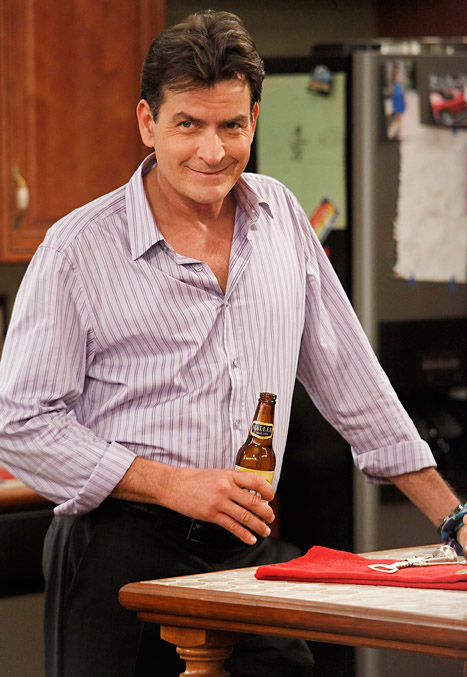 If you would have told me back in 2011 that Charlie Sheen would get another television show which would last for two seasons I wouldn't have believed you. That's happened, Charlie has stabilized somewhat since his breakdown, but he's obviously gone off the rails again. It's hard to recap this addict's chaotic life, but during the holidays he met a 24 year-old adult film star, Brett Rossi, whom he proposed to last month. Around the time that Sheen met Rossi, he fired his management team and briefly halted production on his show, Anger Management. (And of course he was involved in many public feuds with his children's mothers.) Fast forward to now and Sheen is not even consistently showing up for work. Gee, who could have predicted that? Here's part of the story from The Hollywood Reporter:
The star of FX's Anger Management has missed several days of work in recent weeks, according to sources. The absences have forced the show's studio, Lionsgate, to push production beyond what was planned and to use stand-ins for the actor in certain scenes. The moves are said to have angered many of Sheen's fellow castmembers. One source says the Anger cast is threatening to stop working if the absences persist.

A Lionsgate spokesperson declined to comment on the situation. Sheen's publicist, Jeff Ballard, denies that the show has used stand-ins or shot around the actor. "We did not shoot last week because another member of the cast was sick," the rep tells THR. "Charlie is always ready, willing and able to shoot Anger Management and looks forward to returning on Monday."
At least Charlie still has a rep, and of course the guy is trying to spin this like it's not his client's fault. The article also states that there are currently about 65 episodes of Anger Management in the can. Charlie is contractually obligated to do 100 episodes. He took a pay cut to "just" $100,000 per episode in exchange for 40% of the show's backend. If Charlie can make it to the magic 100th episode mark the show will have enough episodes to go into syndication and he'll be much, much richer than he already is. The Hollywood Reporter states that Anger Management could "generate between $350 million to $500 million in revenue if it completes its 100 episode order."
So Charlie is looking at Powerball level money if he can just film 35 more episodes playing a character that he's essentially done for decades. That would be plenty of incentive for most people, but not Charlie. His brain is fried from years of abuse.
Meanwhile Radar Online claims that Charlie Sheen is clean. A source tells them that "for the last two weeks he's completely stopped drinking and has been detoxing. He's taking it really seriously!" If that's even true, I bet Charlie is taking plenty of other drugs to compensate for the lack of alcohol.