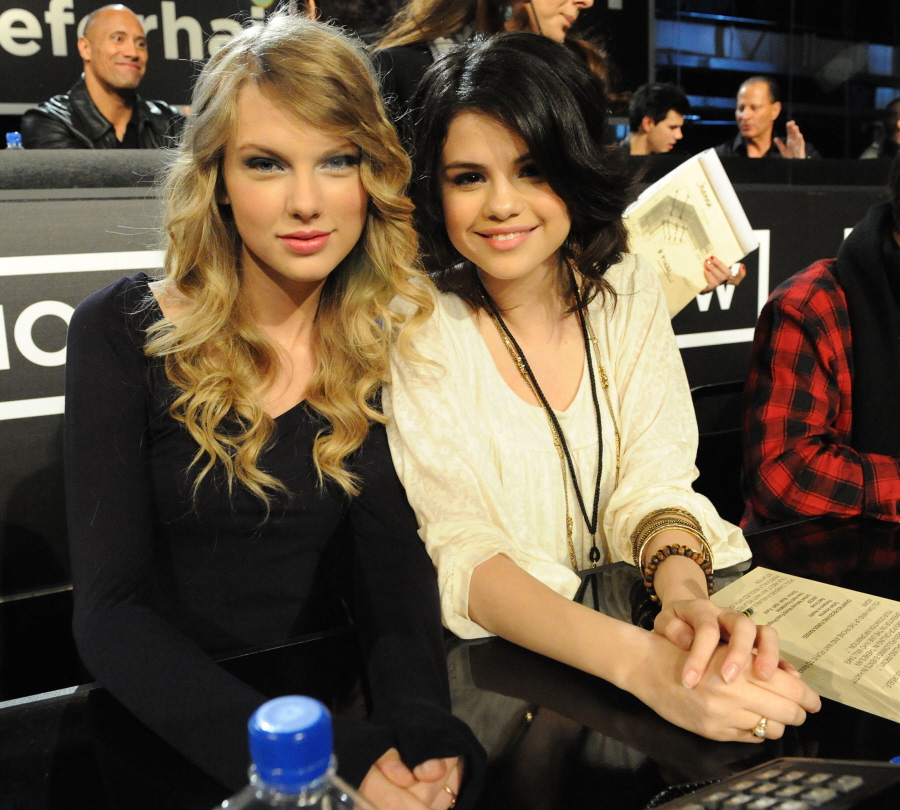 As Bedhead mentioned in her Justin Bieber story yesterday, it seems like Lil' Maple Leaf is so powerful, he's torn apart two close friends. I've been wondering for months now why it seemed like Taylor Swift and Selena Gomez were on the outs, and it looks like we have our answer: Swifty thinks Lil' Maple Leaf is awful. This is probably why Swifty has been making new BFFs right and left, like Lorde and Karlie Kloss. Karlie Kloss is the new Selena!
If Justin Bieber is your boyfriend, Taylor Swift would let you go! The "Red" singer, 24, has distanced herself from former best friend Selena Gomez after the Disney star reconnected with her infamous ex-boyfriend, 20, sources confirm to Us Weekly.

Swift is disgusted that the pair are back together, cutting off her bestie after tweeting just last July that Gomez was "the closest thing I've ever had to a sister."

The "Boyfriend" singer sent his ex $10,000 in flowers and flew from Miami to McAllen, Texas to see her on March 7. Two days later, the "Come And Get It" crooner accompanied the Biebs to the SXSW music fest where he sang his hit "As Long as You Love Me" to her.

But Gomez rekindling of the Jelena flame isn't the only thing peeving Swift. She believes Gomez "used" a brief romance with the Grammy winner's pal Ed Sheeran last June to make her jailbird sweetie jealous.

"After Selena pulled that move, Taylor started distancing herself," a source tells Us.

And Swift has plenty of besties to spend time with otherwise. Recently she's been spotted with Modern Family's Sarah Hyland, True Grit's Hailee Steinfeld, Victoria's Secret model Karlie Kloss, and even Gomez's enemy, New Zealander Lorde. But while their friendship may be struggling, a Swift pal insists that the country artist-turned-pop vocalist loves Gomez and will always be there for her.
A source also says that Swifty was "disgusted" that Selena and Justin spent this past weekend together and it was the final straw. But hold up – where was I when Selena banged Ed Sheeran?!?!? THE HOBBIT GOT SOME BOOTY!! And Selena's hot too… if Ed Sheeran was just some rebound sex to make Justin Bieber jelly, I bet Ed was fine that. He got to bang Selena, after all.
As for the whole psychodrama of Tay-tay being disgusted and all that… I'm Team Swifty on this one. I've had many girlfriends who get obsessed with the big losers in the world. I was always stuck in that position of "Do I tell her the truth about her boyfriend being a gigantic tool or should I let her find out for herself?" If anything, Swifty's intense dislike for Lil' Maple Leaf makes me like her more.
Photos courtesy of Getty, WENN, Fame/Flynet.