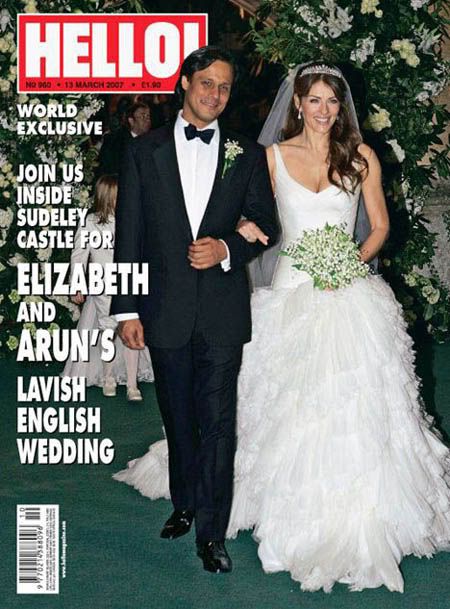 Liz Hurley's father-in-law sure was dissapointed by the treatment he was afforded at his son Arun Nayer's multi-party wedding blowout in India last month. Vinod Nayer says that he and his wife and their friends were disrespected during the super expensive wedding festivities and that they are pissed off and not talking to the haughty couple:
"Liz and Arun have treated us very shabbily. My heart is heavy with pain," the newspaper quoted him as saying.

Nayer senior, a textile magnate, claims that the couple seemed to disrespect Indian relatives and did not act with consideration towards him and his wife.

"We were pushed into the background like poor relations. This has broken my heart," the 66-year-old added.

"I have decided to cut all ties with my sons…I feel that Liz and Arun behaved shamefully and placed more importance on showing off than their own family," Nayer senior added.

He said that he had not spoken to his son since the wedding and had sent him a letter accusing him of having "disregarded me like one of your office boys."

"You have shown disrespect to me and my family, plus my dear friends who have been with me since your birth," the letter reportedly said.
At first I was like "Oh yeah! Nayer's going to be disinherited and Hurley will really have to run that farm she's blabbing about in the countryside!" Then I did some half-assed Wikipedia research on the younger Nayer and it turns out he's successful on his own, and runs a software company called Direction Software Solutions. Their website really sucks, though, so maybe he's not as successful as he makes out. They probably made enough money selling the pictures of their wedding to more than pay for the parties as well as save some to start their farm on.
While people were saying it was a waste of money to have such an extravagant wedding bash, commentor Caz says those type of huge weddings are common in India and are expected of wealthy families. While they may have honored traditions with their Indian ceremonies and Bollywood-themed parties, they must have forgotten to honor their elders if they pissed off Arun's dad this badly.
Rumor has it that Hurley is pregnant, but that rumor came out around the time of the wedding and we haven't heard anything more about it.
Here are some candids from one of their opening Indian parties, the "glamorous casual" affair at the Taj Hotel. We already published these pictures. The header image is the cover of Hello! and is of their English wedding.