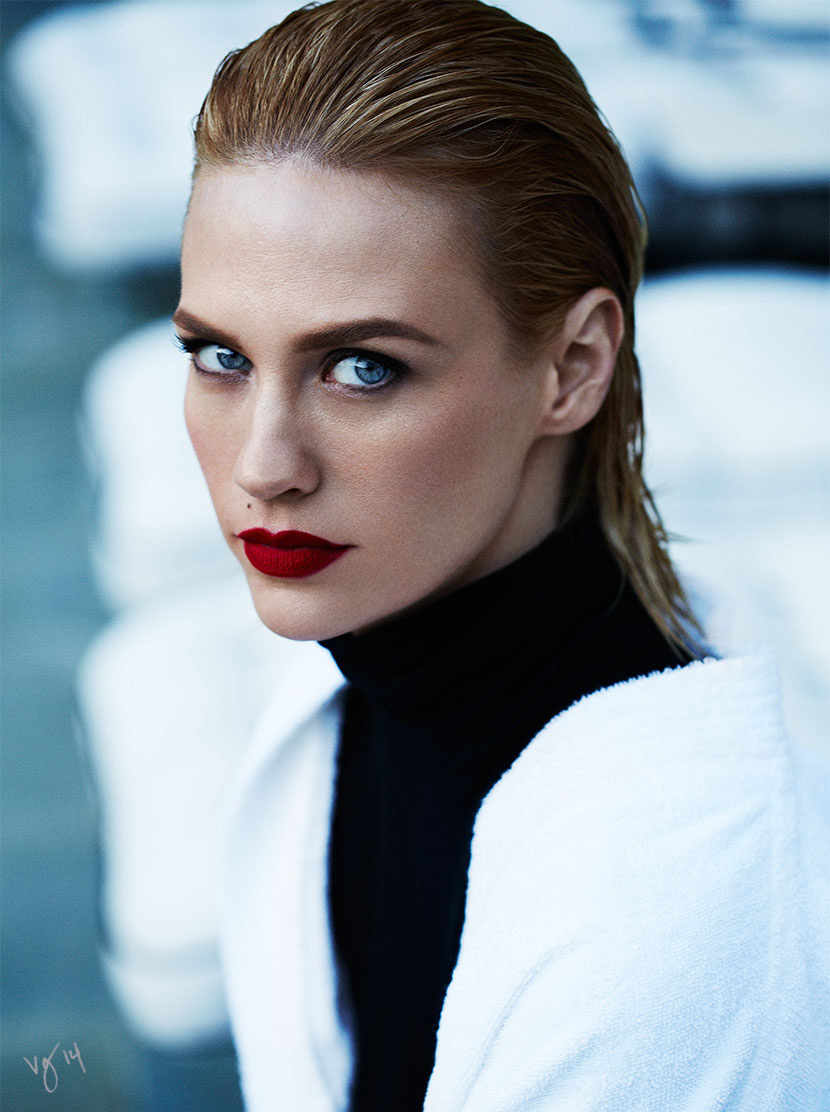 This is one of the most interesting and striking photoshoots I've ever seen with January Jones. She's profiled in Violet Grey and you can see some of the additional (NSFW-ish) images here. The color shot with the red lips that I'm using as the header? To die for. My God, she's so stunning. January also did a short, enjoyable, breezy little Q&A with the mag:
What is the single greatest night of your life and why?
The night my son was born for so many reasons.

Do you think gentlemen prefer blondes?
I think gentlemen rarely have a preference but having been a red head and a brunette before, I will say I get more attention being a blond, it must have something to do with light reflection.

At what age do you think men are at their best?
Somewhere between 30-80.

Who do you most want to go to bed with, dead or alive?
Paul Newman or Rihanna

What do you really think of Jon Hamm?
I think he's amazing. Very kind and generous, well read, very strong but easily vulnerable, very funny but also dark. My friend.

How important is nail polish in your life?
It's very important because I wear acrylics for Mad Men and am constantly changing the polish from work colors (frosty white, coral, classic red or pink), to a nude or light pink to disguise how long they are. And if I want to go bold, I love a deep red.

What is the most important beauty product in your cosmetic wardrobe?
Face creams of course. I can't live without Sisely's Supremya night cream. It's worth your rent money.

Do you believe in plastic surgery?
Whatever helps a person feel beautiful and confident is fine with me. I personally am afraid of the procedures that involve anesthetic but ask me again in twenty years.

What do you keep on your bedside table?
Books, water, hand cream, lip balm and photos of my family.

What is the most important piece of beauty advice you learned from your mom?
She always told me that if I kept making so many weird and ugly faces my face would eventually freeze that way. Luckily I found a job where funny and/or frozen faces are encouraged. Also, to not over pluck your eyebrows, a strong brow makes you look younger.

What items will you take from the Mad Men set when it wraps?
My Movado watch if I can, maybe some clothes and table lighters.

Which book changed your life?
Anna Karenina by Leo Tolstoy and Johnny Got His Gun by Dalton Trumbo.

What is one thing in Hollywood that is overrated?
The entourage.

What question have you received the most throughout your career?
If my name is real and if so, why am I named that.
January also says that her lips are her favorite body part and that December – not January – is her favorite month. You know what? I've actually never heard that about not overplucking eyebrows because bigger eyebrows make you look younger. I'm not sure if that's true. Mostly I think big brows make a woman look unkempt rather than young.
As for who should we go to bed with… Paul Newman, for sure. But to say Rihanna in the same breath? Weird. I'm surprised January didn't list a bunch of married men.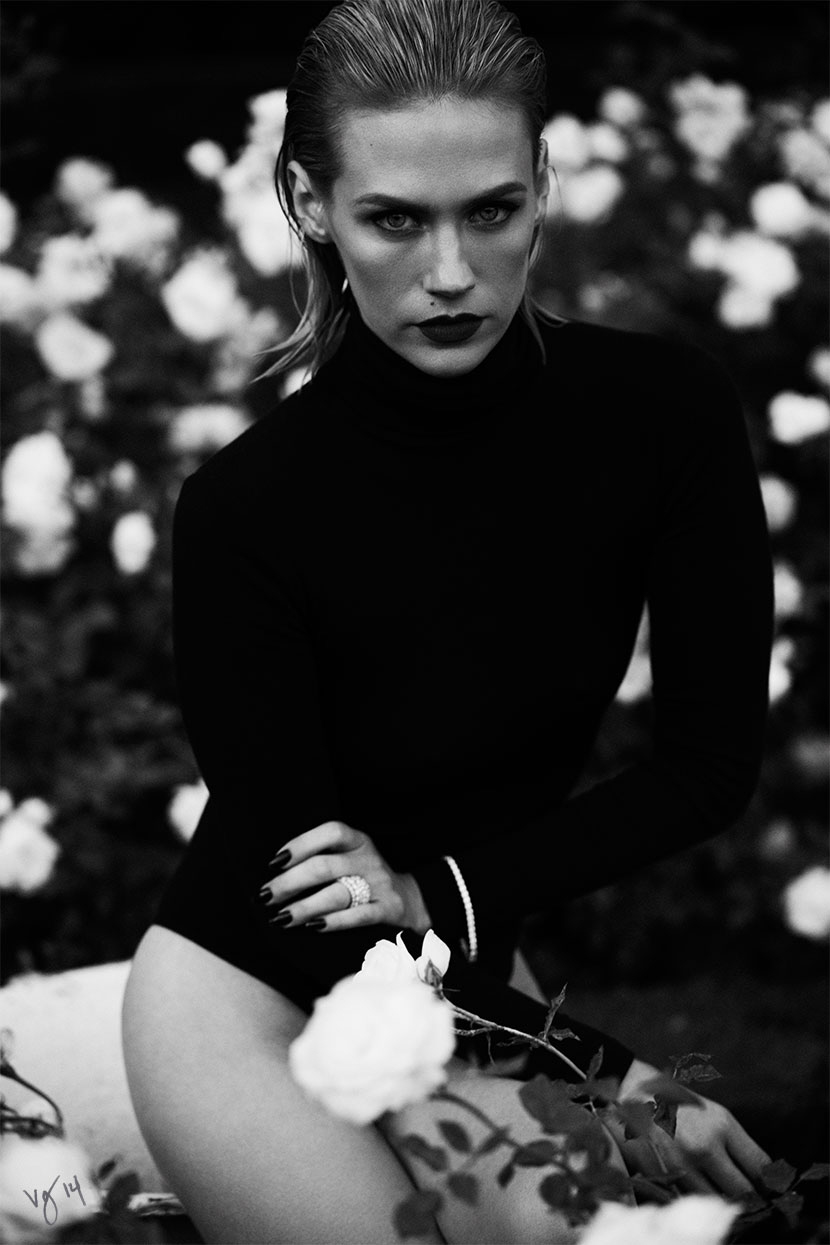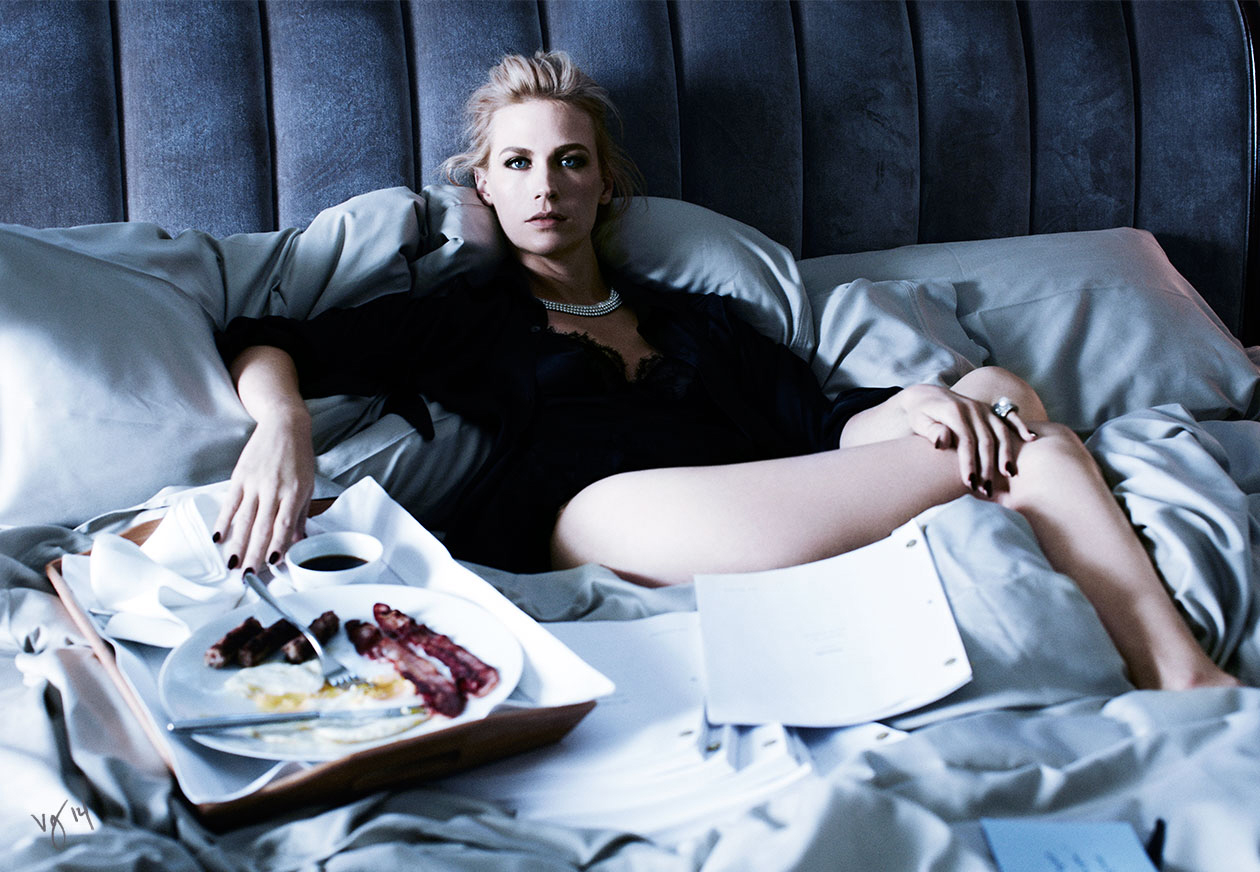 Photos courtesy of Ben Hassett/Violet Grey.