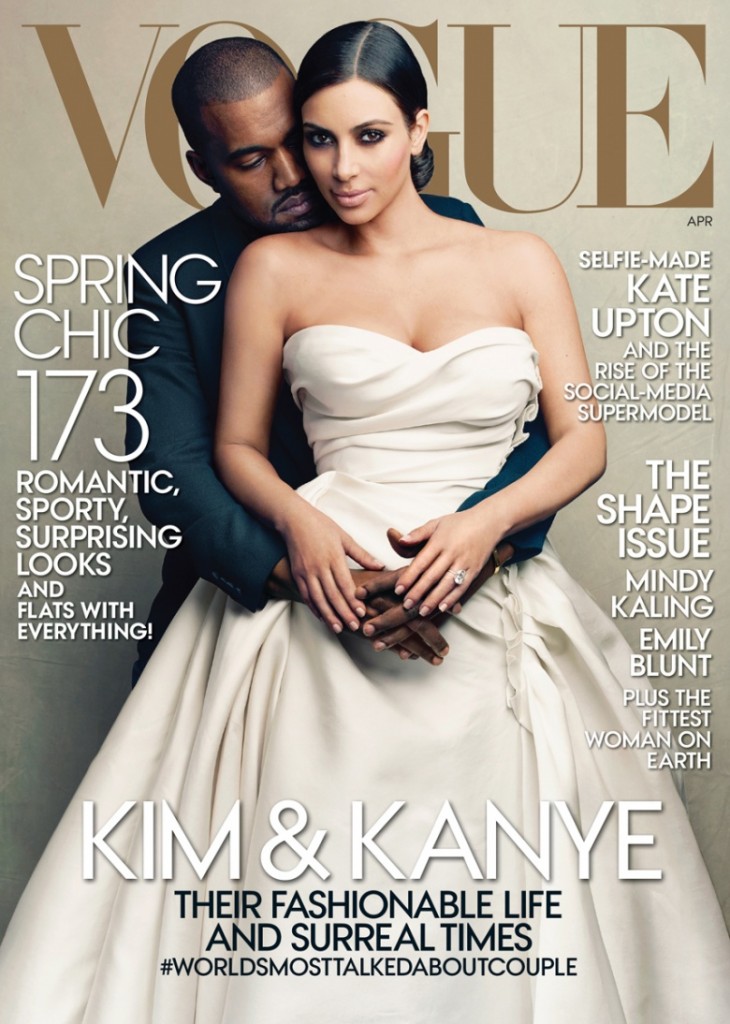 All that schmoozing with Anna Wintour must have paid off for Kim and Kanye, because they cover the April issue of Vogue. We've heard for months that Kanye has been trying to get Kim a cover, and that he's been pitching a wedding cover shot by Mario Testino. It seemed like a pipe dream, and like Kim would get some international Vogue cover in an attempt to appease Kanye, but his pleas must have worked.
Annie Leibovitz shot this, but it looks like Kanye otherwise got his wish. So far all Vogue has released are the cover and a behind the scenes video set to Kanye's Bound 2. It's like an alternate music video for Bound 2, only classier. The video features Kim in two different huge wedding gowns (the one on the cover is Lanvin) and also includes scenes with baby North. There's Kanye looking like he's about to bang Kim on the side of his Lamborghini, there's Kim and Kanye in a private jet with North, and there are scenes of Kim lounging around in her various wedding gowns.
So is this a prelude to some huge E! wedding special? Kanye and Kim are allegedly getting married in Paris right around the time the Cannes film festival wraps at the end of May. You know it's going to be epic and that this is just the start.
Update by Kaiser: I think it's funny that Anna Wintour gave in and put Kim on the cover, but ONLY with Kanye. I can't wait to see the full photoshoot. BTW: Kim's dress on the cover is Lanvin. Vogue has also released some quotes from Wintour which are… fascinating:
"Part of the pleasure of editing Vogue, one that lies in a long tradition of this magazine, is being able to feature those who define the culture at any given moment, who stir things up, whose presence in the world shapes the way it looks and influences the way we see it. I think we can all agree on the fact that that role is currently being played by Kim and Kanye to a T. (Or perhaps that should be to a K?) As for the cover, my opinion is that it is both charming and touching, and it was, I should add, entirely our idea to do it; you may have read that Kanye begged me to put his fiancée on Vogue's cover. He did nothing of the sort. The gossip might make better reading, but the simple fact of the matter is that it isn't true. There's barely a strand of the modern media that the Kardashian Wests haven't been able to master, and for good reason: Kanye is an amazing performer and cultural provocateur, while Kim, through her strength of character, has created a place for herself in the glare of the world's spotlight, and it takes real guts to do that."
Bullsh-t! Kanye totally begged Anna. I also think it's "interesting" that Vogue dropped this on a Friday afternoon rather than a Monday or Tuesday, which is when a cover usually drops.
Here are some screenshots from Vogue's video.