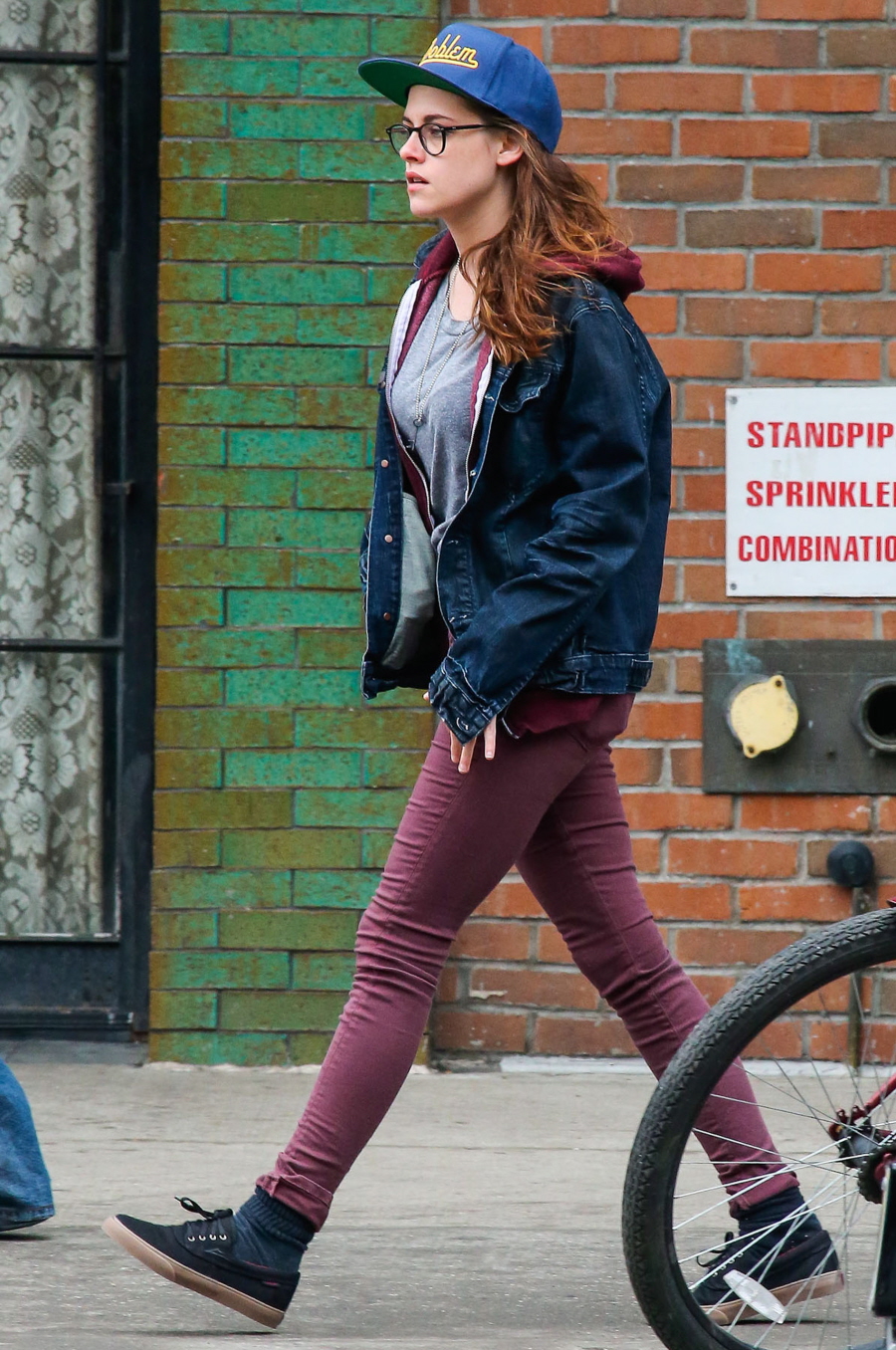 Here are some assorted photos of Kristen Stewart out and about in YC last week, and filming in Lido Beach last Friday. She's still filming Still Alice, where she has a supporting part as Julianne Moore and Alec Baldwin's daughter. As I've said, I wouldn't have really chosen Kristen to play Julianne's daughter (Emma Stone would have been a better fit), but in these photos, I can see some sort of resemblance. Maybe it will work.
The last time we discussed Kristen, the tabloids claimed she was being "snippy" and unpleasant on the set of this film because she was on some kind of extreme juice diet/detox. But some people have pointed out that Kristen actually looks like she's gained a little weight recently. Nothing significant or anything – Kristen is now and has always been a small young woman. But her skinny jeans just look a little extra snug. Twihards even theorized that Robert Pattinson has secretly impregnated her, because OF COURSE. Robsten Forever! Well, Hollywood Life (Twihard Central) says that Kristen was trying to gain weight for her character:
Kristen Stewart, 23, wasn't told by her director to gain weight for her new movie Still Alice – it was actually the actress herself who decided that putting on some extra weight would "add to her character" and make her appear more youthful, a source tells HollywoodLife.com EXCLUSIVELY. In the movie Still Alice, Kristen plays the part of Julianne Moore's teenage daughter, who bonds with her mother after she is diagnosed with early-onset Alzheimer's disease.

"It was actually Kristen's decision to gain weight for her role in Still Alice. She thought it would add to her character, who is the youngest of three. She plays a teenager and teenagers can be a little heavier while going through puberty. She thought the extra weight would make her look a little younger," a friend of Kristen's tells HollywoodLife.com EXCLUSIVELY.

We spoke with celebrity dietician Lisa DeFazio, who applauded the Camp X-Ray star for her weight gain, saying she "looks healthy, happy and has some curves."

"She gained weight in a healthy way, working with a dietician, and she's not upset at all about it — it was her decision," the friend explains.

As HollywoodLife.com previously reported, Kristen's weight gain sparked rumors that the actress was pregnant with Robert Pattinson's baby.

"Kristen is absolutely not pregnant. She has put on a few extra pounds for a movie role and that's it," an insider told HollywoodLife.com EXCLUSIVELY. "She's already so thin so a few more pounds makes a noticeable difference, she's still thin."
Oh, that actually makes sense. And Kristen is right, a little extra weight does make her look younger – she looks very apple-cheeked and yes, like a teenager. This also explains why People Magazine detailed all of the food and beverages Kristen consumed while recently out to dinner:
For Kristen Stewart, there's nothing like a peppery cocktail or two to chase down dinner. On Thursday night, the actress — dressed casually in jeans and a tee — was spotted at Beauty & Essex, a popular restaurant on New York City's Lower East Side. She ordered up house favorites like the grilled cheese, smoked bacon and tomato soup dumplings, made with five different cheeses "for maximum melty cheese goodness," chef Chris Santos told PEOPLE.

But the Twilight star didn't eat alone.

"It appeared to be a family night out as Kristen came in with her dad and another woman," said a source. "She was very laid back and was especially nice and polite to their server."

After a round of the dining spot's signature cocktail, the Masterly Touch (made with vodka, lemon-thyme nectar and Campari pearls), the actress requested a different libation that packed some heat. So Beauty & Essex's mixologist created a custom drink for her, made with vodka, muddled cucumber, jalapeños, lime, simple syrup and a splash of Grand Marnier.

"It was a hit with Stewart and she drank a few of them," the source added.
I'm not a cheese person (sacrilegious, I know), so the description of the grilled cheese stuff did nothing for me. But the description of the cocktails? Intriguing. I don't think I've ever had a cocktail with "spice" or any kind of peppery kick. I would probably need a chaser of something plain to dull the heat though. Anyway, that's what's going on with K-Stew. She's not knocked up, she's drinking alcoholic beverages and she gained weight on purpose to look younger.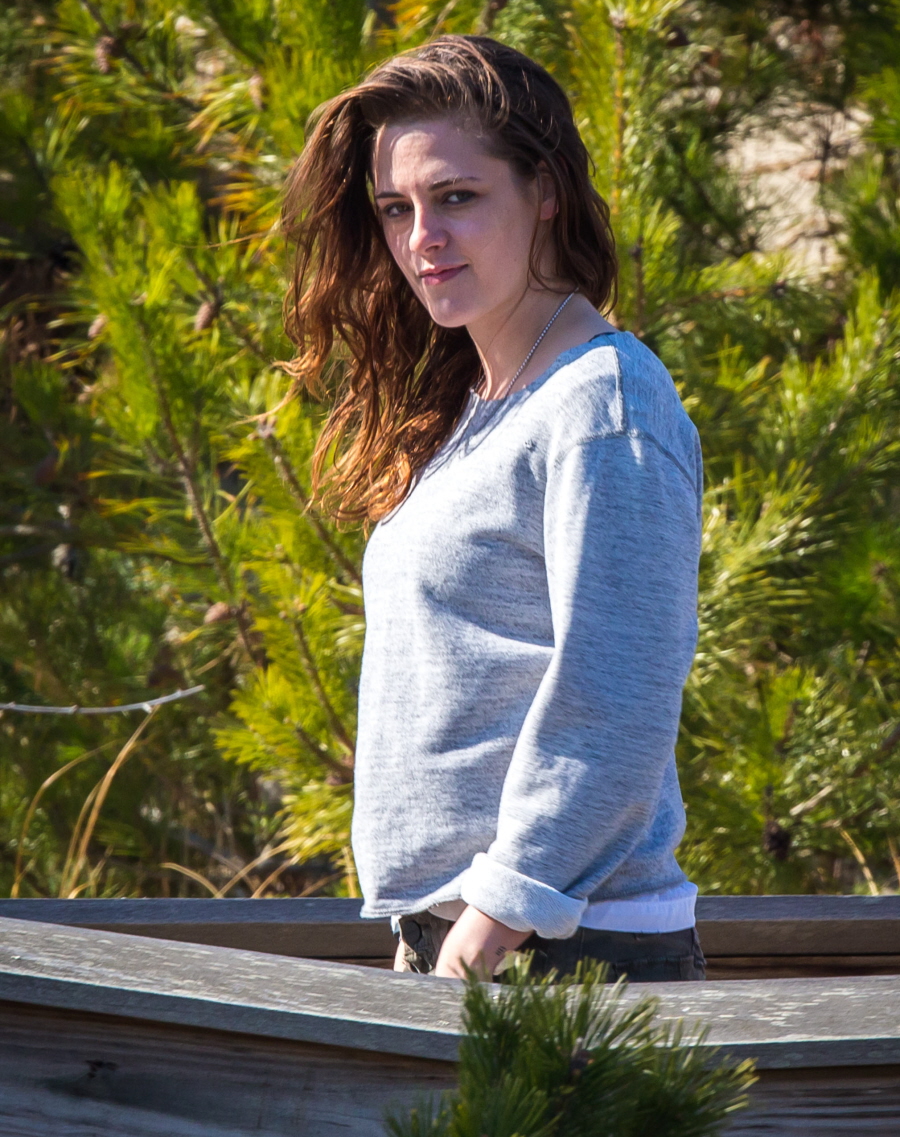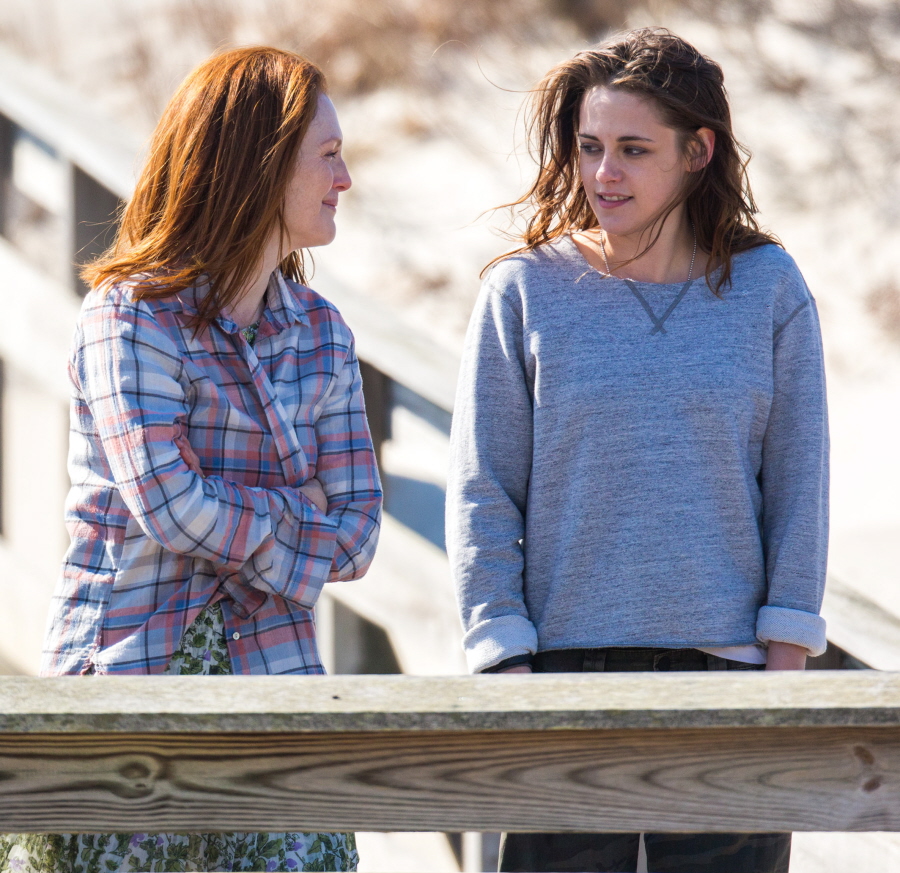 Photos courtesy of Fame/Flynet.