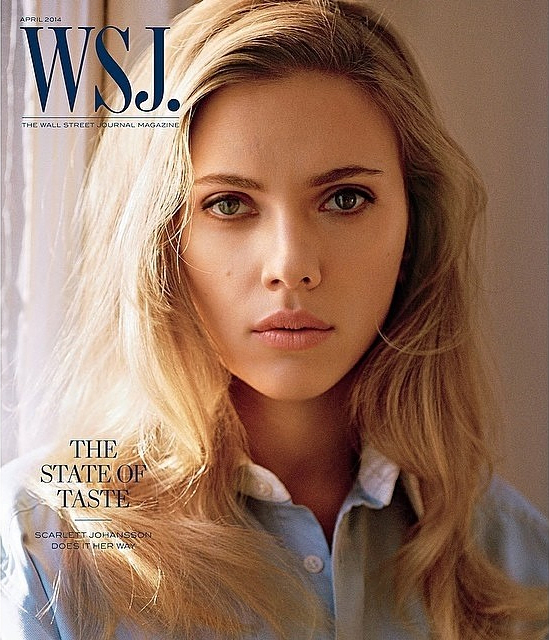 Scarlett Johansson knows that many of you don't like her right now. And she's fine with it. That's how I'm interpreting her "f—k it, I'm going to keep on talking" publicity campaign for The Winter Soldier and Under the Skin. To be fair, I think most of these print interviews (like this new one with the Wall Street Journal) were done a month or two ago. But I still maintain that Scarlett doesn't give a crap if you hate her. She's not one of those people feeding on the hate and she's not one of these people broken down by the hate either. She's ambivalent. She doesn't care about what the peasants say. Anyway, here are some quotes from this WSJ piece – I enjoyed it overall, but then again… I'm sort of becoming a ScarJo apologist as of late.
Whether she offended French people when she joked about their rudeness: "You're allowed to complain about places you live, because you love them. Then I got off the [Letterman] stage and I go, 'Oh my God, did I just offend a nation of people?'" Johansson said that Dauriac called and reassured her that her comments were accurate, that everyone in France says the same kinds of things about pushy Parisians. "But of course his father called him and said, 'What is she smoking? What is she thinking?' Hopefully they will accept me back there."

Why she plays Black Widow: "I was like, I want to be part of something big like that. I want to be in a really successful, huge film that's good and works. I wanted to prove to myself that I could do it. I wanted to stretch myself physically, out of my comfort zone, and still succeed. I'm probably like most actors. We have huge egos, and you want to know you can be successful, no matter what. I don't want to be pigeonholed in one genre or budget or whatever. I'd rather take the chance of a film not working than be stuck in a pattern of making the same movie over and over"

No longer an ingénue: "I don't want to be the ingenue anymore. That part I'm happy about. It's nice to be glamorous, but I don't want to always have to be trendy and glamorous and an object of desire. I don't want to be stuck in that forever. Because it doesn't last."

Having it all: "It seems so stressful to not be able to spend time with your family because you're constantly chasing the tail of your own success. There must exist a world in which I can balance those things, be able to raise a family and still make a film a year, or work on my own, develop things, do theatre. I want to be able to have it all. Selfishly."

Motherhood/career balance: "I know that with that there will be some sacrifices. I know that's the struggle with working mothers and successful careers. It happens." But the scent of double standard is obvious, and Johansson doesn't shy from it. "With [male actors] it just doesn't happen that way. You can be every woman's fantasy, and nobody thinks twice about the fact that you have eight kids or whatever."

Her relationship with Romain Dauriac: "Our life is quiet," she says. (As evidence, the couple has been mercifully spared a mortifying relationship acronym. "Scar-Ro? Scar-Main?" Johannson jokingly suggests.) She is vague about wedding timing ("our plan is to get married at some point"), but she admits that her French is rusty. Dauriac's family mostly speaks French around her, but at home the couple usually sticks to English. "When you're in a relationship with somebody and you're communicating with them, you want to be as clear and concise as possible. We try to speak French a little, but it's mostly like, 'I like this sandwich.' 'That's a nice color.' " She intended to take a month off and study French with a tutor. "You go out, you go to a museum, order lunch, try to do a conversation."
[From the Wall Street Journal]
The part about taking some time to learn French reminds me of David Sedaris's books and his years-long attempt to learn French while living in Paris with his boyfriend. I guess Scarlett thinks that she's so brilliant that she'll just be able to pick up French in a month. Ha! Good luck with that.
As for her talk about not wanting to be an ingénue anymore – "I don't want to always have to be trendy and glamorous and an object of desire" – well, we'll see. Scarlett has always seen herself as a "real actress" except that she also profited (heavily) from the whole ingenue thing, especially when it came to modeling side projects.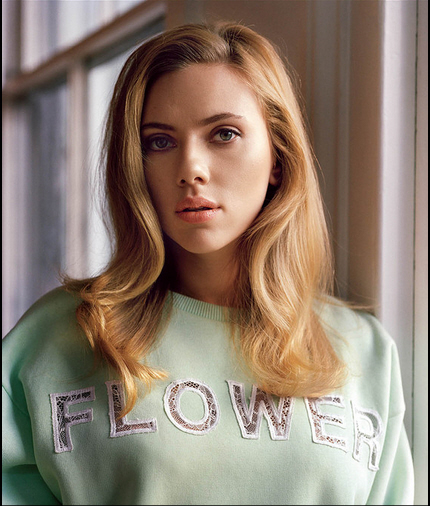 Photos courtesy of WSJ.