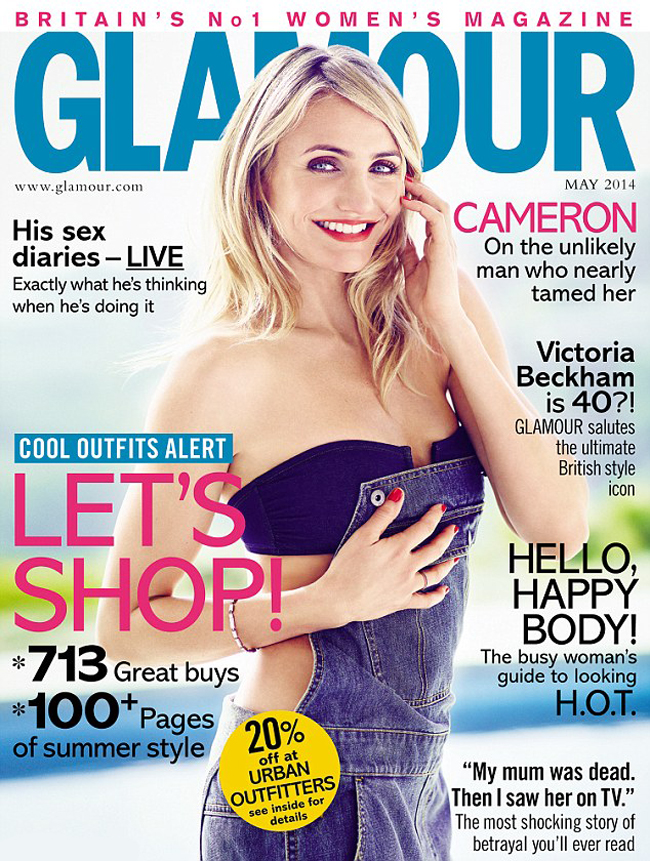 Cameron Diaz covers the May issue of Glamour UK to promote The Other Woman. The movie is all about sisterhood and rallying against lying, cheating men. Cameron has made some huge statements about women over the past few months. She's tired of society's chauvinism and misogyny towards single women. Cameron's a living example of her perspective. She's not out chasing a ring. The men have chased her, but whenever she's gone through a breakup, the media has covered it in terms of what she did wrong. As in, "Poor Cami can't keep a man…" That's so wrong.
I don't agree with everything Cameron says about gender and romantic stereotypes. She said everyone will be cheated on at some point during their relationships. Sweeping statements will create trouble, but I do agree that most people will either cheat or be cheated on. That's realistic without being all-inclusive. Now Cameron is saying that all women have been sexually attracted to other females. Here we go again:
She's a girl's girl: "I love women – and I don't believe in female jealousy. I don't feel like it's a good feeling to have. My parents always told me that whatever someone else had – in all areas – it wasn't mine to be entitled to. That all I can do is the best that I can do – and that what's most important is whether I can do better at what I'm doing."

The overreaching statement about women: "I think women are beautiful – absolutely beautiful. And I think that all women have been sexually attracted to another woman at some point. It's natural to have a connectivity and an appreciation for the beauty of other women."

On aging in Hollywood: "Now that I'm getting older, people have stopped asking me about proving myself and started asking me whether I'm worried that I won't get any interesting roles any more – when, actually, older roles are the best roles for a woman. The ingenues are not getting the interesting roles now – they weren't really ever. They were just being objectified."

Is she vain? "I have very little vanity – but at the same time I'm incredibly vain. If I see a bad picture of myself in a magazine, I don't give a shit. I'm, like, whatever. But it's a funny thing being out in the world in the way that I am. You really have to keep yourself in check because it's easy to lose your head."

What she doesn't like in a man: "Being rude, period. I don't have any patience with that. Oh, and too much cologne. That's something I can't do. Hygiene's not a bad thing, either, so that's quite high on the list. But basically I love a sense of humour because that's what tells you how smart a man is. I love British humour and British men."
[From Glamour UK]
Have all women really been attracted to another woman? Maybe. I assume Cameron is talking about straight women, and she's probably right about a lot of females. I would go there for Angelina Jolie and Scarlett Johansson, but that's not an unusual statement. More than considering them as women, I think they just ooze sensuality. Scarlett probably wouldn't like to hear that since she's such a serious actress now. Oh well.
One thing is certain: Cameron is very loyal to her female friends, and I can make that absolute statement. She's even incredbly loyal to Goop, which I'd never be able to manage. Then again, Goop would never be friends with me.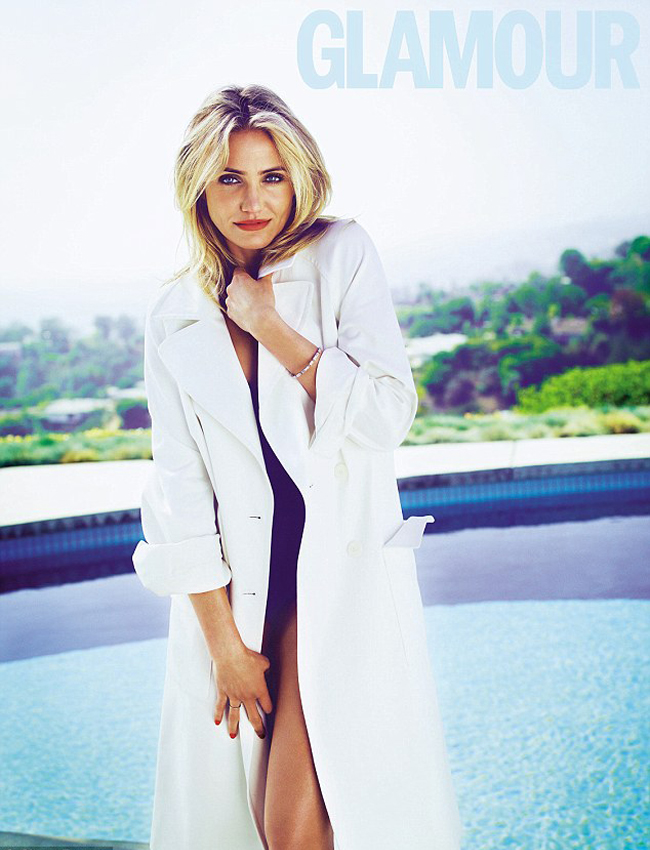 Photos courtesy of Glamour UK