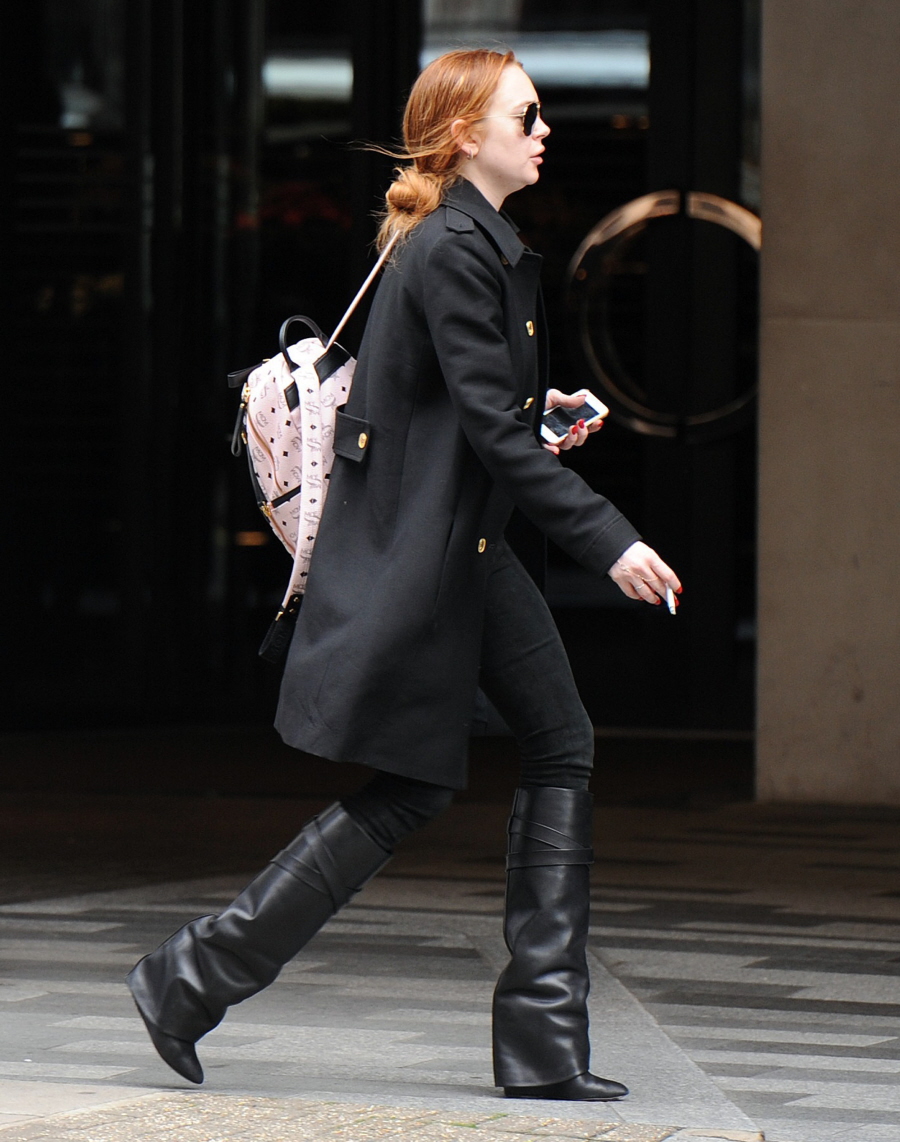 Here are some photos of Lindsay Lohan last Thursday in London. They just became available yesterday, so we had Coachella photos of Lohan before we had these pics. Which means that Lindsay flew into London last Thursday, stayed for a few hours, then flew to California where she is probably now banging Gerard Butler in a porto-potty as we speak. Here's how Fame/Flynet explained it:
Troubled actress Lindsay Lohan seen leaving her hotel in London, England on April 11, 2014. The flame-haired star and her companion flew into Heathrow airport on Thursday morning and, after a twenty-four hour stay, flew out to attend the Coachella festival in California.
This could have been anything. I guess. Actresses/models/celebrities fly into a city for a whirlwind trip all the time. Sometimes it's work, sometimes it's just for fun. What do you think it was in Lindsay's case? I suspect it was "work." I suspect that she would want us to think she was doing a photoshoot or something. But I bet her mom set her up with some millionaire for a night. Something like that.
Apparently on Sunday night's Lohan show on OWN, they showed the "behind the scenes" drama of Lindsay flaking out on a photoshoot for ELLE Indonesia and the editor calling her a bitch. Lindsay defended herself by saying she's such a night owl, she has problems getting up early for a photoshoot. The photoshoot was scheduled for like 1 pm. I'm not even joking. She's a disaster.
As for Coachella… well… how many times does she have to tell you people that she's made of cracked-out sobriety?! Except that witnesses saw her guzzling booze:
Eight months out of rehab, and just days after telling David Letterman "she's really good" and clean and sober, Lindsay Lohan was witnessed indulging in vodka at the Coachella Music Festival in Indio, Calif.

A spy told InTouch that the actress, whose self-destructive tendencies have been well-chronicled on her OWN reality show (as well as Radar), "looked completely out of it" while mingling with her sister Ali, 20, and others following Kid Cudi's set.

"She couldn't stand up straight and she was frantically chain smoking cigarettes," the witness said. "In one of her hands she had a plastic cup with a clear liquid in it."

Despite her well-chronicled battles with the bottle, the Mean Girls star's running mates were apparently more than happy to enable the boozing, according to the source.

"The group [of Lohan and her pals were] standing in a small cabana, booth-type thing and one of the friends was making regular trips to the bar. I overheard the friend order four vodka sodas and when he carried them back to the group," the source said. "He handed one to Lindsay and she started drinking it. She didn't seem to care who saw and none of the group seemed concerned."
Ah, the beloved "clear liquid". Usually, she just pours vodka into a water bottle. Do you know how hardcore you have to be to just drink vodka straight, day after day? It's amazing her liver hasn't jumped ship completely. Anyway, the only reason I have for questioning this story is that it's lacking details about LL coming out of a porto-potty with powder on her nose.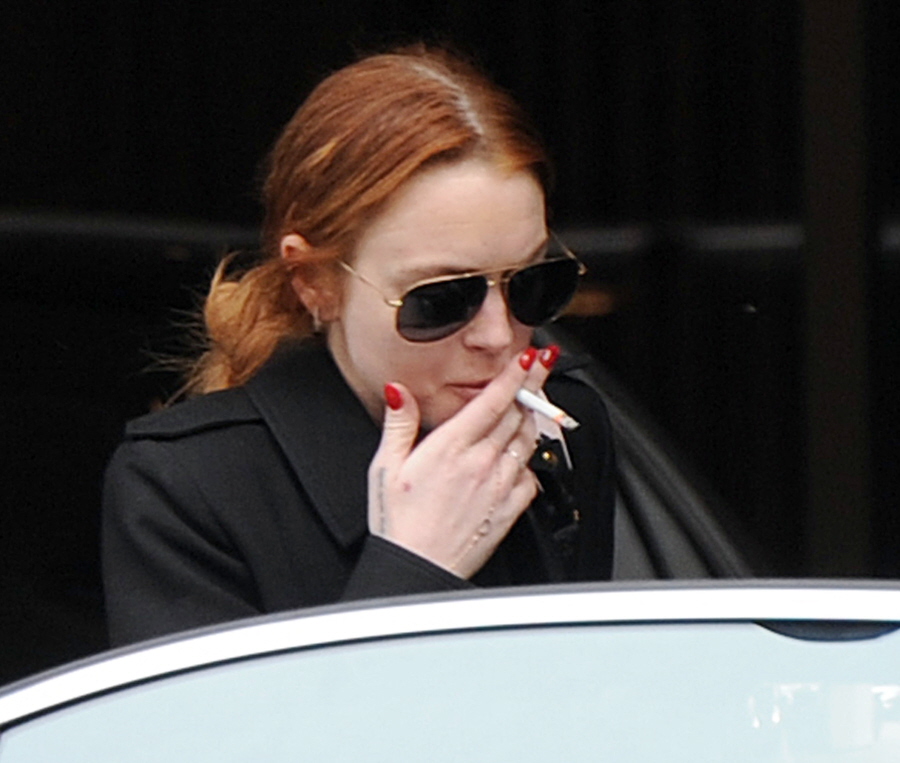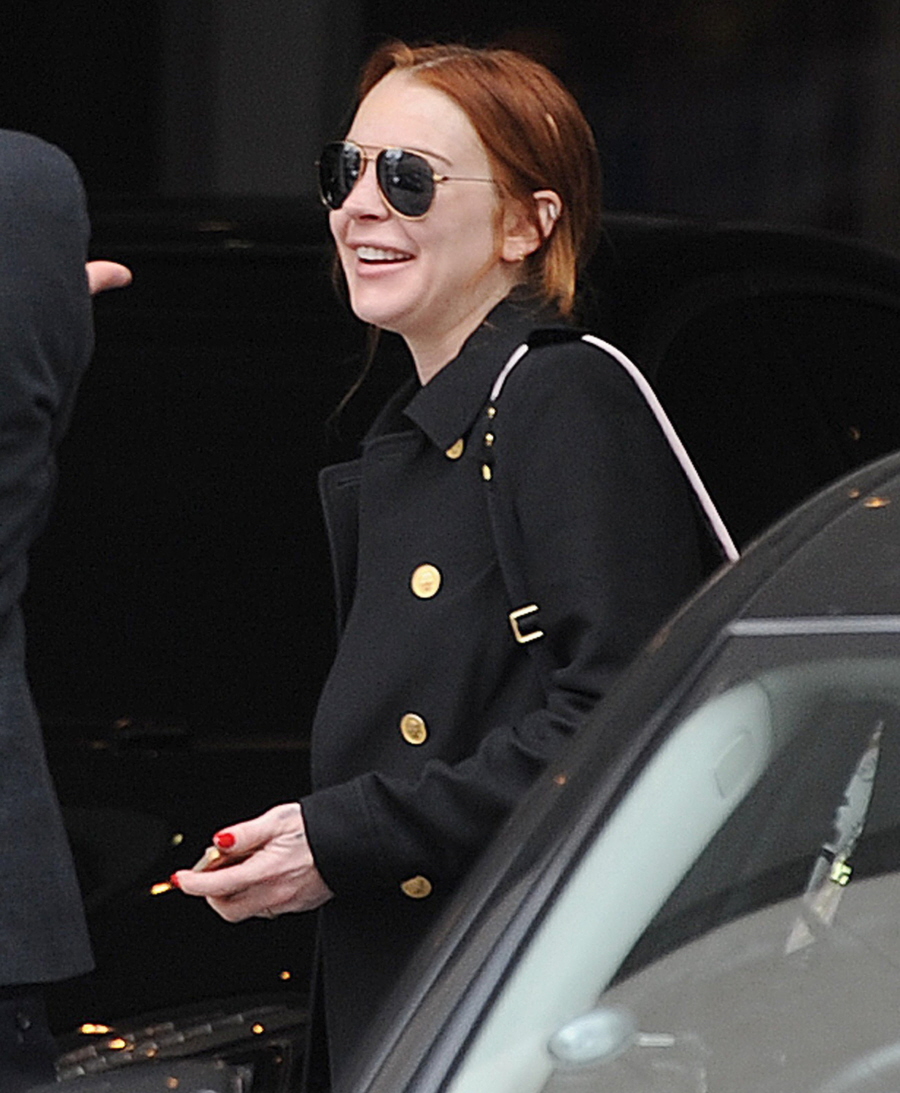 Photos courtesy of Fame/Flynet.