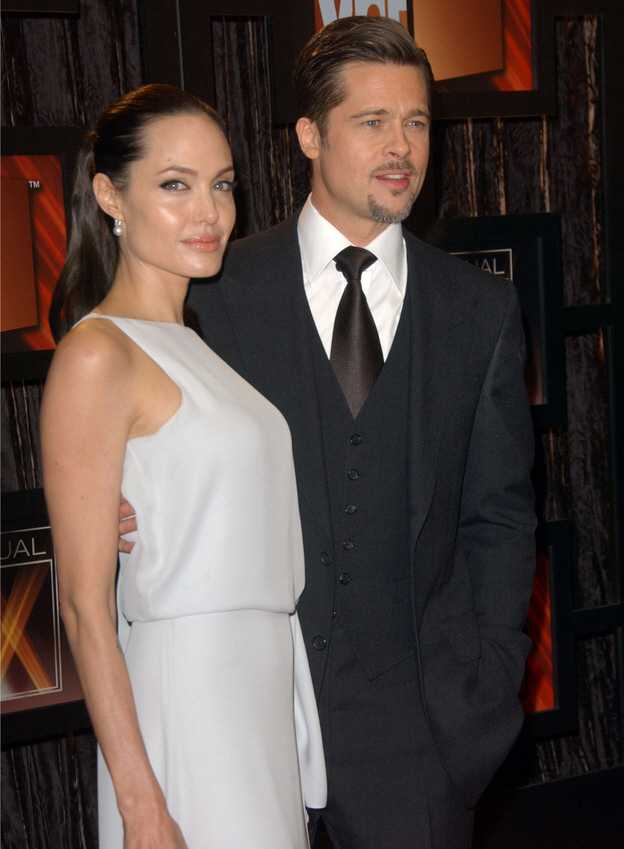 Billy Bob Thornton has a critically acclaimed show to promote, so he's been giving interviews for the past month. And wouldn't you know, Angelina Jolie comes up in some of the interviews. A lot of people seem to think that BBT is using Angelina's name to promote his work, but I tend to think that he's just asked the questions and he tries to answer in a nice, respectful way that won't invite too many follow-up questions. Just last week, BBT said something nice about Angelina – basically, he said they still check in each other and that he still thinks she's "amazing." So of course Brad Pitt is using this as an excuse to weep, slam doors and drive his motorcycle straight to Jennifer Aniston's house as The Leg of Doom cackles at her own deviousness.
BRAD PITT was shocked to find out how close Angelina Jolie has remained to her ex-husband Billy Bob Thornton and has ordered her to back off, say sources. The "Moneyball" screen hunk's jealousy was tweaked when Billy Bob brought up Angelina in a recent interview, the sources add. When asked if he and Angelina still talk, Billy Bob, 58, replied: "Of course. She's amazing, amazing. She's got so much energy and so much goodness in her, and we check in on each other all the time. She makes sure I'm doing okay. I make sure she's doing okay."

Apparently, THAT didn't sit well with Brad. "It's been almost 11 years since Billy Bob and Angie divorced, and Brad figures that's more than enough time for them both to move on," said a close source. "Brad has always been jealous of Billy Bob, and he hit the roof when he heard that Billy Bob was shooting off his mouth about her. And he was further upset when Angelina admitted that she talks to Billy Bob frequently, insisting that he's a good sounding board for her and gives her sound advice about a lot of things."

Billy Bob met Angelina in 1999 on the set of "Pushing Tin." At the time, he was en­gaged to actress Laura Dern, but he quickly dumped her for the "Tomb Raider" sexpot and they were married the following year despite their 20-year age differ­ence. They separated after only two years and their divorce was finalized in 2003. But while they were together, they made head­lines for their public displays of affection and bizarre behavior, such as wearing lockets filled with each other's blood.

None of this was lost on Brad, who's had a 10-year relationship with the 38-year-old beauty. The couple are raising six kids and are engaged but, as The ENQUIRER reported, their much anticipated summer wedding has been put on indefinite hold. Meanwhile, Brad's jealousy of Billy Bob is nothing new. Back in March 2012, The ENQUIRER revealed that he'd warned Angie's ex to steer clear of her after Billy Bob gushed about Angelina to reporters at the Berlin Film Festival earlier that year, saying: "I'll love her until the end of my life and she'll love me – as friends."

To further complicate things, Billy Bob has been involved with special effects artist Connie Angland since 2004, and they have a 9-year-old daughter, Bella.

"Brad has let Billy Bob know he needs to 'get over' Angelina once and for all," said the source. "And he's told her to stop to talking to him."
For the love of…! Let's go at this another way, shall we? Does anyone believe that Brad Pitt is the kind of guy who would A) be jealous of his partner's former husband or B) order his partner to "stop talking" to anyone? I do not. It's not that Brad doesn't give a crap, it's just that I can't even picture him having any kind of jealous streak. As for the wedding plans that keep getting pushed back… obviously, they're waiting to do the wedding in concert with Angelina's Oscar campaign later this year. Or maybe they'll do a double-wedding with Amal Alamuddin and George Clooney. DOUBLE WEDDING.
Photos courtesy of Getty, PR Photos.