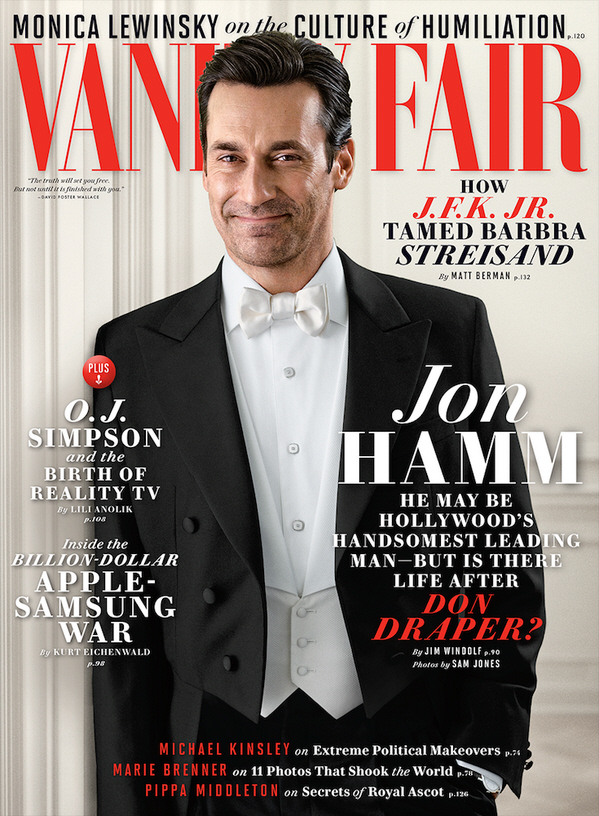 Jon Hamm covers the June issue of Vanity Fair. Rats! I kind of hoped Angelina Jolie would be on the cover to promote Maleficent. Maybe the July cover? Probably not. Anyway, Hammtasm got the VF cover not because of Mad Men (OK, a little bit because of Mad Men) but because of his big new Disney film, Million Dollar Arm. Hamm has been amping up his promotional rounds, and I think Disney might have words with him, because Hamm is trying to not sound so bitchy these days. Too bad. I like Bitchy Hamm.
"He knows everything."

That's what Mad Men creator Matthew Weiner says of Vanity Fair June cover star Jon Hamm, who plays Don Draper on the acclaimed series. Weiner is known for giving nothing away about what's to come on his show, but he tells Vanity Fair contributing editor Jim Windolf that he's shared with Hamm exactly how it will end. "He's the first, outside the writers' room. I try stuff out on him. When we get stuck in the writers' room, I go down there and have a conversation with him," Weiner says. When asked if the two ever disagree, Weiner answers, "The relationship would be bulls–t if we didn't have disagreements."

In an extensive interview, Hamm talks to Windolf about that recently resurfaced episode of The Big Date from 1996, revealing that the show came at a low point: "I was actually at that time working as a set dresser for Cinemax soft-core-porn movies," he says. "It was soul-crushing."

Of his role on Mad Men, Hamm tells Windolf, "This is the best job I've ever had and maybe ever will have in my life—it's so fun to play all of this. It can be relentlessly dark. It can be terribly sexually inappropriate, is a way to say it. But who else gets a chance to do any of that stuff? There's so much there."

Hamm tells Windolf that when he was a child his dad would take him to parties and park him in front of the TV set. "Eleven-thirty would roll around—10:30 in the Midwest—and the big huge 22-inch TV would be tuned to Saturday Night Live. I would sit two feet in front of the TV and stare and watch the whole thing." Hamm also tells Windolf that the first movie his father ever took him too was Animal House, "and I was like, 'Whoa!' I think I was seven. This was before my mom was dead. So it was a curious decision."

This month, Hamm stars in Disney's baseball movie, Million Dollar Arm, as a sports agent who discovers players in India for a reality show. Will this signal Hamm's transition to the world of film?
In that VF link, there's also a some nice stories from Paul Rudd, who has known Jon since they were teenagers. I do think it's sort of adorable that Jon Hamm and Paul Rudd knew each other before either man was famous. It's sweet that they're still buds too. But I hope this profile is more than just old stories about Jon from his BFFs. Much like Don Draper, there's this huge well of sadness in Jon Hamm, one that he usually only touches on briefly in interviews, like "This was before my mom was dead." Poor Jon Hamm.
As for Mad Men… I get the feeling that there isn't a huge appetite to discuss Mad Men Season 7 in any great detail, but I will say that I'm enjoying this season much more than the previous two or three seasons. The pace is faster, the dynamics are changing and stupid Megan is marooned in LA. Thank God.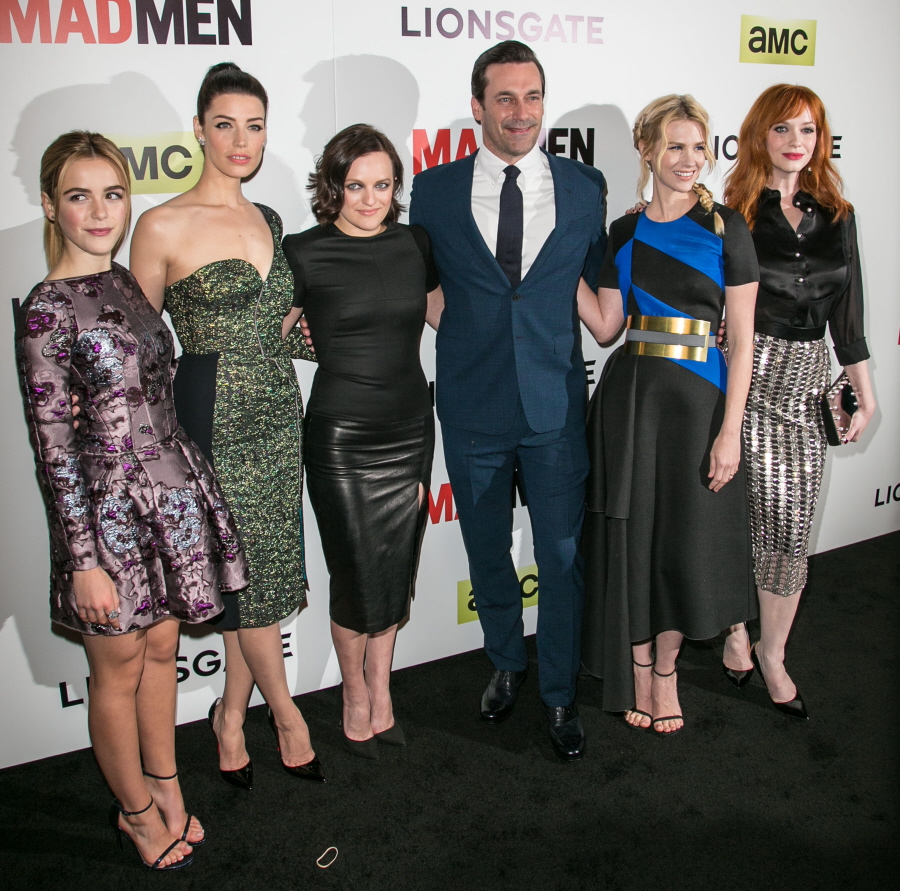 Photos courtesy of WENN.