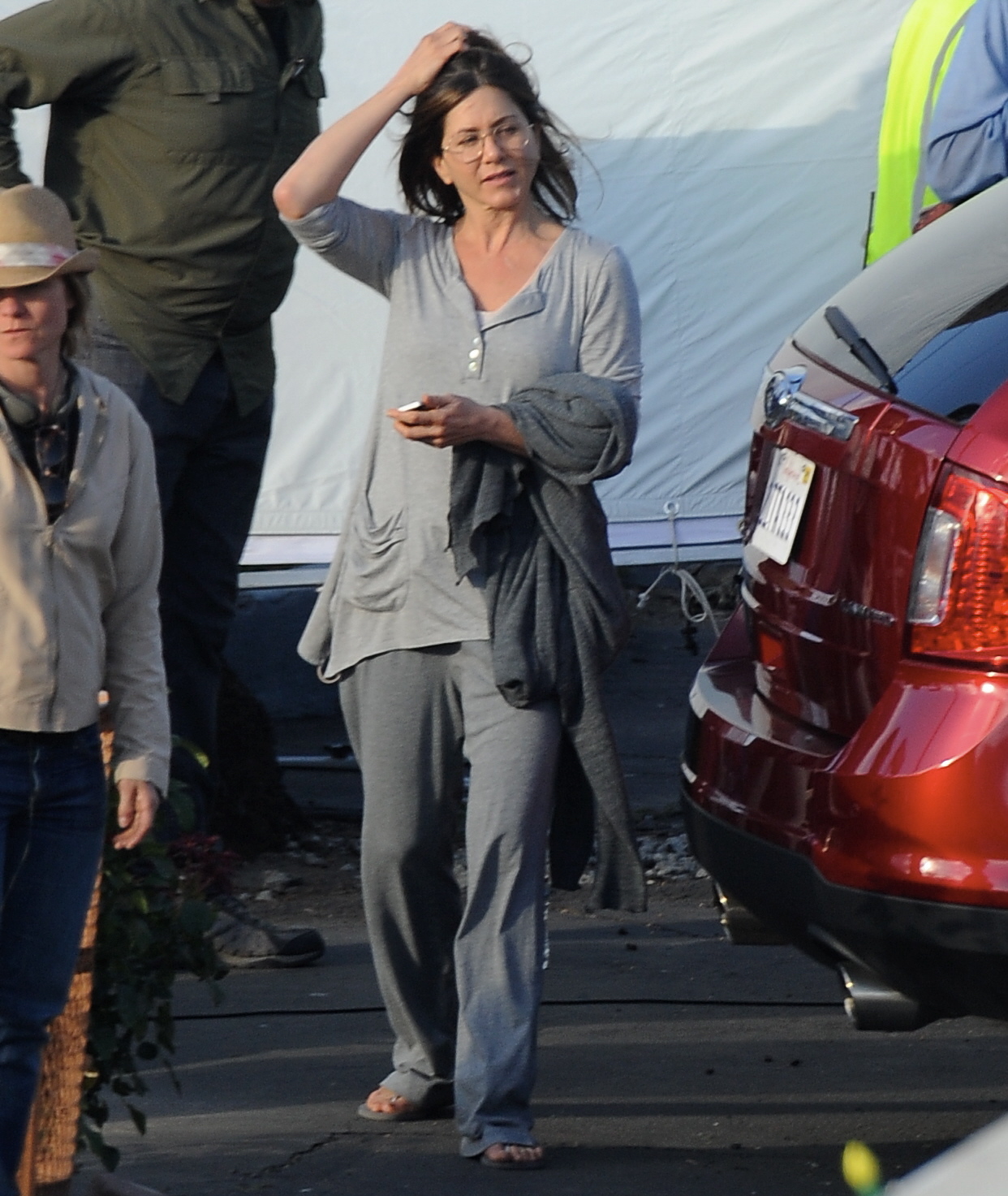 It's sort of been undercover for the past month or so, but did you know that Justin Theroux is back in New York while Jennifer Aniston remains in California? Justin was pap'd in NYC a few days ago, riding his bike (his bicycle, not his motorcycle). And on Tuesday, Jennifer was pap'd on the set of Cake, her "take me seriously, Academy, I'm wearing prosthetic scars and ill-fitting clothes!" Oscar-bait. About the unflattering clothes… I would love to own those pants. Those pants look incredibly comfortable.
Anyway, Radar had a bizarro story about Jennifer and how she desperately wants to work with Judd Apatow but Judd's wife Leslie Mann hates Jennifer or something:
Jennifer Aniston would love to work with Hollywood comedy genius Judd Apatow again, but there's a major stumbling block–she doesn't want his wife Leslie Mann, who appears in all his films, RadarOnline.com has learned.

"Jen longs to star in a comedy with her friend Elizabeth Banks, but a major stumbling block is that Judd might want Leslie to be in the movie, too," a source revealed. "Leslie is friends with neither Jen nor Elizabeth, and she's infamous among Hollywood circles for not getting along with his leading ladies. She's his wife from hell," the source added.

Mann, 42, has appeared in many of her husband Apatow's films The 40-Year-Old Virgin, Knocked Up, and This Is 40. However, Mann's latest film, The Other Woman, in which she stars with Cameron Diaz and Kate Upton, isn't an Apatow vehicle.

Even though 45-year-old Aniston's last film produced by Apatow, 2012′s Wanderlust, was a flop, the Friends star has fond feelings about it because she met her fiance, actor Justin Theroux, on the set.

"Jen has told her reps to start discussions with Judd, with the the caveat that Jen and her friend Elizabeth will star in one of his upcoming films."

But now, the source added, "Leslie is probably the biggest obstacle to Judd doing a film starring Jen or Elizabeth, for obvious reasons."
Is Leslie Mann really the wife from hell? Good God. It feels like Radar is really stretching to turn this into lady-on-lady hate, when Leslie Mann seems to not have that much say in her husband's films, and Jennifer runs in virtually the same circles as Judd and Leslie. This is probably BS. Except for the fact that now I'm wondering why Judd hasn't ever directed Jennifer in anything. She's just his type of leading lady. It IS weird.
As for Justin… Radar has a story about his "healthy living" and how he really wants Jennifer to stop boozing it up so much, especially with her nightly 2 to 3 glasses of wine every night. He wants their wedding to be "dry." Also, did you read his Vanity Fair interview last week? Go here to read it. He's talking up his friend Scott Campbell, a tattoo artist (??). Scott has done almost all of Justin's tattoos, and Justin says he's tattooed Scott as well. It's sort of a cute interview. And a reminder that Justin is living in New York for no apparent reason these days…? I think he's finished filming The Leftovers, so why is he back there?
PS… Damn, his arms look good. You know I'm not on the Theroux bandwagon but damn, bro.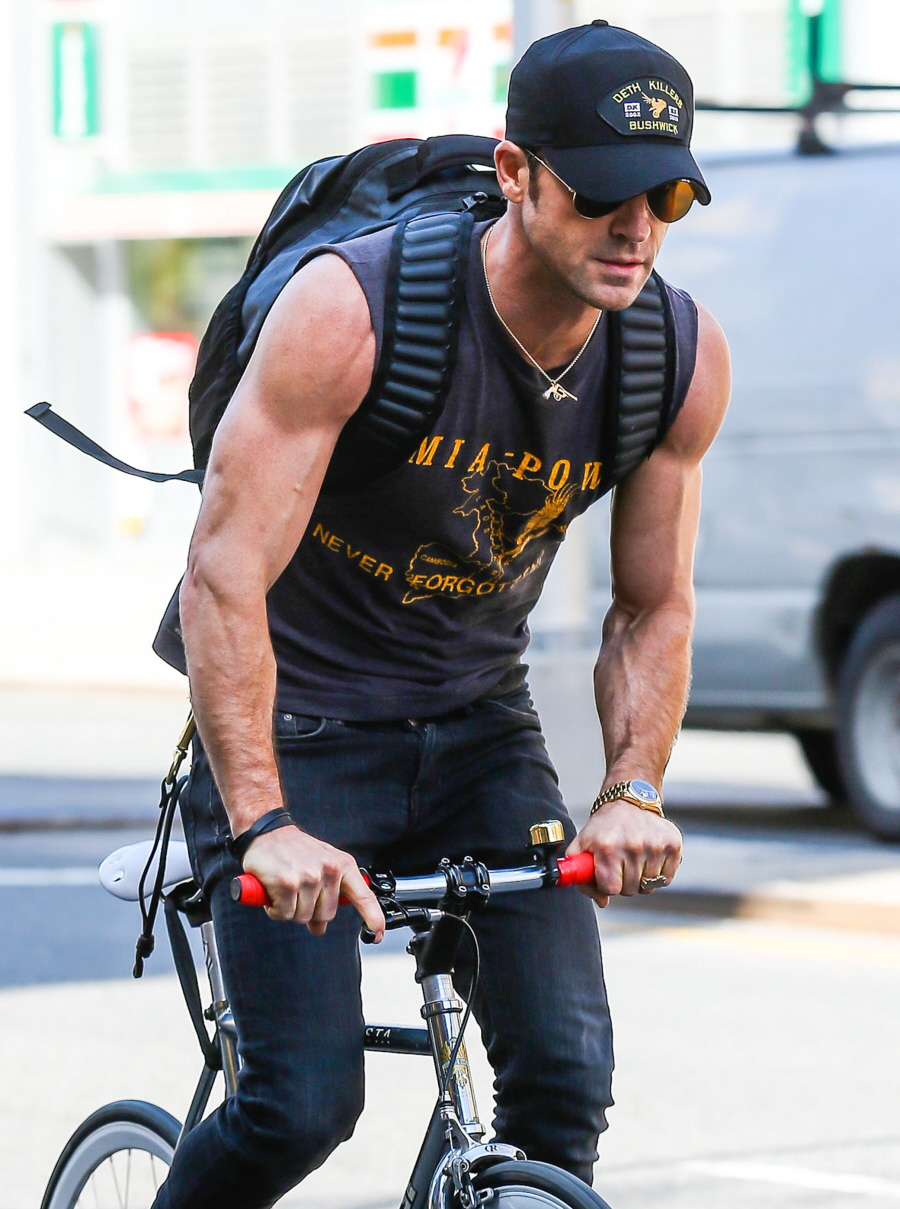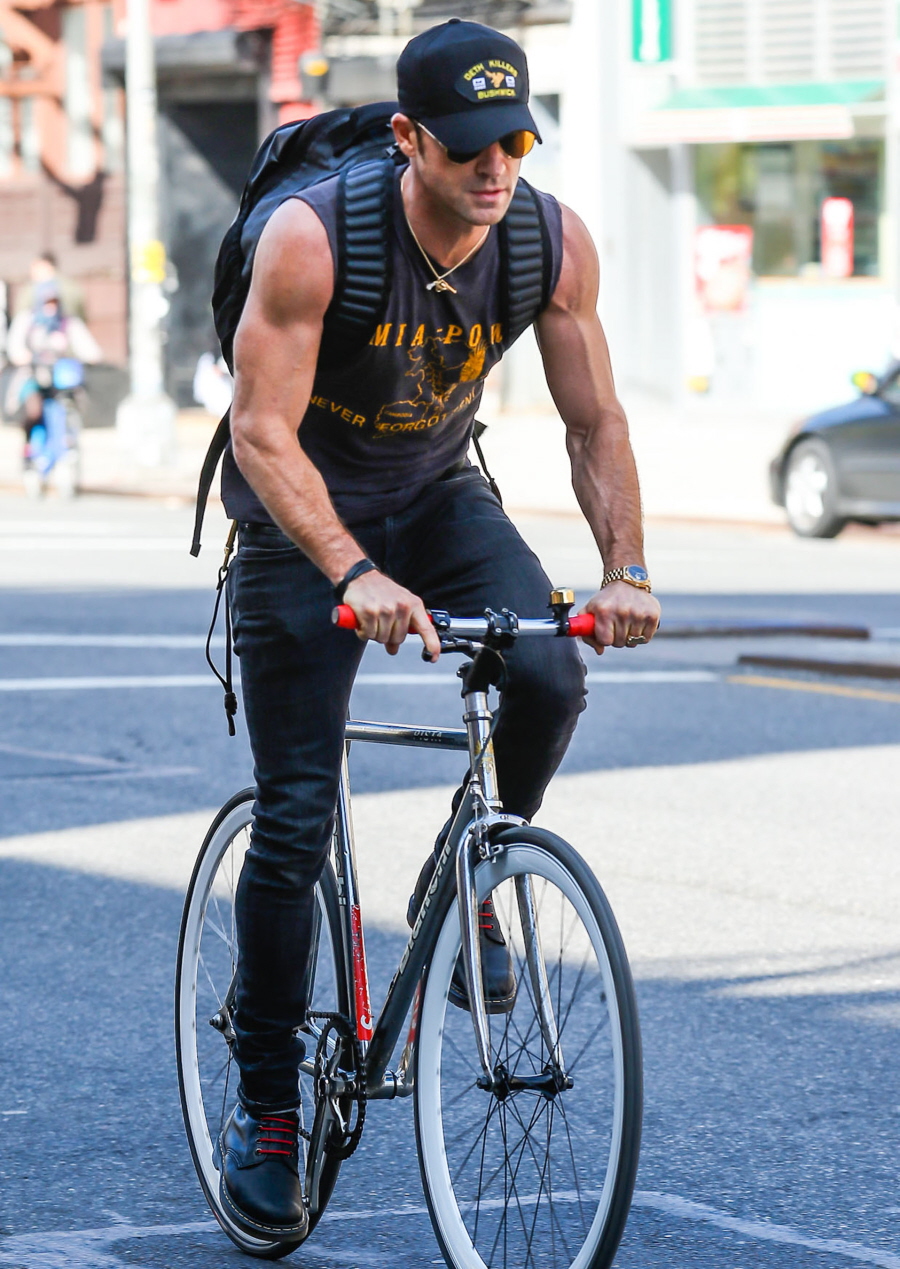 Photos courtesy of WENN, Fame/Flynet.