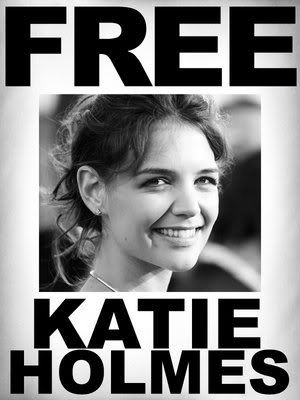 Katie is trying to slowly pry herself away from her hubby Tom Cruise's clutches by calling old friends and going back to her Catholic faith. Two words: ABOUT TIME.
The original article is apparently from Life & Style, but MSNBC have covered it so I'll just give the excerpts:
The mag reports that Holmes is reconnecting with family and friends and even secretly talking to Catholic priests.

Holmes was raised a Catholic, but since her marriage, has embraced Scientology, her husband's religion.

The "Batman Returns" star recently called a childhood pal named Meghann Birie, whom she hadn't seen since meeting Cruise two years ago, reports L&S.

"She wanted to talk to someone not in Camp Cruise," a friend told the mag. "Katie told Meghann she can't believe she abandoned her old life."

The actress hasn't been to church lately, but is "secretly talking to pastors" for advice, and wants to enroll Suri in "kiddie Catholicism" classes, according to L&S.
This is really good news if it this article is true. No woman should have to sacrifice their beliefs or individuality for any man and Katie has become a shadow of her former self since marrying Tom. It's great she is trying to make amends with her friends and loved ones before she gets too brainwashed by the whole Scientology sect. I'm also very happy she is willing to enrol Suri in Catholicism classes—it will give her a balanced view of religion, rather than believing in a controversial sect that believes members should be ostracized from the outside world.
I don't think Tom Cruise is going to be about this, but it's time Katie started standing up for herself for her own good and her daughter's as well.
Next step, Katie: Steal your high heels back and kick his family out–it's your house too, you know!
PS: Happy Birthday to Suri from me, I hope they gave her a cake and not some stupid auditing exercise.
The image is from Deviant Art. I think it says it all, really.