Hugh Grant loves reality TV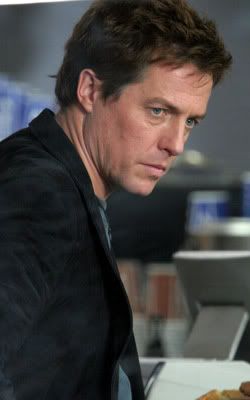 Hugh Grant watched a ton of reality TV in preparation for his role playing a reality show judge in the film American Dreamz:
In the film Grant plays a reality show judge…just like [Simon] Cowell so has been poring over tapes of 'American Idol' and the 'X Factor'.
He admitted to The Sun: "I'd never watched them before but studied a bunch of tapes – and I enjoy cruelty.
"I like people being humiliated, I like watching freaks. The freakier the better as far as I am concerned.
"I don't think they far enough – I'd also quite like to see the losers being tortured.
His other quotes reveal that he's not just joking around, and pays attention to the reality shows.
"I'm quite susceptible to reality television," he confessed recently.
"I'm ashamed of that part of myself, as I'm sure we all are, but there are some good ones."
"Wife Swap I particularly like. There was one where they took delinquent teenagers and put them through a 50s education, and another one where they put them through an army boot camp. Brilliant, really fascinating."
Hugh Grant isn't the only one who feels guilty but can't look away. He sums up reality television well.
Here's Grant with Drew Barrymore on the set of their film, "Music and Lyrics By."
3 more after the jump.
Written by Celebitchy

Posted in Drew Barrymore, Hugh Grant, Movies, Television

- Zach Galifianakis is awesome [Buzzfeed]
- Prince at the Billboard Music Awards [D-Listed]
- Bieber's Billboard look [Go Fug Yourself]
- Married to Medicine recap [Reality Tea]
- Celebrity first marriages [Pajiba]
- The last Mad Men baffled a lot of people [Lainey]
- Karolina Kurkova's crazy hot dress [Moe Jackson]
- Jennifer Garner on set [Popsugar]
- Kitten vs. Lizard [CDAN]
- Doetzen Kroes' great butt [Celebslam]
- Shameless star Jeremy Allen White [OMG Blog]
- RIP Ray Manzarek [Bossip]
One Response to "Hugh Grant loves reality TV"