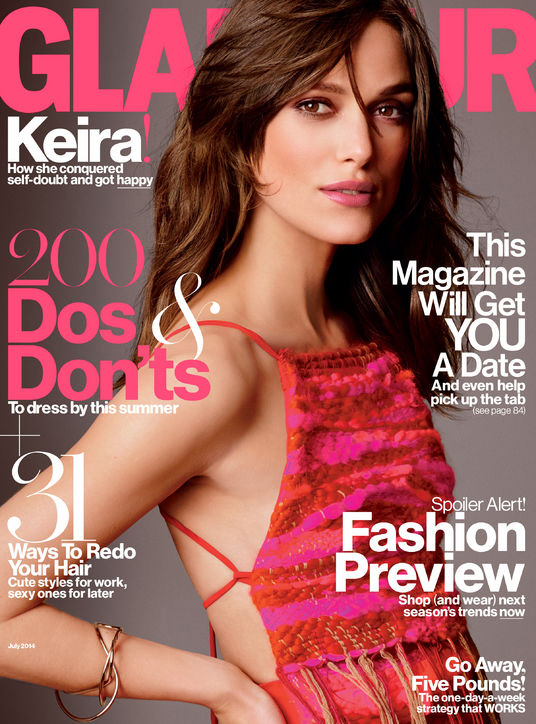 Keira Knightley covers the new issue of Glamour. I actually like this photoshoot a lot – Keira has done a lot of drab, minimalist shoots as of late, so it's nice to see her smiling, wearing color and sitting amongst the flowers. It would be nice to see Angelina Jolie do a shoot like this too, right? Keira is promoting Begin Again, formerly Can A Song Save Your Life?, in which she plays the ex-girlfriend of a big rock star who finds her (singing) voice post-breakup. It looks like a sweet movie. Here are some highlights from the Glamour piece:
Keira on her decision to do a romantic comedy: "With a feel-good film you are always risking going way too cheesy….But maybe I can have a little holiday where I'm not playing a character who is being destroyed."

Keira on her Begin Again co-star Adam Levine: "He did play a d-ckhead very well. Actually, I admire him being so willing. To play a d-ckhead is quite a big thing when you are trying to break into film and you want to be likable."

Keira on getting married: "When James proposed, I just thought, Well, never done that before. It seemed like a fun thing to do."

Keira on her teens and early twenties: "There are those who manage that time of their lives really well—doing a lot of partying and making a lot of mistakes and thinking the world is only there for you, but I was way too introverted, and there was always this sh-tload of photographers, who made it worse. When I hit 25, for some reason I didn't care anymore—I allowed myself to chill out. Since then, everything's been amazing."

Keira on stage fright: "I have really suffered from stage fright, or actually camera fright. [Because] you are presenting layers and layers and layers of pretending, and it's not just you but other people in charge of your face or your body or your hair."
For some reason, I kind of believe her about her engagement and marriage. She had been a serial monogamist up until then, happy to live with a guy and she didn't seem to be striving for "the ring." When her first wedding anniversary came up, she didn't even remember it. I think she got married because James asked her and thought it sounded like fun. Which is a nice way to go through life. I also think she's honest about how tightly wound she was in her early 20s, when she was navigating fame and taking it all so seriously. She really seemed lighter, happier, less neurotic in her late 20s.
Also: yeah, it's not difficult for Adam Levine to "play" a douchebag. Shock.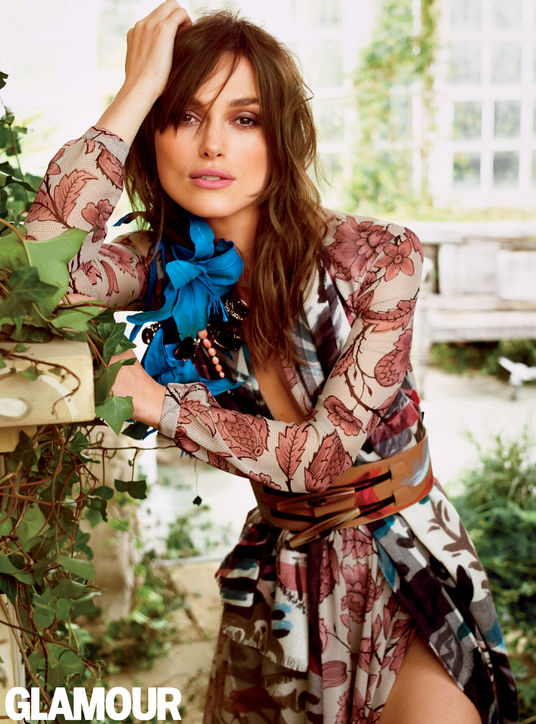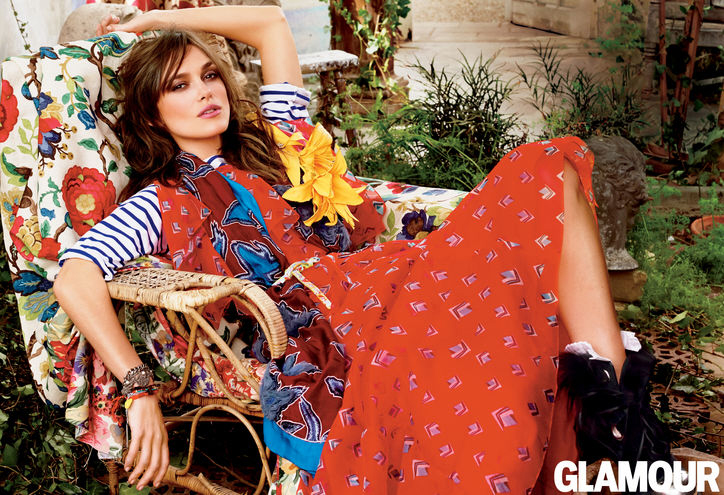 Photos courtesy of Glamour.