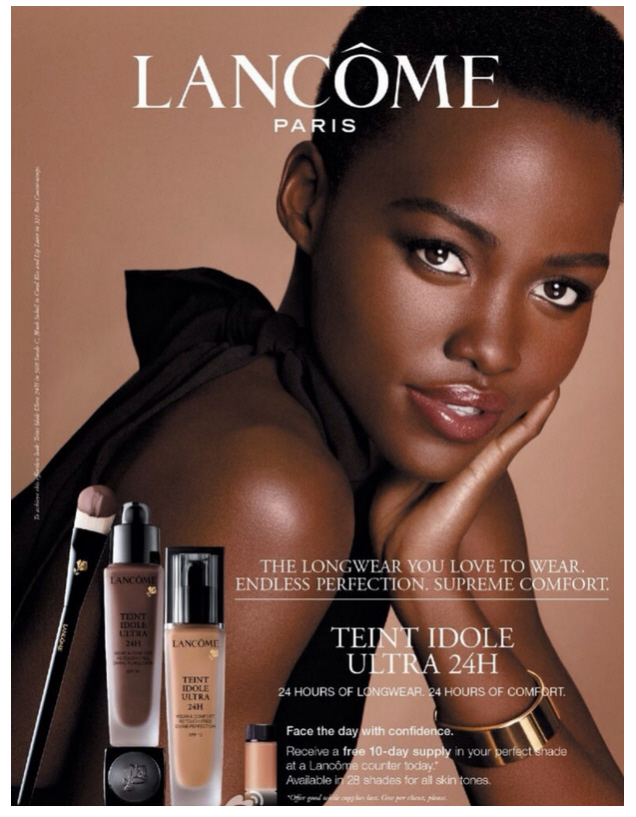 BEHOLD!! This is the first official print ad from Lupita Nyong'o's Lancome endorsement deal, which was announced a few months ago. First, let's talk about the actual image. It's great, right? It's got an '80s throwback vibe, like Lupita is consciously giving us a vintage Grace Jones look. Her skin looks perfect, her eyebrows are amazing and her lip color is stellar. All in all, this might be my favorite ad of the year. They didn't Photoshop her into oblivion either, which I appreciate. Some of these beauty companies spend all this money for a certain celebrity's face, then they Photoshop that face to the point where no one even recognizes her.
Lupita posted the ad on her Instagram with this message: "The secret I never intended to keep: @lancomeUSA #TeintIdoleUltra24H". The Lancome campaign was shot by Mert & Marcus, by the way.
Many of us are hoping that this Lancome deal brings in the $$$, because we're not sure if Lupita is really going to find the kind of consistent acting work that we were hoping for. Sure, she's got a part in Star Wars, but who knows what or who she's playing or the size of the role. She's got some other stuff she's working on, but it's going to be a while before we see her in another movie. Maybe she will do some stage work. That wouldn't be the worst idea. Maybe she can work on getting the "T" of her EGOT.
Photos courtesy of WENN, Lancome, Lupita's Instagram.