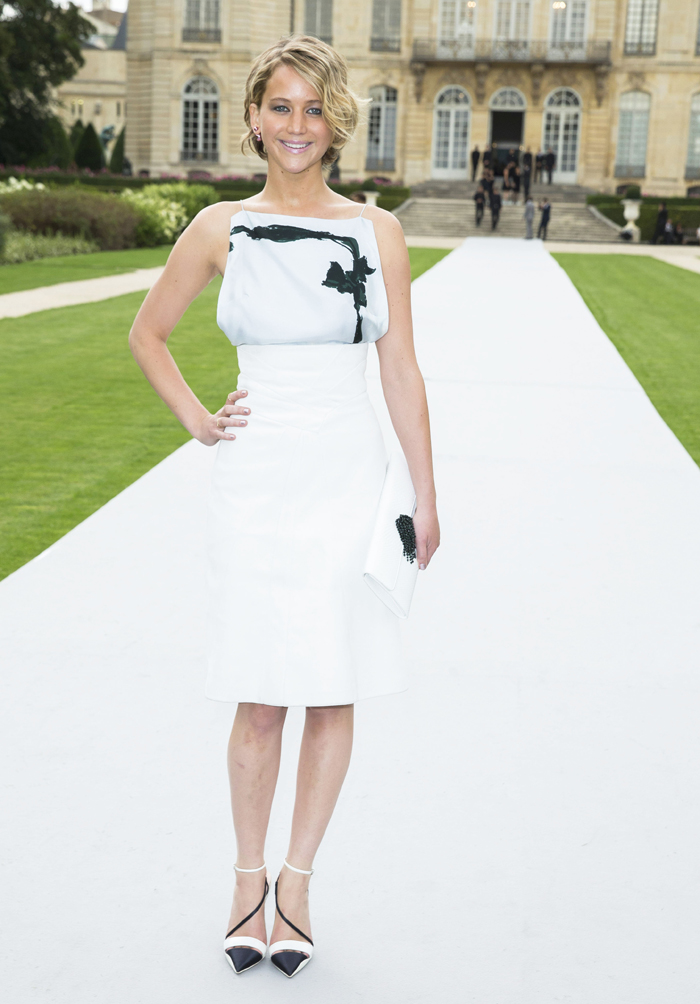 Jennifer Lawerence crept out of hiding yesterday to attend the Dior show at Paris fashion week. She was just named Forbes' most powerful actress (she earned $34 million in a year!), and part of that power (and money) comes from representing Dior. I wish they'd give her better designs, but this ensemble is better than some of the wrinkled candy fug or vampy Dior designs she's worn already. JLaw's wearing an off-white silk scarf top with a white suede skirt. The high waist on the skirt accentuates her shape, and the thin straps on the top show off enough skin to matter (although in other photos, sideboob came out to play). She looks both young and sophisticated. Those asymmetrical strappy shoes are gorge.
Jennifer's looking very tan in these photos. It looks like a fake tan, right? Her face is darker than her arms. Maybe JLaw used the kind of lotion that develops more on oilier parts of the face. It's happened to me! Now I only put a little bit on my forehead. JLaw doesn't look bad, just a little overbaked. Her makeup and hair otherwise look fresh and pretty.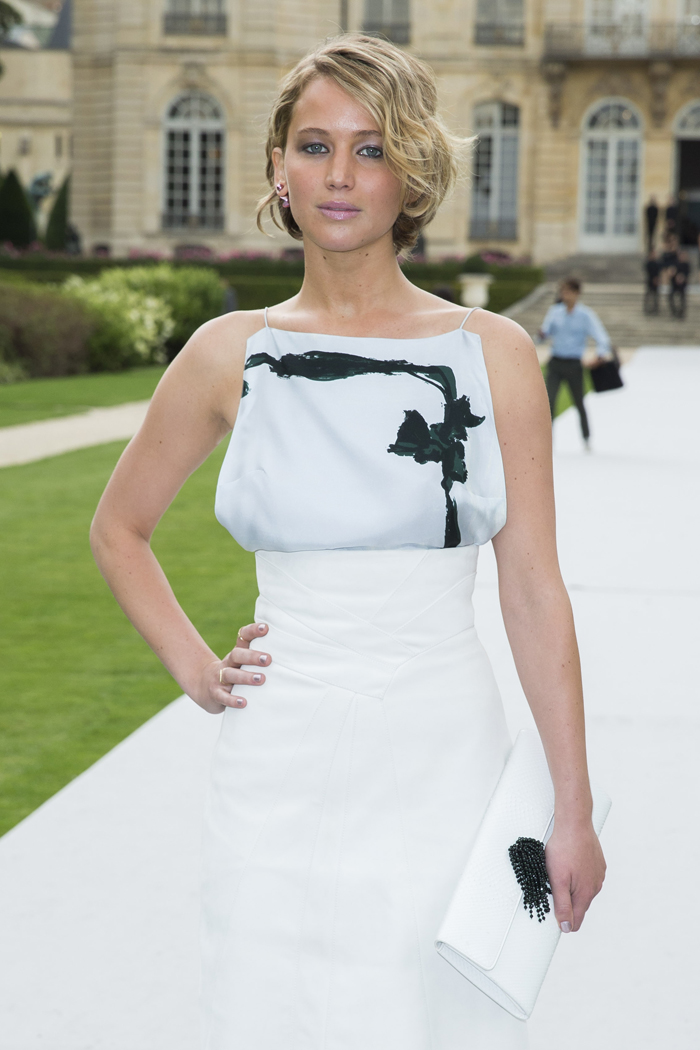 Emma Watson's Dior dress was more flouncy than JLaw's outfit. Emma wore a structured blue and white silk dress, and I loved the skirt part. The asymmetrical bodice and neckline was a little too weird, but Dior couture is such a mess nowadays without John Galliano's touch. He won't be back though.
Emma's hair and makeup look so lovely! She's an English rose.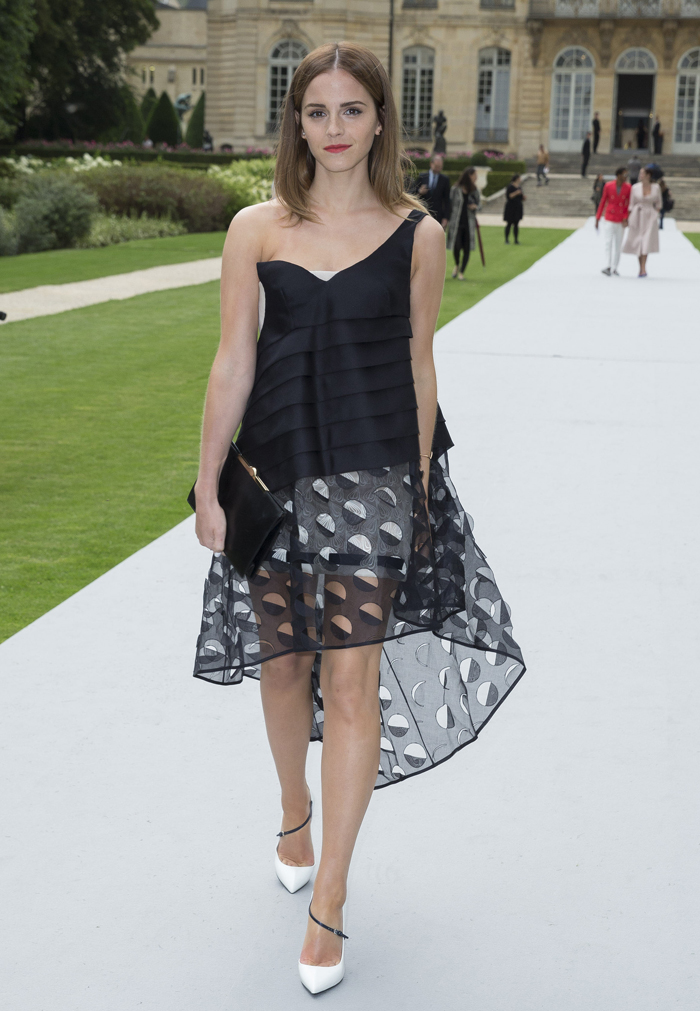 Jennifer facepalmed Emma backstage at the show. Sweet leather jacket.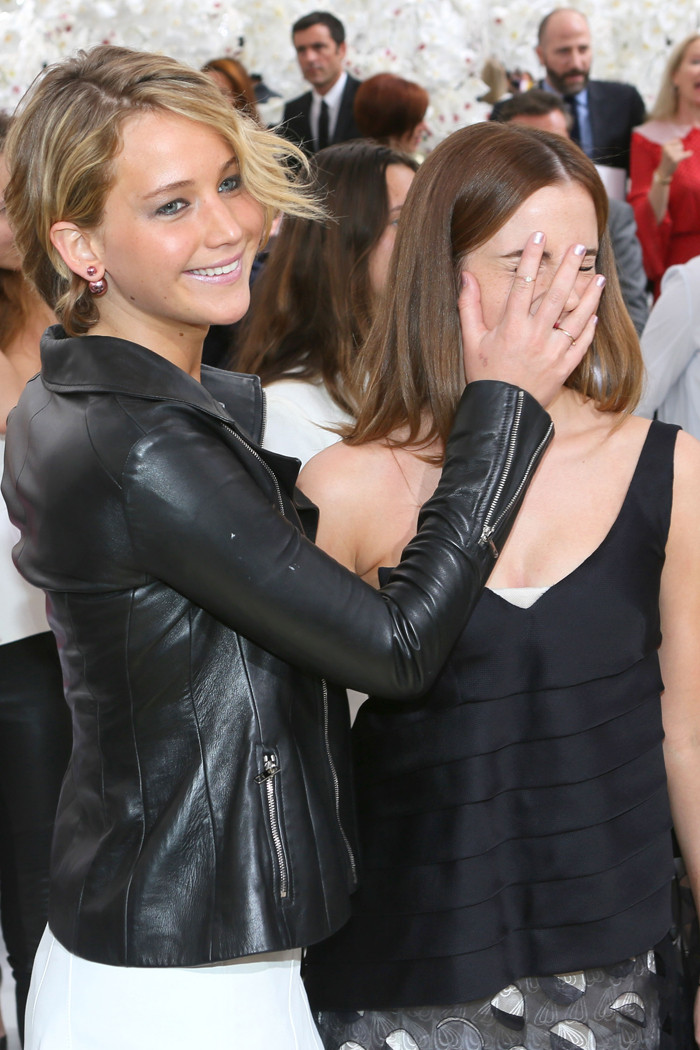 Photos courtesy of Fame/Flynet