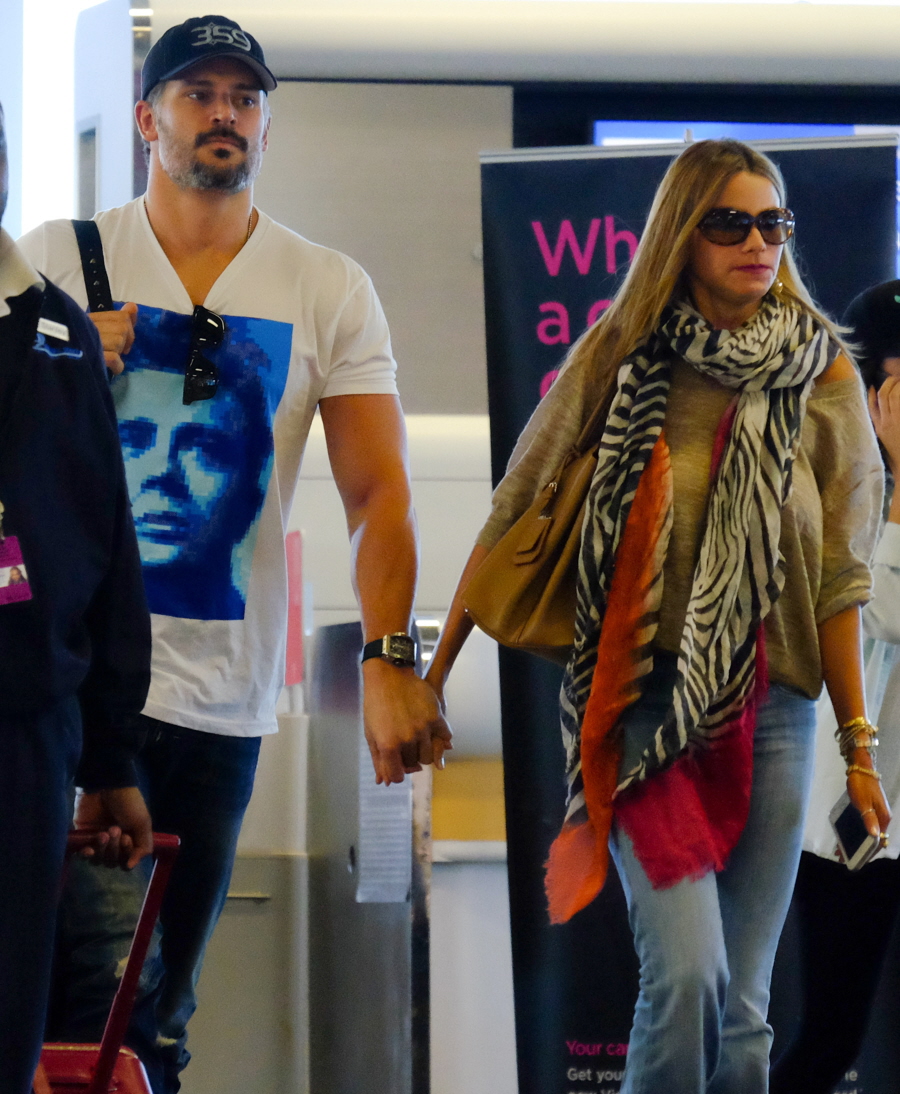 I haven't said anything about Joe Manganiello and Sofia Vergara since they first established that they were a couple three weeks ago. I still have sort of mixed feelings about it. On one side… who says it has to be super-serious all the time? Can't Sofia just bang a buff meathead and "get hers," so to speak? Of course she can. On the other side… I think this pairing is still sort of weird. They do make sense together, of course, but… I don't know. I can't put my finger on it. I think it's HIM. I just don't think much of him.
Anyway, Joe and Sofia flew to Miami last week, and I'm including some of those photos. She made kissy faces at him while he looked sort of bored. DUDE. You're with Sofia Vergara. You should look grateful. I'm also including some photos of Sofia and Joe as they were out and about in Miami. People Mag says that Joe's already meeting her family. And Sofia pays when they go out.
As if it weren't hot enough in Miami, Sofia Vergara and Joe Manganiello turned up the heat with a PDA-packed arrival at the airport. The affectionate couple made their way through Fort Lauderdale International Airport on Thursday, holding hands, hugging and kissing as they waited for their luggage before hopping in a car bound for the St. Regis hotel in Bal Harbour.

Vergara, 42, and Manganiello, 37, have headed south so the True Blood actor could spend time with the Colombian-born bombshell's family, sources tell PEOPLE. Hours after touching down in Miami, the twosome were joined by her relatives for dinner at Cecconi's Italian restaurant.

"She looked beautiful and very happy," a source says.

The following day, the lovebirds only had eyes for each other when they stepped out for a romantic lunch at Mandolin Aegean Bistro in Miami's Design District.

"They couldn't keep their hands off of each other," an onlooker tells PEOPLE.

It's not the first time Manganiello has met up with members of Vergara's family: The couple recently cozied up with them for her birthday celebration in Malibu. The couple kept the romance going on Friday night with another PDA-packed dinner, this time at Seasalt and Pepper Brasserie.

"They had a wonderful time and Sofia paid the bill," a source tells PEOPLE.
I would make a bigger deal about Sofia paying and how this is all some sort of stage-managed PR fauxmance, etc. But really, I think Sofia just takes care of her finances. I think she struggled financially for a long time and she's always got her eye on the money. She paid because she doesn't want to be financially beholden to some dude. Now, I will totally shade her for introducing him to her parents so quickly though. They've been together for what? Five weeks, maybe? At most. Way too soon.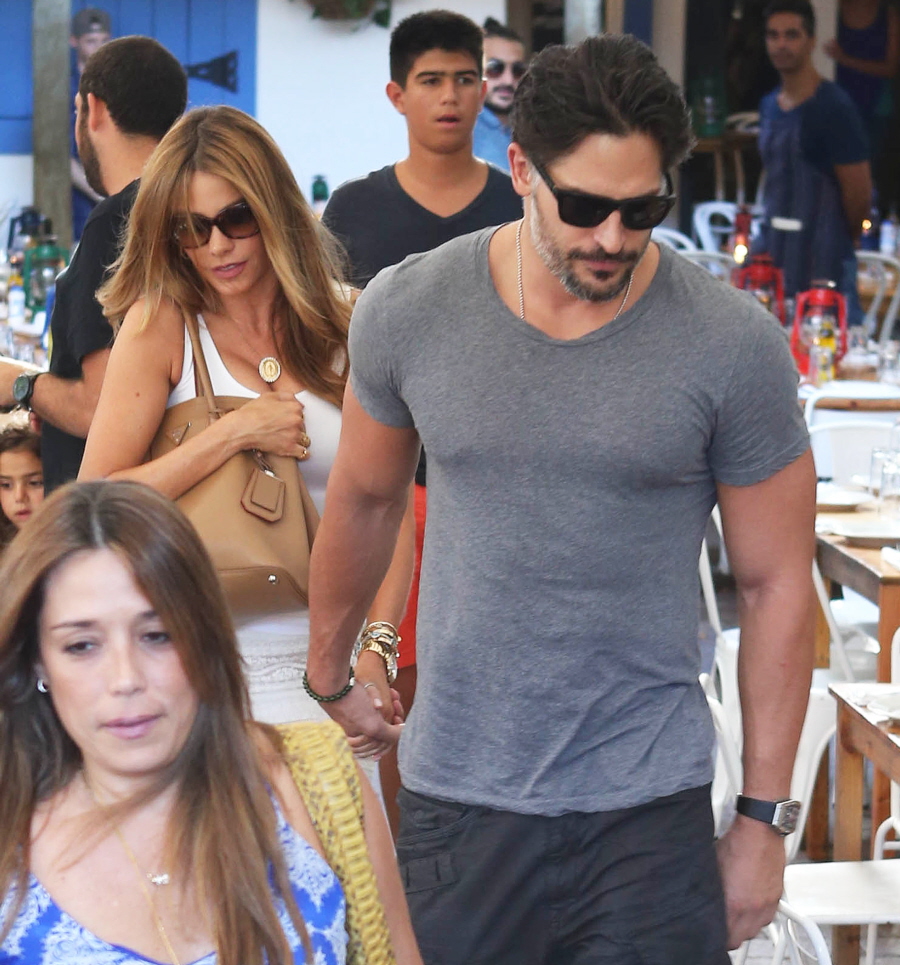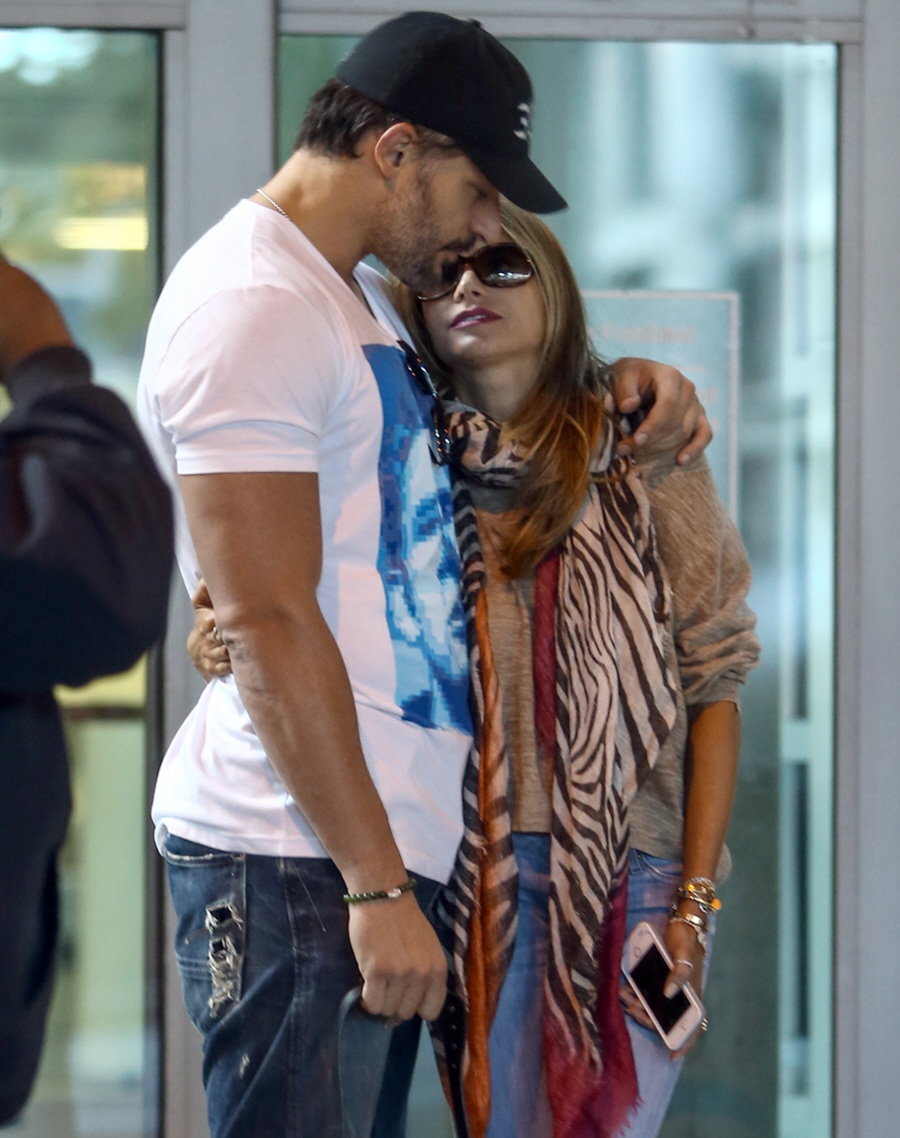 Photos courtesy of Fame/Flynet.