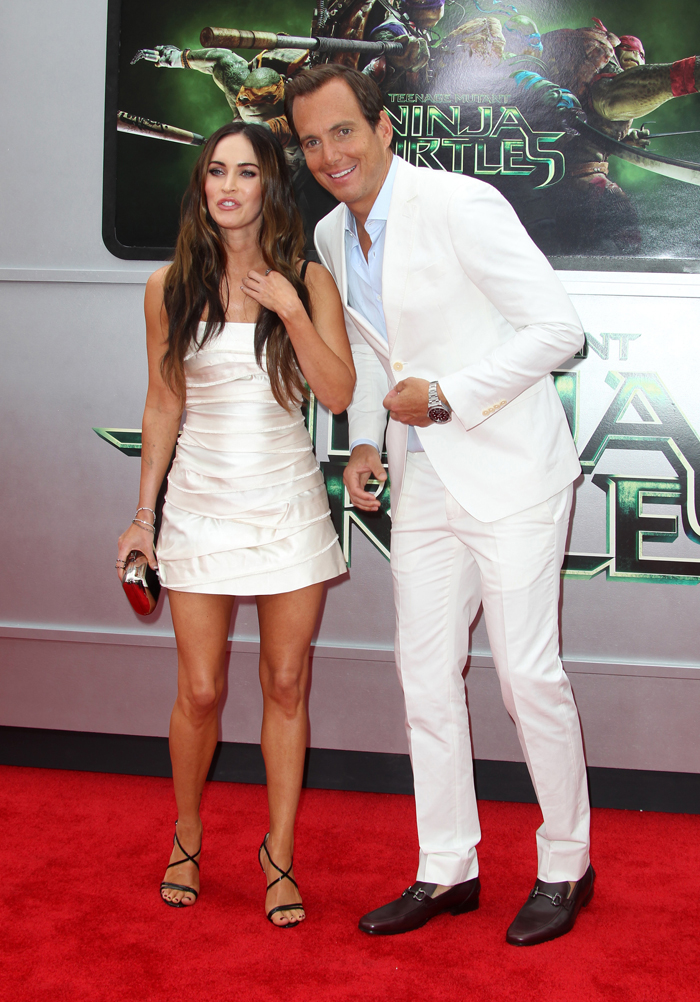 Here's some photos of Megan Fox and Will Arnett at the LA premiere of Teenage Mutant Ninja Turtles. She's wearing a Marc Jacobs mini-dress, and it reminds me of one of those fold-out funnel cups. Megan's bod somehow pulls off an inverted paper cup (this tour is all legs for her), but Will Arnett looks like he's hosting The Love Boat.
Megan's been promoting TNMT like crazy. The sad thing is that the film's 9/11-themed exploding buildings poster has brought this movie the most publicity of all. Megan's still working it though. She's done her obligatory Cosmo stint and dispensed parental wisdom that wasn't preachy and made sense.
The internet isn't thrilled this film even exists. I agree with Kaiser's sense of revulsion for the turtles (the creatures do look hideous). Megan's getting defensive. She claims to be a lifelong fan of TNMT. Do people harbor nostalgia for the show? I never watched it. My brother loved Donatello. He'll watch anything (even the Transformers movies), but he doesn't care about this film. I think some people will hate-watch, but Michael Bay may have a clunker on his hands. Megan Fox confronted the haters by whipping out her profanity in a press conference. She referenced Transformers 4's success:
On the TMNT haterade: "Let me tell you something about those people. How much money did Transformers 4 make? Exactly. Those people can complain — they all go to the theater. They're gonna love it — and if they don't love it, they can f— off, and that's the end of that."

Why she wanted to do this movie: "I was attracted to this because I was a fan as a kid and I really wanted to do this. It was Valentine's Day and I went in [to meet with director Jonathan Liebesman] and we were in there for five hours at Paramount for my first meeting. Brian [husband Brian Austin Green] is texting me like 'It's Valentine's Day, where are you?' and I got home and sent everyone an e-mail saying 'You know what, it's O.K. if you don't cast me, I understand. I just want you to know that I'm going to be in the audience regardless.'"

On dressing sexy for movies: "I don't mind doing that stuff, I think that's been a part of being an actress in Hollywood since the beginning I don't feel ashamed or like I can't be taken seriously while also wearing a tank top. If you don't take me seriously when I'm wearing a tank top, that's your f—ing problem."
[From CinemaBlend & TooFab]
The "new" Megan Fox is interesting. She's still the same woman, you can tell. Her bitchiness rages underneath the Botox-frozen surface. She hasn't changed much except that she'll now defend Michael Bay forever. She learned her lesson after buying into her own Maxim hype in 2009. She once compared Bay to Hitler and Napoleon in interviews. She alienated the Tranformers crew by being "thankless, classless, and graceless." Then no one watched Megan's non-Transformers movies.
Megan now only wants to do one movie per year, but no one would hire her. She apologized to Bay and swooned over him. I don't know what Bay's getting out of the deal — an extra-clean Ferrari? It's weird, but the Bay-Fox front has united. Bay also spoke about his haters to Variety: "They love to hate and I don't care; let them hate. They're still going to see the movie! I think it's good to get a little tension." Bay's words are classier than Megan's, but the message is the same. They probably still hate each other, but they have a working relationship.
Here's some pictures of Megan at the Mexico premiere of TNMT. Her dress is Zuhair Murad.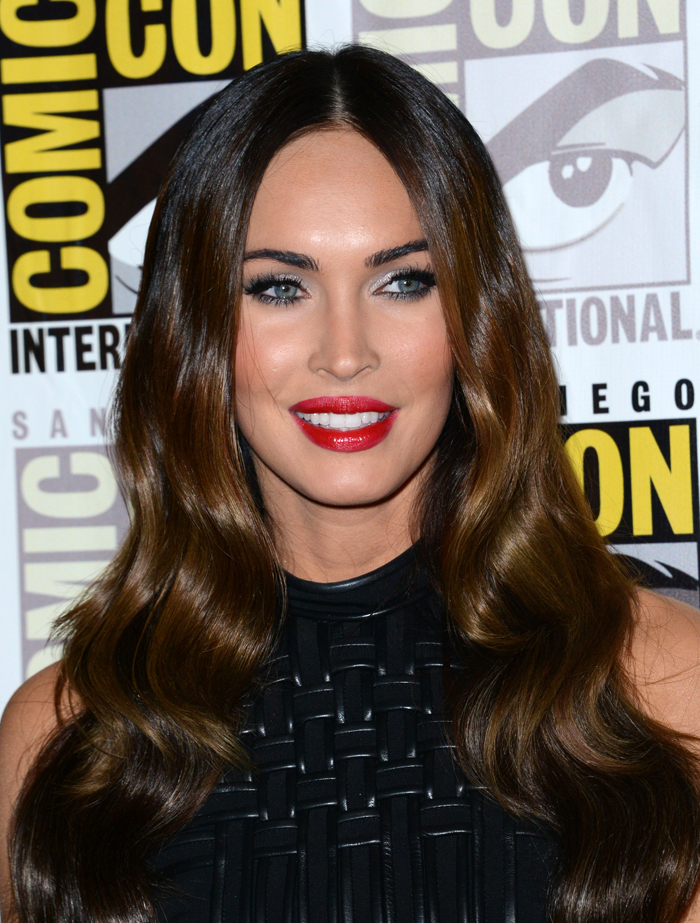 Photos courtesy of Fame/Flynet & Getty