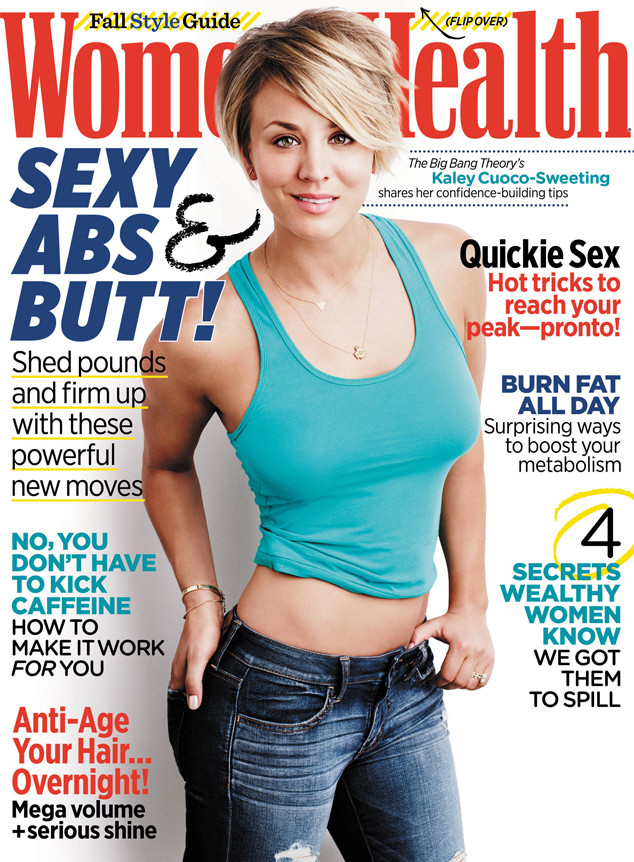 Wow, Kaley Cuoco's haircut doesn't look bad here at all. It actually looks cute on the September cover of Women's Health. Too bad Kaley doesn't know how to style her new hair for everyday wear. Anyway, Kaley covers this issue because (I'm assuming) she's promoting the new season of The Big Bang Theory, which is going to net her $90 million over the next three years. Shill, Kaley! Shill for that money. Hell, if they were paying $90K, I would shill that crap all over town. Some highlights from Kaley's interview:
Her new hair: "I was swishing my hair to the left so much, I was like, 'Do I look like Justin Bieber?!' [But] I feel liberated. It's like I needed to find myself again."

The new season of Big Bang: "I have no idea what they are doing with Big Bang this season. We are going into season 8 which is amazing. If you told me that 8 years ago I would be like, 'Ha ha, OK'….I hope next season we engage wedding stuff, I would love that. If I had to guess Leonard is more of a planner than Penny, which is funny. I feel so lucky we are going to be on much longer."

She's interested in any kind of project, TV or film: "I will take any role anyone will hire me on. I am doing a tiny movie in July before I go back to work which is much darker for me. I play a drug addict and I am actually kind of excited about it, I've never been able to do anything like that. I think people probably didn't think that I could. So I am excited to do that side of things."

She loves the idea of being typecast: "I was telling someone last night, people always say, 'Oh my god, you're going to be typecast' and if I really was typecast as Penny or the girl next store it would be the greatest thing in the world, then I have a job forever playing that. That is kind of how I look at it, if this is what I do forever fine, but I'll try and do as many things as possible and experience the whole world of acting, as silly as that sounds, but I love all aspects of it but comedy is definitely number one."

Being married: "The best part [of marriage] is that you always have your buddy with you. He is always there; my friend is always with me. I have someone to eat with, to talk to, to have a drink with, to cry with to be anything I need to be, he will always going to be there and the same for him."

She has changed her name to Cuoco-Sweeting: "I am lucky because it happens to be a great last name. I love being married, we are so happy. It was the greatest day of my life, it happened fast but it was perfect for us and we could not be happier. I say the word husband all the time when it is unnecessary…I love it I feel totally at home we are so happy."

She wants to get pregnant: "I can't wait, he can't wait. I feel like I'm meant to be a mom."
[From Women's Health via E! News]
There's a strong dose of Jennifer Aniston here (and there are some very logical parallels to be drawn), but I also think she's making an effort to learn from some of Aniston's TV Girl mistakes. Aniston couldn't wait to use Friends as a launching pad to film stardom, so much so that Aniston initially fought to break out of the "Rachel Green" typecasting. Kaley wants to assure everyone that she's fine with being typecast. She's happy playing the bubbly blonde in comedies. Maybe Kaley is just paying lip-service to that, but I think she's trying to be a bit more savvy about her career. Kaley isn't trying to win an Oscar, you know? It's all about setting reasonable goals. Some people really would rather have $90 million in the bank rather than have to ugly it up for an Oscar.
Oh, and if she gets pregnant quickly… well, that will be interesting. She just negotiated a huge contract and I really hope her lawyers included lots of provisions for what the show will do if and when she gets knocked up. Plus, if she does have a baby… well, she'll only be more famous then. That's how it works these days.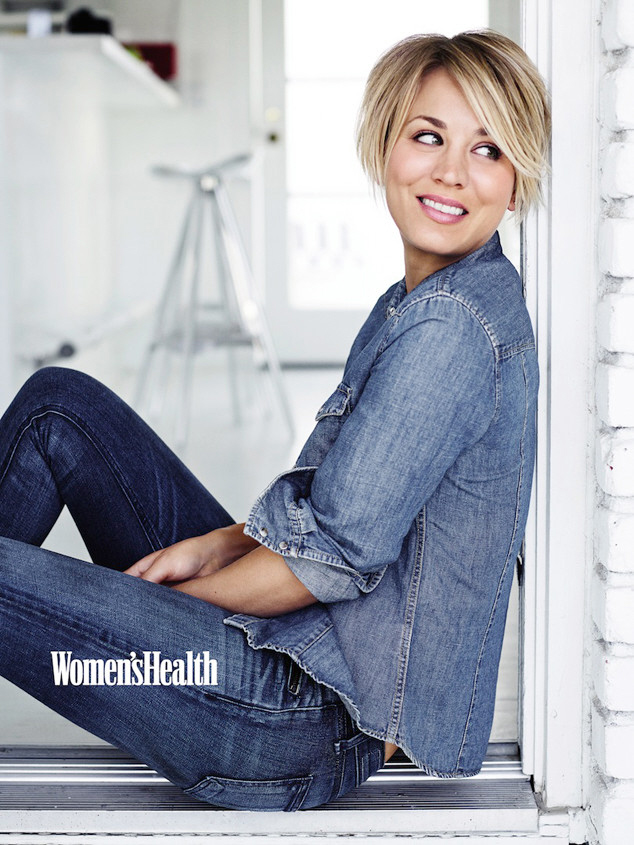 Photos courtesy of Women's Health.