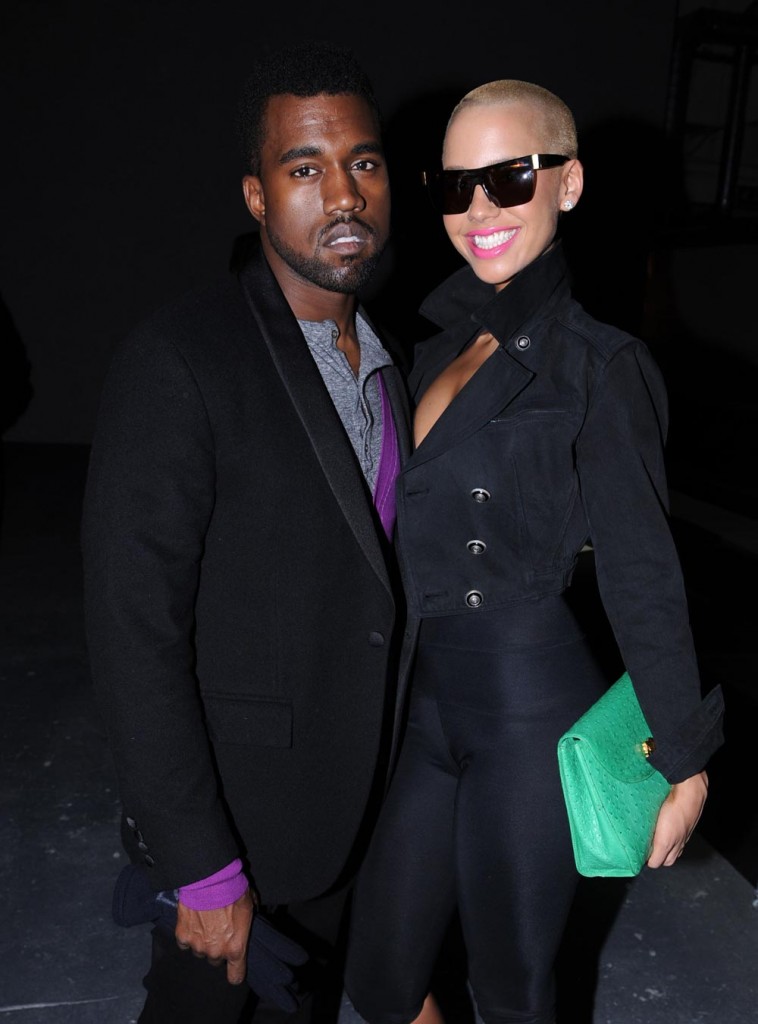 Kanye and his new significant other, Amber Rose, debuted their relationship at New York fashion week, canoodling at several bars and fashion shows. Amber is a video girl and has also done nude modeling and stripping. She sports a short-cropped do and claims to have been the one to convince Rihanna to cut her hair short, as well. Now new reports have surfaced that she may have dumped her girlfriend to be with Kanye.
The two stepped out as a couple this Fashion Week, cuddling at Nur Khan's Rose Bar on Tuesday night and attending Narciso Rodriguez and Alexandre Herchcovitch's fashion shows together.

Although Kanye's newest squeeze has done some nudie modeling (most recently in Smooth mag), the singer doesn't just dig her for her bangin' bod.

"She's going to be good for him," an insider confides. "Amber is a model with a fly, out-there, in-your-face style and attitude, just like Kanye. She's his match."

The source adds, "Traveling with Kanye can be rough — press swarms him wherever he goes — but Amber is cool and collected about it all. She doesn't care about industry stuff, and she actually understands Kanye."
[from NY Daily News]
That's all well and good, but new pictures of Amber Rose with her ex-girlfriend Trevon, aka Tiffany, feature them standing in seductive posses, and sources claim that Tiffany is livid that Amber dumped her for a man – a much more famous man. (Here's a link to photos of Tiffany and Amber together.)
Tiffany even has a tattoo on her neck saying T heart A for Tiffany loves Amber, though as we have seen, couples who get tattoos of each others' names aren't any more stable than other coupples.
Somehow I feel like Kanye is loving this. Of course in this case it isn't just some girl who's willing to make out with other women at a bar – this is a real relationship that ended because of Kanye. It will be interesting to see if either Kanye or Amber let any quotes leak to the tabloids about her sexuality. Kanye was recently quoted as saying that he was comfortable getting naked and that he would like to do pr0n, so he doesn't exactly shy away from this kind of press.
In spite of all the scandal, just from glancing at pictures of the two of them, Kanye and Amber seem perfect for each other, at least fashion-wise. At one of the shows they attended, they're both wearing very futuristic glasses and just look very similar in their styles. Somehow I can't see Kanye with anyone who isn't a strong and, as the NY Daily News quoted, "out-there" woman, though.
[thanks to The Frisky]
Kanye West and Amber are shown at London Fashion Week on 2/22/09 and at NY Fashion Week on 2/17/09. Credit: WENN