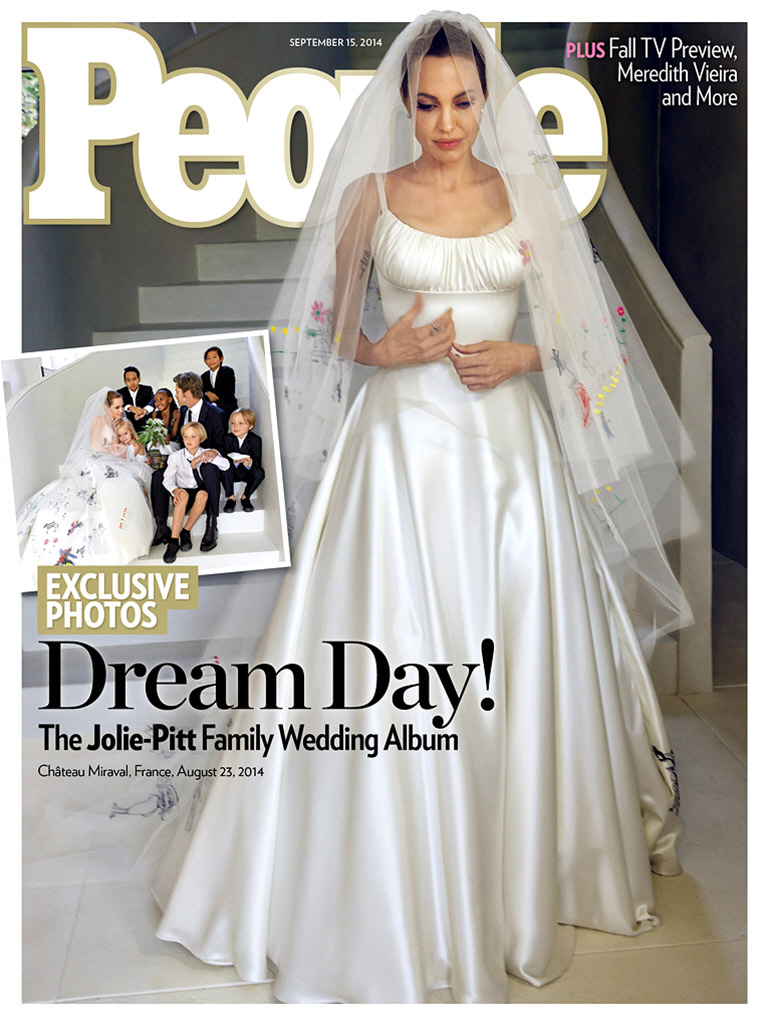 Well, well. I wondered last week if Angelina Jolie and Brad Pitt were going to sell/give away their wedding photos to People Magazine and Hello, and wouldn't you know? It happened. I don't know if People/Hello paid for this exclusive, but I suspect they did. Or at the very least, the magazines made a substantial contribution to one of the Jolie-Pitt foundations or charities. You can read Hello's exclusive here, and here's People's article:
When Brad Pitt and Angelina Jolie went about planning their big day, they didn't have to look far to find the perfect wedding planners: their six children.

The intimate Aug. 23 ceremony – attended by just 20 friends and family members – was held in the chapel of Château Miraval, the family's estate in the French village of Correns. The wedding – including exclusive photos of the ceremony, Jolie's unique dress (decorated with her children's artwork!) and the entire family's celebration – is featured in this week's issue of PEOPLE, in conjunction with Hello! magazine internationally.

Each child had a key role to play: Eldest sons Maddox, 13, and Pax, 10, walked their mom down the aisle; flower girls Zahara, 9, and Vivienne, 6, tossed petals gathered from the garden; and Shiloh, 8, and Knox, 6, served as ring bearers. The kids also helped write their parents' vows. And Pax baked the cake!

"It was important to us that the day was relaxed and full of laughter," Pitt, 50, and Jolie, 39, tell PEOPLE. "It was such a special day to share with our children and a very happy time for our family."

Even Jolie's dress was an expression of her kids' creativity: Luigi Massi, the master tailor at Atelier Versace, sewed dozens of designs from her children's drawings into the dress and veil.

"Luigi is like family to me and I couldn't imagine anyone else making this dress," says Jolie. "He knows and cares for the children and it was great fun putting it together."

Pitt wore a suit from his closet – with a tie borrowed from one of his sons because Pitt forgot to pack his. Zahara's dress was designed by family friend Adama Kebe. Maddox, Pax, Shiloh, and Knox wore black suits (Shiloh's included shorts and a top hat), and Vivienne wore a white dress from her closet. Jeweler Robert Procop, who designed Jolie's engagement ring, created the couple's wedding bands.
I'm not disappointed with the kids at all, but THIS DRESS is a nightmare. I'm not even talking about the kids' drawings on the back, although the execution of that is… not very good. But the silhouette, the design, the style of the dress just doesn't suit her. Angelina is good in streamlined clothes and I really don't get the bust of this dress at all. Ugh! Oh well. It wasn't my wedding. Everything else is fine, I guess. I'm just grumbling about the dress. (And Shiloh wore WEDDING SHORTS! Montenegro Style!)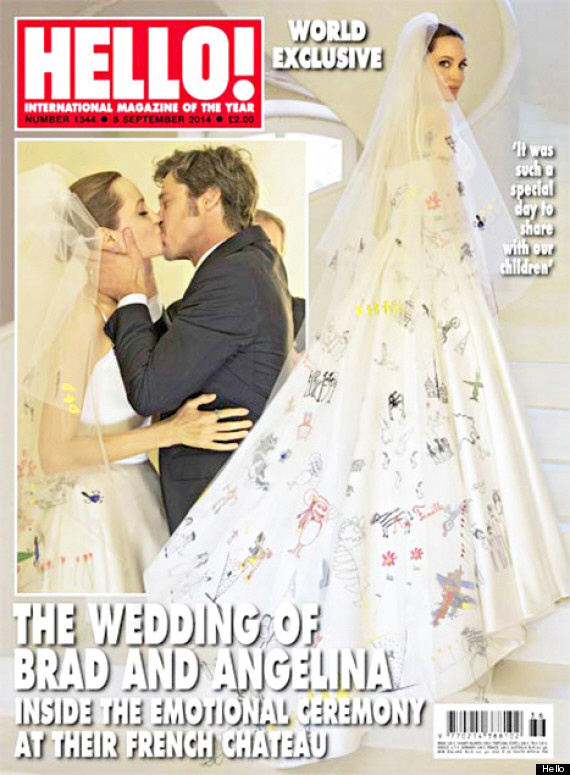 Covers courtesy of People & Hello, additional photos by WENN.