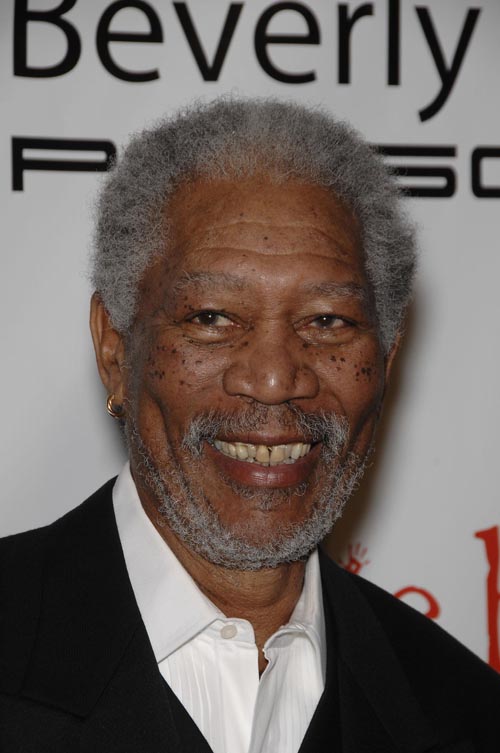 Earlier this week we told you how the female passenger riding with actor Morgan Freeman during his August car crash had hired legal shark Gloria Allred to represent her. There was speculation that the woman was about to reveal that she was Freeman's girlfriend. Turns out that she is not his mistress- but she is going to sue the actor for damages she sustained in the crash. She also expressed outrage that she was labeled his mistress, and that Morgan's PR reps never set the record straight.
The woman who was with Morgan Freeman the night of a car crash that injured both of them insists she was never romantically linked to Freeman and is suing the actor for negligence. Demaris Meyer and her lawyer, Gloria Allred, held a news conference Wednesday announcing that Meyer has filed a lawsuit against the 71-year-old Academy Award winner.

"I have been labeled as the other woman and have been accused of having caused the breakup of Mr. Freeman's marriage," Meyer said. "Nothing could be further from the truth. I had hoped and prayed that Mr. Freeman or his representatives would have set the record straight and cleared my name, but they have not done so and that is why I have chosen to come forward to tell the truth about our relationship."

In the days after the accident last August, Freeman's lawyer, Bill Luckett, told media outlets that Freeman and his wife of 24 years, Myrna Colley-Lee, had been separated since December 2007 and were getting a divorce. Several media outlets reported that the 48-year-old Meyer was Freeman's mistress.

Meyer said Wednesday she met Freeman the night of the accident at a dinner party at the Bayou Bend Golf and Country Club that she had been invited to by Luckett. Meyer said Freeman had been a "perfect gentleman" that evening and agreed to let her stay at one of three houses on his property, so that she "would have an easier drive to work the next morning."

Allred said the accident occurred when Freeman was driving Meyer's car with Meyer in the passenger seat from Luckett's home in Clarksdale, Miss., to Freeman's property in Charleston, Miss., some 40 miles away.

Meyer would not comment on whether Freeman was drinking that night or specify what caused the accident that left the actor with a broken arm, broken elbow and shoulder damage. Meyer's injuries included a broken left wrist, right scapula and a torn labrum.

"The accident and its aftermath has literally changed my life in every respect," Meyer said. "I sustained numerous injuries. I was unconscious following the accident … I could not take care of myself for several months. I have not been able to go back to work and still am suffering both physically and emotionally as a result of the accident."
Those are some pretty substantial injuries there – a broken arm, elbow and wrist. It hurts just thinking about it! I don't see why Morgan Freeman's insurance company didn't pick up the tab for her medical bills at the very least. I'm sure he had good insurance and in most cases this will cover any injuries to passengers in an accident. If not, I'm sure he has more than enough money to help this woman – after all, she was in the car with him, and if it was his fault they crashed, he is responsible. I guess I can understand why she's upset about that. But as for her anger about the rumors, that's not really Freeman's fault. He seems like a pretty private guy and maybe he felt that addressing the rumors would only make them worse. In Hollywood, the more you deny something, the more people think you have something to hide. Maybe he was hoping it would all go away- which it did, until this woman brought it all up again. I can see why she would expect some kind of compensation for her injuries – but she should just leave it at that. Suing someone when you're mad at them for not defending your honor seems a bit vindictive to me.