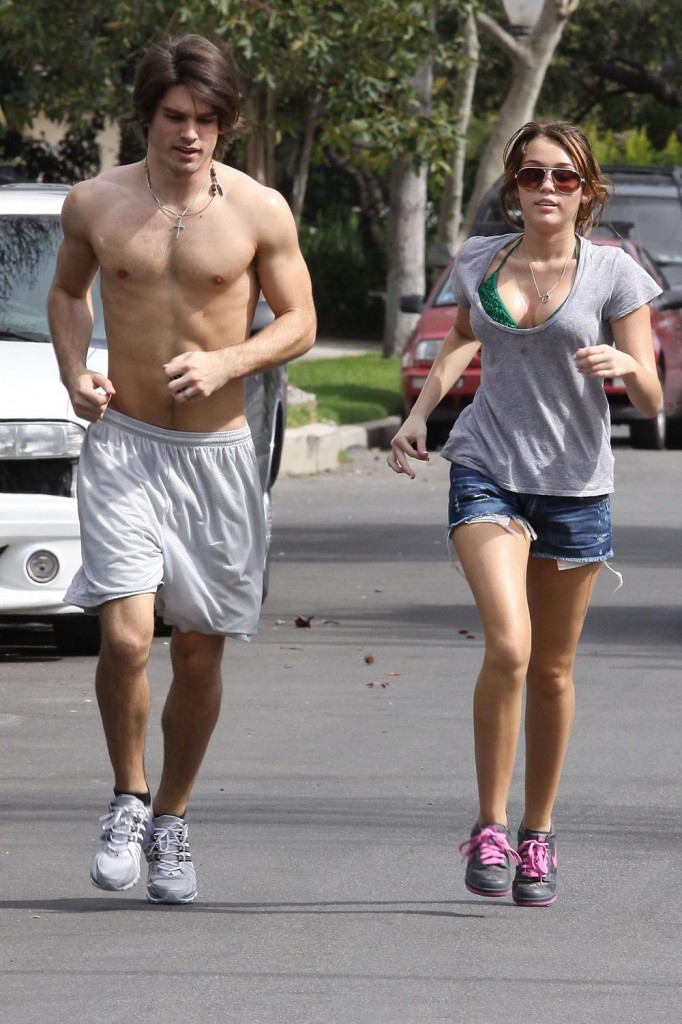 New semi-scandalous photos of 16 year-old teen sensation Miley Cyrus have come out, and for once they weren't illegally obtained off her cell phone or myspace or coerced by a savvy photographer trying to create controversy. Miley was photographed jogging with her shirtless 20 year-old boyfriend, model Justin Gaston, while she was wearing a low-cut top over what looked like a sexy bra and jean shorts. She was bouncing all over and looking a little too mature for her age, but at least she wasn't pouting, sticking out her tongue, or posing in a wet t-shirt. The photos were rather tame for Miley, and she called them no "big whoop," explaining to Ryan Seacrest on his radio show that it was super hot and she was dressed to wash the car with a bikini on underneath. Why was she out jogging then? She had on sneakers so it's not like it looked completely unplanned.
Miley Cyrus says she wasn't trying to give photographers a show when she wore a cleavage-baring top during a weekend jog with her shirtless older beau Justin Gaston.

"I don't get the big whoop, but whatever," she said Monday on Ryan Seacrest's KIIS-FM radio show. "I guess it's just… I'm not allowed to jog any more."

The New York Post remarked that the 16-year-old singer put herself "on full display … in a cleverly crafted photo op that would make [sic] green with envy."

But Cyrus shot back: "I don't get why people are allowed to take pictures and make them something they're not, but I guess that's just how their job works and how they'll make the most money."

So why was she dressed so skimpy?

Cyrus said she was with her 8-year-old little sister, who "wanted to have a car wash. So I was like, 'OK, we're going to have a car wash.'"

They agreed to wash Gaston's "really hideous truck."

"It's, like, 100 degrees out," said Cyrus, who wore shorts and a bathing suit top under her mom's baggy T-shirt.

"As I'm running, it got a little bit lower and you could see a little of the bathing suit top," Cyrus said. "So, oh my goodness, Miley Cyrus wears a two-piece! Kill me! I'm wearing a two-piece. … with an 8-year old."
[From US Weekly]
By many accounts, Gaston has been living with the Cyrus family for weeks. Maybe Miley's parents stupidly think it's safer to have their daughter's older boyfriend under the same roof, but it just sounds like a recipe for trouble. Miley's parents are rumored to be fighting constantly due to the new living arrangements and their stress over trying to supervise a 20 year-old guy who is likely getting up to something with their daughter. These cleavage heaving pics are the least of Miley's issues.
Photo credit: WENN