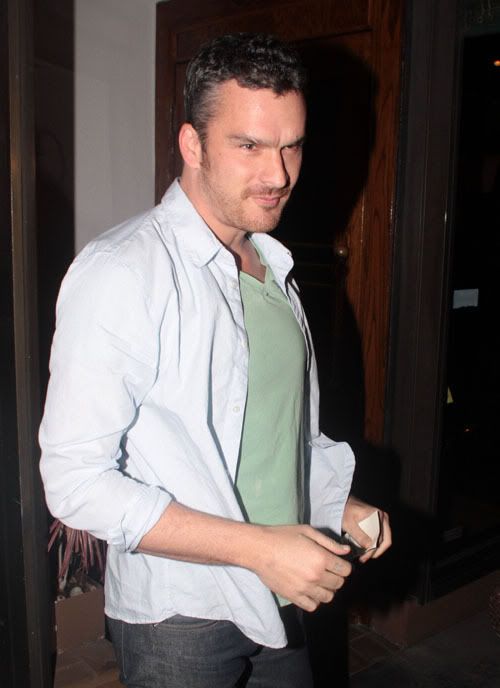 It seems like it's been ages since Sienna Miller "homewrecked" her way into Balthazar Getty's life (pants). But it's surprising to learn how much the situation has stayed in a holding pattern, even after months have passed. Rosetta Getty is still Balthy's wife, though estranged. Neither has formally filed for separation or divorce. The rumor several months ago was that Rosetta was trying to force Balthy into either coming back or filing for divorce. If Balthy's option was divorce, Rosetta would try to get as much of the Getty family money as possible for her and their four children.
While it's perfectly understandable that Rosetta and Balthy would try to be civil to one another, even with the current confusing romantic situation, this latest piece of gossip has added another layer. Balthy took his wife out to dinner in West Hollywood Monday night. The couple ate tacos. How romantic. Radar Online has more:
Brothers & Sisters star Balthazar Getty was spotted sharing a meal with estranged wife Rosetta last Monday night at Pinches Tacos in West Hollywood.

Sources told X17 that Getty and the mother of his four children spent around two hours at the restaurant. Getty, wearing a suit, was seen talking on his cell phone for a large portion of the meal.

Is a reconciliation in the works or were they talking custody details? Getty is still believed to be dating Sienna Miller, and was rumored to have moved into her Manhattan loft.

Neither the restaurant nor the rep would comment.
From Radar Online
Ten bucks says that Balthy was talking to Sienna on the phone. I bet Sienna knew that he and Rosetta were going to meet and decided to make their evening all about her and her issues. Or maybe she just now got around to telling Balthy that she was kicked in the head by a horse. Rosetta must have had a field day with that one.
Most likely Balthy and Rosetta were discussing the kids. That is, they were probably discussing the children in between Sienna's manic "Do you still love me, baby?" calls. Even though I know it's just a media strategy, I think Rosetta would be really dumb and spineless to take Balthy back after the way he's behaved with Sienna. Rosetta knows it, too. She's just waiting for Balthy to cry "uncle".
Balthazar Getty is shown out on 2/24/09. (Not the night in question.) Credit: Fame