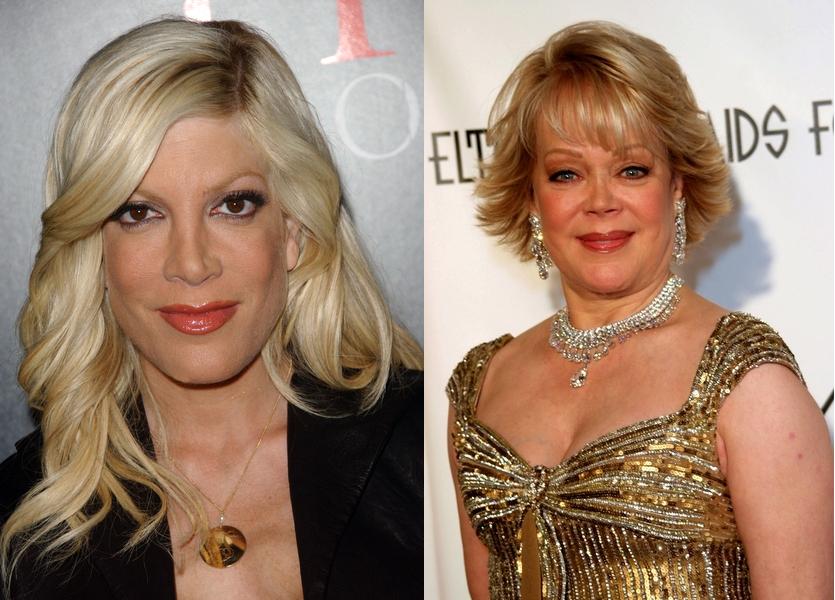 Since Tori Spelling hasn't been able to get a job as an actress since her father died (aside from her appearance on the reload of her dad's most famous show, 90210), she's found some success pimping out her fabulous Hollywood life on two reality shows (that fabulous life, by the way, came courtesy of her dad) and as the author of a memoir, last year's "sTORI Telling." The memoir dished on her weird childhood, including a longtime feud with her mother, Candy, who famously told her young daughter "You will be pretty as soon as you have a nose job." Now, Candy is fighting back with a memoir of her own, titled "Stories from Candyland." And guess what? It was supposed to hit stores the same week as Tori's new book, "Mommywood," but publishers decided to release it earlier.
THE latest Spelling family catfight is playing out in the book world. Publishers of competing titles by Tori and mom Candy Spelling are in a rat race to get each blonde's book out ahead of the other's. According to an insider, St. Martin's Press, the house behind Candy's new "Stories from Candyland," moved her publication date up two weeks, from April 14 to March 31. "They made that decision after getting wind that the publication date for Tori's book was moved to April 14," dished the source.
I say, these two bimbos should stop sniping at each other and duke it out on the NY Times Bestseller list, once and for all. The one with the best-selling book gets the Spelling family fortune. The other one has to go away forever. Better yet, how about if nobody buys either of their crappy books and they both have to go away forever? It's a win-win, really.
Here's Tori at the premiere of 'Last House on the Left' at the ArcLight Theater in Los Angeles on March 10th. Images thanks to WENN.com.