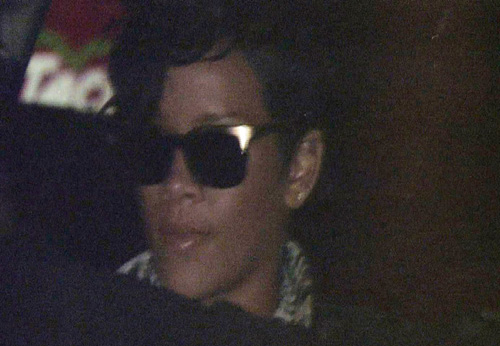 Here's Rihanna leaving an L.A. club on March 10. Are the sunglasses at night to hide something? Photo credits: WENN.
Just when it looked like Rihanna was heading straight back into the arms of the man who abused her, new reports are surfacing that the battered singer has decided to put some distance between herself and Chris Brown. Since the attack on Feb. 8, Rihanna has been keeping a low profile, but was recently photographed clubbing in L.A. on her birthday – without her bullying boyfriend. Currently, she's in New York, while Brown has remained in L.A., sparking some to suggest that the couple isn't as together as Brown's PR machine wants you to think.
It's no coincidence that Rihanna and Chris Brown are on opposite coasts right now.
According to a source close to the couple, they have been "taking a break."

The source tells E! News that the pair are not calling it a formal breakup, but have decided to put some distance between them. We are told they plan to see each other soon.

Reps for both singers have not returned calls seeking comment on the break.

Last Thursday, Rihanna flew to New York City, where she, Brandy, Beyoncé and Jay-Z reportedly enjoyed a quiet dinner together at the Spotted Pig Friday night. Then on Saturday night, she dined with friends at Da Silvano.

Meanwhile, Brown has remained in Los Angeles. Sources tell E! that the "Kiss Kiss" singer has spent the entire time working on his album, most recently at the Record Plant in Hollywood.

"He's just putting ideas down for some songs he wrote," says a Brown source. "He needs to feel like he's moving forward."
I can just imagine Chris Brown's new song titles: "Baby, Drop the Charges"…."I Own You, Bitch!"…"Touch My Cell Phone and Die," and this summer's huge dance hit, "Choke You 'Til You Pass Out." Of course, all of these hit singles will be produced by Diddy.
I wouldn't expect any kind of formal announcement that the couple is split- after all, they never formally acknowledged that they were dating in the first place. But for now, it does appear that Rihanna is making an attempt to get away from him – even if it's only temporarily. Let's hope her "mentor" Jay-Z and his wife can exercise their influence over their protege and talk some sense into her – and make this separation permanent.