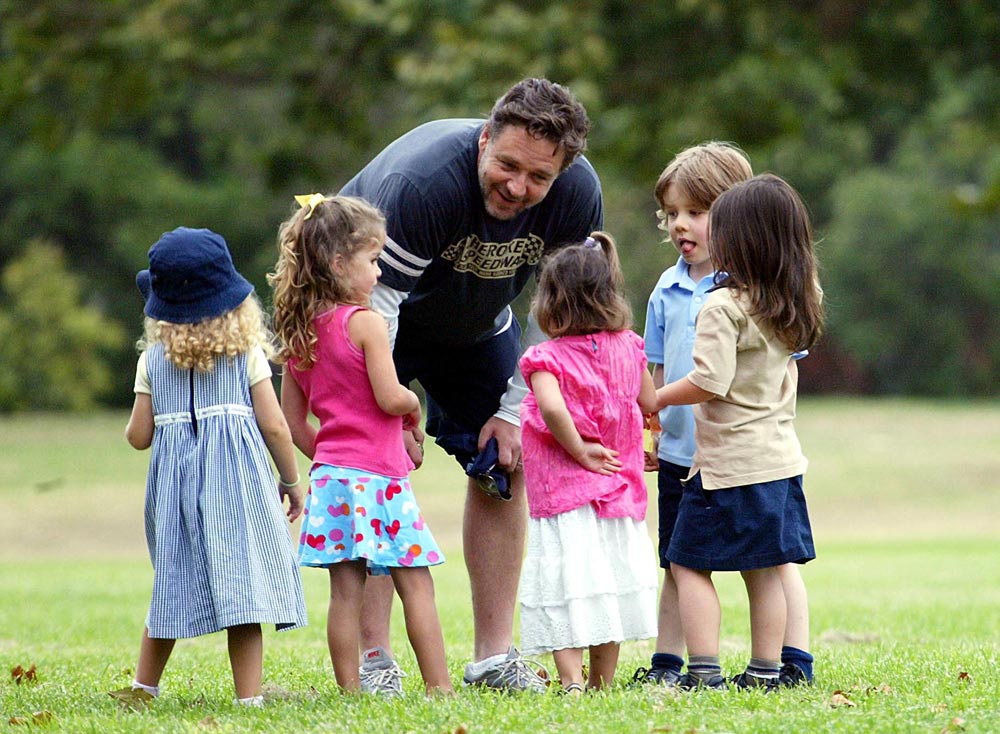 Ridley Scott's production of Nottingham hasn't even started principal photography yet, and there's already been several epic controversies for the film. Russell Crowe (who will be playing Robin Hood) and director Ridley Scott are fighting all of the time. Sienna Miller was originally slated to play Maid Marian, but was either fired or quit, and afterwards came a mountain of bad press for everyone involved in the incident. Then, they had to replace Sienna – Kate Winslet or Cate Blanchett. Blanchett ended up getting the role, so at least some good has come out of this mess.
There is some more news about the film, though. First, after growing out his hair for months to play Robin, Russell just decided to trim his locks so that Robin Hood doesn't look "like a rock star". Uh, I think Russell meant to say, "like a middle-aged man trying desperately to look like a rock star". Russell also gave an interview to Extra, where he let down all of his fans hoping to see him in a great pair of green tights:
Russell Crowe stars in the upcoming Robin Hood movie, but don't expect the Aussie actor to sport the famous green tights.

Skyping from London… Crowe tells Extra's Mario Lopez, "Tights weren't invented some 400, 500 years after we're setting the story. It's not tights but I do have a pretty nice, snazy pair of leather pants with a rather large cod piece."

Excited to start filming the movie, Crowe declares, "I think it's an incredible opportunity to take an iconic story and make a fabulous contemporary action adventure romance movie. And that's what we're going to do…We have an incredible cast around us…We'll try to rob from the rich and give to the poor and kick some ass on the way."

When asked about his wife and two kids, Crowe was effusive, "I'm away from them now since I'm working but they'll be here in about four weeks and I'm just counting down the days. My oldest boy's at school now…My other little boy is coming up on three [years old] so he's clicked over from angel to some form of demon. It's a wonderful thing. I couldn't speak more highly. It has changed my life. It's changed me. It's made me a much better person."

It's no secret that Crowe knows how to sing but would he ever star in a musical? He responds, "If the right thing came along…There is a film that I'm looking at next year based on a book from an Australian writer which has a character within the book that plays in a band so that's something I'm looking at the moment."
From Monsters & Critics
Leather pants and a cod piece? Robin Hood? What the…? It's not the size of the cod piece, it's the motion of the… leather pants? I have no idea. This film has "disaster" written all over it, and it's such a shame. Ridley Scott, Russell Crowe and Cate Blanchett are so talented, they should be above this kind of career-ending nonsense.
Russell Crowe is shown playing with children in a park in Sydney on 2/9/09. Credit: INFPhoto.com